(3) Los Angeles Kings (11-8) vs (3) Chicago Blackhawks (10-7)
Friday, May 30, 2014, 6:00 p.m. PT
Staples Center, Los Angeles, CA
Referees: #8 Dave Jackson, #9 Dan O'Rourke
Linesmen: #55 Shane Heyer, #95 Jonny Murray
NBCSN, CBC, RDS, KEIB 1150 AM
Los Angeles Projected Starting Goaltender – Jonathan Quick
2013-14 Playoffs: 19 GP (19 GS) /11-8 record / 2.75 GAA / .909 Sv% / 1 SHO
Career, Playoffs: 69 (69) / 40-29 / 2.22 / .924 / 8
2013-14 Playoffs, Home: 8 (8) / 5-3 / 2.57 / .910 / 0
Chicago Projected Starting Goaltender – Corey Crawford
2013-14 Playoffs: 17 GP (17 GS) / 10-7 record / 2.38 GAA / .917 Sv% / 1 SHO
Career, Playoffs: 54 (53) / 31-22 / 2.15 / .922 / 3
2013-14 Playoffs, Away: 8 (8) / 2-6 / 2.91 / .895 / 0
2013-14 Los Angeles Leaders
Total Points: Anze Kopitar (5-18=23)
Goals: Marian Gaborik (11-7=18)
Assists: Anze Kopitar (5-18=23)
Plus/Minus: Tanner Pearson (+11; 4-8=12)
Penalty Minutes: Kyle Clifford (37; 0-3=3)
Time On Ice: Drew Doughty (27:50; 3-11=14)
2013-14 Chicago Leaders
Total Points: Jonathan Toews (8-7=15), Patrick Kane (6-9=15)
Goals: Jonathan Toews (8-7=15)
Assists: Marian Hossa (2-12=14)
Plus/Minus: Brandon Saad (+9; 5-8=13)
Penalty Minutes: Brent Seabrook (17; 3-9=12)
Time On Ice: Duncan Keith (27:43; 3-7=10)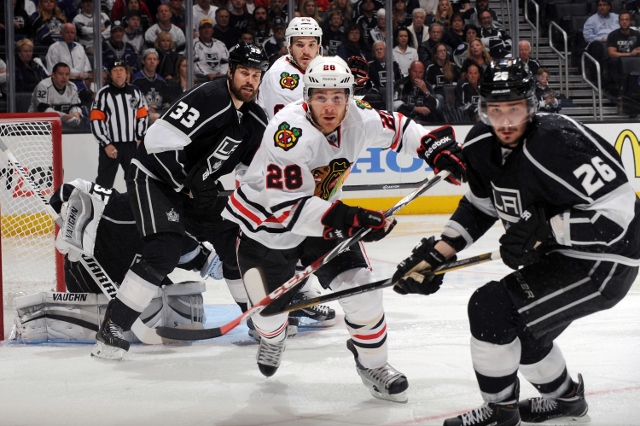 Rankings and Statistics
Goals/Game: LAK – 1 / 3.42; CHI – 6 / 2.94
Goals Against/Game: LAK – 7 / 2.74; CHI – 8 / 2.76
Power Play: LAK – 5 / 25.4%; CHI – 8 / 18.0%
Penalty Kill: LAK – 9 / 83.6%; CHI – 4 / 85.2%
Shots/Game: LAK – 6 / 30.7; CHI – 12 / 27.4
Shots Against/Game: LAK – 7 / 30.0; CHI – 10 / 31.3
Faceoffs: LAK – t-1 / 53.4%; CHI – 10 / 49.4%
Save Percentage: LAK – 8 / .909; CHI – t-6 / .912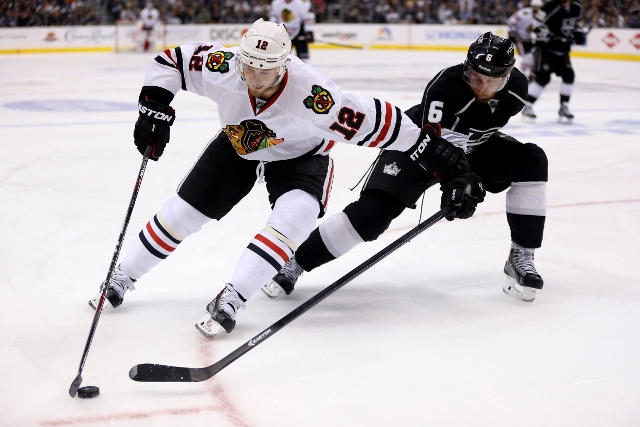 Los Angeles Projected Lineup
Marian Gaborik – Anze Kopitar – Dustin Brown
Tanner Pearson – Jeff Carter – Tyler Toffoli
Dwight King – Jarret Stoll – Justin Williams
Kyle Clifford – Mike Richards – Trevor Lewis
Jake Muzzin – Drew Doughty
Willie Mitchell – Slava Voynov
Alec Martinez – Matt Greene
Jonathan Quick
Martin Jones
Level of confidence in projected lines: A-. Robyn Regehr participated fully at the morning skate but said that he is "not ready yet." Expect the Kings to utilize the same lines and pairings as Game 5 in Chicago.
Notes and milestones: Los Angeles is 105-134 all-time in the playoffs, a record that includes a home mark of 59-54 at home. The Kings are 5-10 all-time against the Blackhawks in the playoffs (4-2 home, 1-8 road). … Los Angeles is 8-1 in series in which they held a three-two lead. The Kings have won all four series in which they at one point held a three-one lead. The last time Los Angeles held a three-one lead in a series was against New Jersey in the 2012 Stanley Cup Final. In that series, they lost Game 5 on the road before returning home to win Game 6. … The Kings are 15-7 all-time and 2-0 this postseason in Game 6. … Since dropping the first three games of the San Jose series Los Angeles has gone 11-5, outscoring opponents 57-35 over that span. … The Kings lead all NHL teams with an average of 3.42 goals per game in the postseason. … Los Angeles is 24-27 all-time in playoff overtime. … Anze Kopitar leads all playoff scorers with 23 points (5-18=23). Only Wayne Gretzky (1993 / 40 points) and Tomas Sandstrom (1993 / 25 points) have recorded more points in a single postseason in franchise history. … With 57 points (18-39=57), Kopitar is in fourth place in the all-time franchise scoring registry. He trails third place Dave Taylor (26-33=59) by two points. Taylor played 92 playoff games with the Kings; Kopitar will play his 64th career playoff game tonight. … Jeff Carter has points in six straight games (5-7=12) and nine points (4-5=9) in his last four games. … Tanner Pearson has points in six straight games (3-4=7) to tie the longest playoff point streak by a rookie in Kings history. Daryl Evans (1982) and Warren Rychel (1993) also recorded points in six straight games. … Tyler Toffoli has 11 points (6-5=11), a plus-nine rating and a 55.8% Corsi percentage (154 CF; 122 CA) in 13 career regular season and playoff games against Chicago. … Marian Gaborik leads all postseason scorers with a career-high 11 goals. The 11 goals trail Wayne Gretzky (15 / 1993) and Luc Robitaille (12 / 1991) for the most in a single playoff season in franchise history.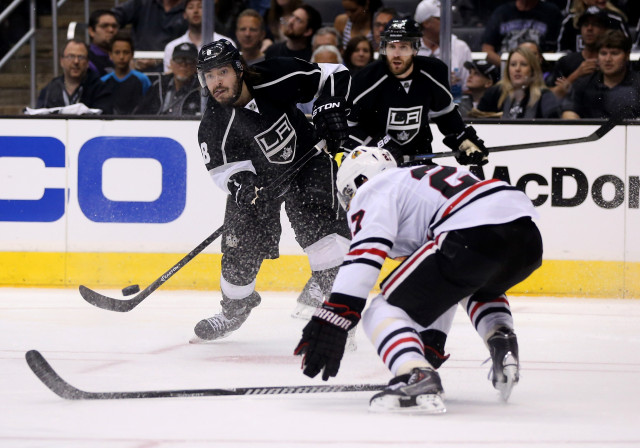 Chicago Projected Lineup
Bryan Bickell – Jonathan Toews – Marian Hossa
Brandon Saad – Andrew Shaw – Patrick Kane
Patrick Sharp – Michal Handzus – Kris Versteeg
Brandon Bollig – Marcus Kruger – Ben Smith
Duncan Keith – Nicklas Hjalmarsson
Johnny Oduya – Michal Roszival
Nick Leddy – Brent Seabrook
Corey Crawford
Antti Raanta
Notes and milestones: Chicago is 10-1 in Game 6s since 2009, a record that includes a 7-0 mark on the road. … Patrick Kane has 49 points (22-27=49) in 44 games between Game 4-7 of a playoff series. … Jonathan Toews has a three game point streak (2-2=4). … Duncan Keith leads all NHL defensemen with 42 assists since the 2009 playoffs. … Bryan Bickell ranks third in playoff goals since the 2011 post-season (Jeff Carter = 23; David Krejci = 22).