(3) Los Angeles Kings (2-3) vs (2) San Jose Sharks (3-2)
Monday, April 28, 2014, 7:00 p.m. PT
Staples Center, Los Angeles, CA
Referees: #28 Chris Lee, #38 Francois St. Laurent
Linesmen: #59 Steve Barton, #65 Piere Racciot
Prime Ticket, NBCSN, CBC, KEIB 1150 AM
Los Angeles Projected Starting Goaltender – Jonathan Quick
2013-14 Playoffs: 5 GP (5 GS) / 2-3 record / 3.99 GAA / .893 Sv% / 1 SHO
Career, Playoffs: 55 (55) / 31-24 / 2.19 / .925 / 8
Versus San Jose, Playoffs: 18 (18) / 8-10 / 2.71 / .920 / 4
2013-14 Playoffs, Home: 2 (2) / 1-1 / 3.36 / .911 / 0
San Jose Projected Starting Goaltender – Alex Stalock
2013-14 Playoffs: 2 GP (0 GS) / 0-0 record / 0.00 GAA / 1.000 Sv% / 0 SHO
Career, Playoffs: 2 (0) / 0-0 / 0.00 / 1.000 / 0
Versus Los Angeles, Playoffs: 2 (0) / 0-0 / 0.00 / 1.000 / 0
2013-14 Playoffs, Away: 1 (0) / 0-0 / 0.00 / 1.000 / 0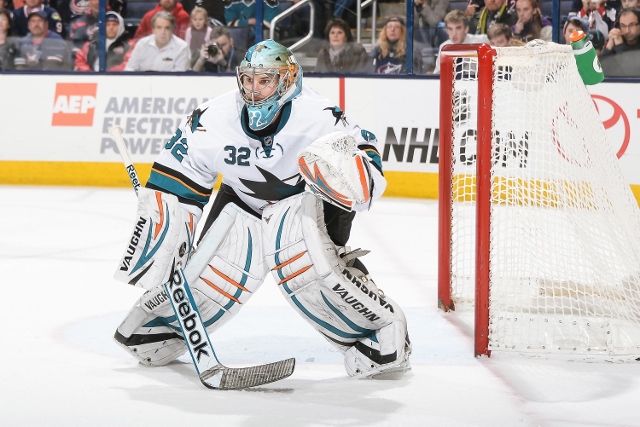 2013-14 Los Angeles Leaders
Total Points: Jeff Carter (2-3=5), Anze Kopitar (1-4=5)
Goals: Marian Gaborik (3-1=4)
Assists: Anze Kopitar (1-4=5), Drew Doughty (0-4=4)
Plus/Minus: Jake Muzin (+3; 2-1=3)
Penalty Minutes: Kyle Clifford (32; 0-0=0)
Time On Ice: Drew Doughty (26:48; 0-4=4)
2013-14 San Jose Leaders
Total Points: Patrick Marleau (3-4=7)
Goals: Patrick Marleau (3-4=7)
Assists: Patrick Marleau (3-4=7), Joe Pavelski (2-4=6), Dan Boyle (0-4=4)
Plus/Minus: Matt Nieto (+4; 2-3=5)
Penalty Minutes: Mike Brown (26; 1-1=2)
Time On Ice: Dan Boyle (22:20; 0-4=4)
Rankings and Statistics
Goals/Game: LAK – t-3 / 3.40; SJS – t-1 / 4.00
Goals Against/Game: LAK – t-15 / 4.00; SJS – t-13 / 3.40
Power Play: LAK – 6/ 23.5%; SJS – 8 / 18.2%
Penalty Kill: LAK – 9 / 81.8%; SJS – 11 / 76.5%
Shots/Game: LAK – 7 / 32.6; SJS – 2 / 36.8
Shots Against/Game: LAK – 15 / 36.8; SJS – 10 / 32.6
Faceoffs: LAK – 8 / 50.6%; SJS – 9 / 49.4%
Save Percentage: LAK – 14 / .890; SJS – 11 / .896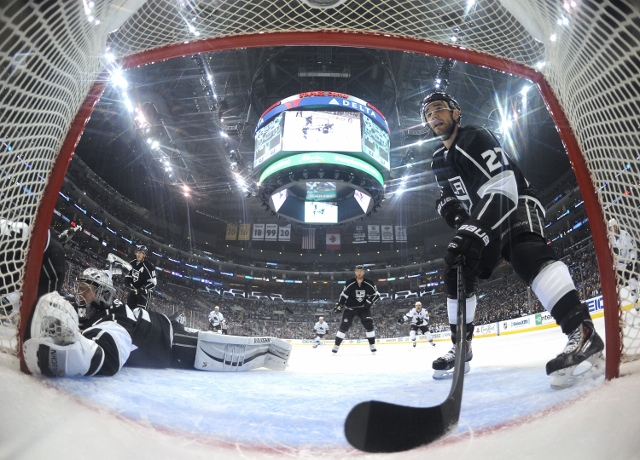 Los Angeles Projected Lines
Marian Gaborik – Anze Kopitar – Dustin Brown
Tanner Pearson – Jeff Carter – Tyler Toffoli
Dwight King – Jarret Stoll – Justin Williams
Kyle Clifford – Mike Richards – Trevor Lewis
Jake Muzzin – Drew Doughty
Robyn Regehr – Slava Voynov
Willie Mitchell – Alec Martinez
Jonathan Quick
Martin Jones
Level of confidence in projected lines: A-. All indications are that the Kings will roll with the same lineup used in Games 4 and 5, but this is the playoffs, and changes are always possible. Expect a full assortment of players to take the ice for warm-ups.
Notes and milestones: Los Angeles is 8-10 all-time against San Jose in the playoffs, a mark that includes a home record of 5-4. The Kings are 96-129 all-time in the playoffs and 55-52 at home. … Los Angeles is 13-7 all-time in Game 6s. … The Kings have won three of 10 series in which they trailed three games to two. … Los Angeles has held the lead for 132:58 of the series, San Jose has held the lead for 103:01 of the series, and the games have been tied for 70:21. … Home teams are 23-3-1 in the last 27 regular season and playoff games between the Kings and Sharks. In this series, San Jose is 2-1 at home and Los Angeles is 1-1 at home. … The teams have combined for 499 hits in the series. … Los Angeles is 4-13 (30.8%) on the power play over the last three games. … Jeff Carter has recorded points in nine straight playoff games (3-7=10). … Anze Kopitar has points in six straight playoff games (2-5=7) and eight straight games overall (5-5=10), dating back to the regular season. … Jonathan Quick has stopped 35 straight shots over the last 68:24 since Joe Pavelski scored a power play goal in Game 4. … Tyler Toffoli has recorded game-winning goals in back-to-back games to become the third Kings rookie in franchise history to record two game winning goals in one playoff year. Dwight King (2012) and Warren Rychel (1993) are the others.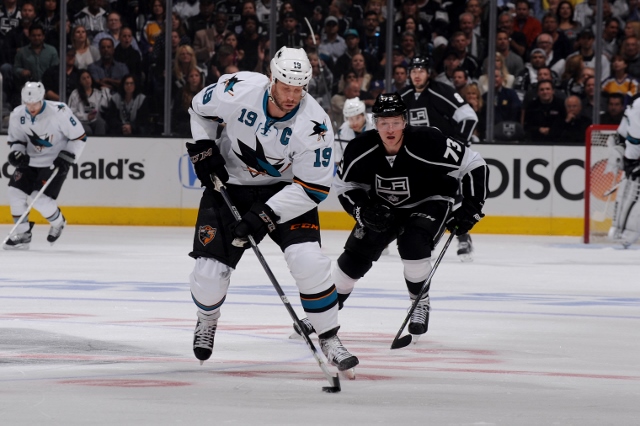 San Jose Projected Lines
Tomas Hertl – Joe Thornton – Brent Burns
Patrick Marleau – Logan Couture – Matt Nieto
James Sheppard – Joe Pavelski – Tommy Wingels
Raffi Torres – Andrew Desjardins – Mike Brown
Matt Irwin – Dan Boyle
Brad Stuart – Justin Braun
Scott Hannan – Jason Demers
Alex Stalock
Antti Niemi
Notes and milestones: The Kings and Sharks have combined for 7.4 goals per game, making it the highest scoring first round series. The next highest scoring series was Canadiens – Lightning, which averaged 6.5 goals per game. … San Jose is 7-2 all-time when leading a series three games to two, though they have a 5-14 all-time record in Game 6 of a playoff series. They have won three of the last four Game 6s, including last year's 2-1 home win against the Kings on May 26. … The Sharks are tied with the Canadiens for the highest postseason goals per game average at 4.00. … 21-year-old forward Matt Nieto and 20-year-old forward Tomas Hertl have combined for nine points (4-5=9) and 22 shots this series. … San Jose clinched a playoff berth for the 10th consecutive season. It is the third longest cplayoff streak in professional sports, trailing the Detroit Red Wings (23 seasons) and San Antonio Spurs (17 seasons).