Los Angeles Kings (4-3-0) at Nashville Predators (3-3-0)
Thursday, October 17, 2013, 7:00 p.m. CT
Bridgestone Arena
Referees: #27 Eric Furlatt, #18 Greg Kimmerly
Linesmen: #78 Brian Mach, #95 Jonny Murray
FOX Sports West, KTLK 1150 AM
Los Angeles Projected Starting Goaltender – Jonathan Quick
2013-14 Season: 6 GP (6 GS) / 3-3-0 record / 2.90 GAA / .896 Sv% / 0 SHO
Career vs Nashville: 8 (8) / 1-5-2 / 2.85 / .883 / 0
Last Game vs Nashville: 7/7/12 / 60 MP / 11-14 shots / 0-3 L
2013-14, Away: 4 (4) / 2-2-0 / 2.83 / .901 / 0
Nashville Projected Starting Goaltender – Pekka Rinne
2013-14 Season: 6 GP (6 GS) / 3-3-0 record / 3.11 GAA / .887 Sv% / 0 SHO
Career vs Los Angeles: 13 (13) / 7-6-0 / 2.88 / .890 / 1
Last Game vs Los Angeles: 3/4/12 / 51 MP / 8-13 shots / 1-5 L
2013-14, Home: 4 (4) / 3-1-0 / 2.75 / .891 / 0
2013-14 Los Angeles Leaders
Total Points: Jeff Carter (4-1=5), Anze Kopitar (0-5=5)
Goals: Jeff Carter (4-1=5)
Assists: Anze Kopitar (0-5=5)
Plus/Minus: Alec Martinez (+2; 0-0=0)
Penalty Minutes: Kyle Clifford (14; 0-0=0)
2013-14 Nashville Leaders
Total Points: Mike Fisher (2-3=5)
Goals: Mike Fisher (2-3=5), Patric Hornqvist (2-2=4)
Assists: Mike Fisher (2-3=5), Craig Smith (1-3=4)
Plus/Minus: Craig Smith (+3; 1-3=4)
Penalty Minutes: Mike Fisher (21; 2-3=5)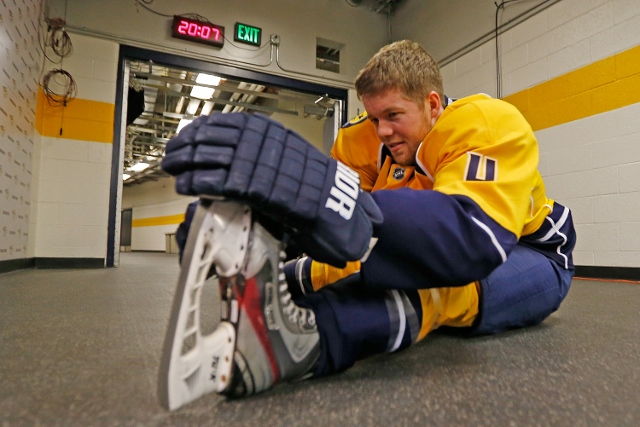 Rankings and Statistics
Goals/Game: LAK – 25 / 2.14; NAS – 24 / 2.17
Goals Against/Game: LAK – t-16 / 2.71; NAS – 21 / 3.00
Power Play: LAK – t-15 / 20.0%; NAS – t-11 / 22.2%
Penalty Kill: LAK – t-5 / 85.7%; NAS – t-27 / 71.4%
Shots/Game: LAK – t-16 / 30.3; NAS – 19 / 29.8
Shots Against/Game: LAK – 4 / 26.9; NAS – t-6 / 27.5
Faceoffs: LAK – 4 / 55.8%; NAS – 3 / 56.2%
Save Percentage: LAK – 21 / .899; NAS – 25 / .891
Los Angeles Projected Lines
Dustin Brown – Anze Kopitar – Justin Williams
Daniel Carcillo – Mike Richards – Jeff Carter
Dwight King – Jarret Stoll – Matt Frattin
Kyle Clifford – Trevor Lewis – Jordan Nolan
Robyn Regehr – Drew Doughty
Willie Mitchell – Slava Voynov
Alec Martinez – Matt Greene
Jonathan Quick
Ben Scrivens
Level of Confidence in Projected Lines: B. During line rushes at this morning's skate, Jarret Stoll swapped spots with Trevor Lewis, Daniel Carcillo jumped up to the Mike Richards line and dropped the other left wings down a line. As always, here's your reminder that the lines constantly change through the game due to performance and special teams time.
Notes and milestones: The Kings are 28-21-6 all-time against the Predators, which includes a record of 14-9-4 in Nashville. Los Angeles is 6-3-1 in the last 10 meetings and 3-1-1 in the last five meetings. … After playing tonight, the teams will meet on November 2 at Staples Center before concluding their season series on December 28 at Bridgestone Arena. … Nashville is the only Western Conference team other than Winnipeg that Jonathan Quick has recorded fewer than five wins against. He is 1-5-2 all-time against the Predators. … Jeff Carter has 10 goals and 17 points in 14 career games against Nashville. … Amongst players with a minimum of 11 faceoffs taken, Carter ranks second in the league with a 70.4% success rate (38-of-54). Zenon Konopka of Minnesota leads all qualifying faceoff performers with a 71.4% success rate. … The Kings have recorded at least 30 shots on goal in five of seven games this season and have not been out-shot by an opponent since the season opener against Minnesota. … Drew Doughty is two goals behind Larry Murphy for sixth place amongst defensemen in Kings history. He is one game-winning goal behind Steve Duchesne for second place amongst defensemen in Kings history. … Dustin Brown is four goals behind Jim Fox for ninth place in team history. … Anze Kopitar is one shorthanded goal behind Ziggy Palffy for fifth place in Kings history.
Nashville Projected Lines
Colin Wilson – Mike Fisher – Patric Hornqvist
Gabriel Bourque – Matt Cullen – Craig Smith
Eric Nystrom – David Legwand – Filip Forsberg
Viktor Stalberg – Paul Gaustad – Matt Hendricks
Seth Jones – Shea Weber
Mattias Ekholm – Kevin Klein
Victor Bartley – Ryan Ellis
Pekka Rinne
Carter Hutton
Notes and milestones: Lines via Ryan Porth of Smashville 24/7. … Former King Rich Clune is in Ontario to attend his grandfather's funeral and will not play tonight. … Since the beginning of the 2005-06 season, Nashville has compiled 195 home victories, which ranks fourth in the NHL over that span. The Predators are the only NHL team to post at least 23 home victories in each of the last seven full seasons. … After averaging a league-low 25.9 shots per game last year, Nashville has averaged 29.8 shots through their first six games in 2013-14. … Patric Hornqvist has 10 points (7-3=10) in 15 career games against the Kings. … Paul Gaustad has won 66.9% of his faceoffs (81-of-121) this season.