Throughout the remainder of the month, LAKI will be reviewing the top 10 moments of the Los Angeles Kings season as a recurring feature entitled "I Was There."
KingsCast recently finished a similar endeavor, complete with screen grabs, video highlights and commentary. Alex Kinkopf's #TopTen list is recommended as a great account of the 2012-13 season.
I Was There #3: The White House visit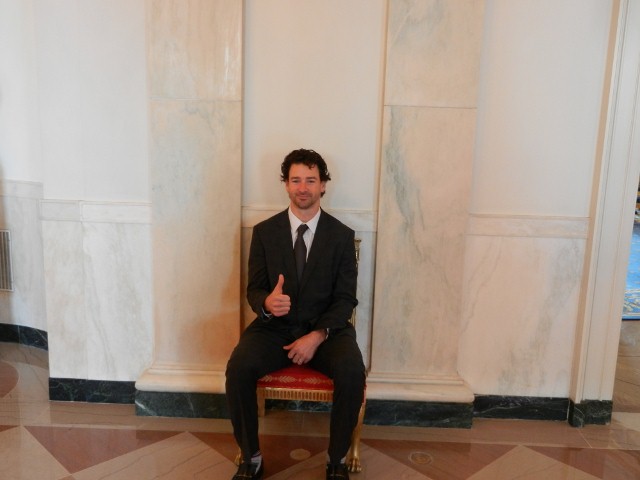 After the team had milled around the South Lawn, the Blue Room, and had met privately with President Obama prior to a ceremony within the bright East Room, they ate a catered lunch in a room downstairs that housed the collection of china and dinnerware from various administrations. There were adjacent rooms that featured libraries filled with books, donated art and plush seating arrangements. A framed photograph of President Obama playing ping pong against a roughly-10-year-old child was hung in a hallway, the same corridor where Dean Lombardi, Darryl Sutter and Davis Payne stood listening to the history of the rooms that networked away from the arterial near where the team had gathered.
There was an awed hush as the team ate lunch in recognition of the hallowed ground on which they stood. In a season that featured the compacted challenge of playing virtually every other day, this side trip to Washington, DC in between visits to Chicago and St. Louis was the farthest thing from being extraneous.
It was the official recognition by the United States of the 2011-12 championship season, and it included reprises of Jarret Stoll and Dustin Brown quotes by the President, who acknowledged the Kings as having become the first eight seed in American professional sports to win a championship.

-courtesy KingsVision
Aesthetic beauty: Immense. Players stood underneath priceless works of art and gathered in the blue room, sitting on chairs that had been assembled early in the country's adolescence.
Lasting impact: Very strong. This was a day that everyone who was there – and many who were following along in Southern California – will recall for the rest of their lives. It was a state acknowledgement of the first championship in team history, a ceremony that fans had waited 45 years for. For future Kings teams, the challenge will be to make sure this does not become a "once in a lifetime"-type memory.
Photo gallery of the White House visit
Previously on "I Was There"
#10: Toffoli's first goal
#9: Quick passes Hrudey
#8: Kopitar's goal versus Detroit
#7: Game 4 comeback over St. Louis
#6: Slava's overtime game-winner
#5: Banner raising ceremony
#4: Williams in seven
KingsCast #3: Justin Time, just in time