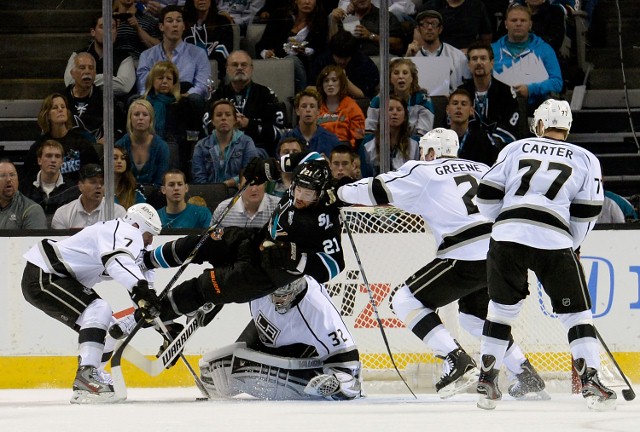 -The series is deadlocked again, and that's not exactly a shocking, unexpected development. There wasn't going to be one-sided triumph between a pair of teams that combined to go 36-6-6 at home and 16-26-6 on the road in the regular season. Of course, there's also the trend of the Kings being able to eke out wins and remain close in games without playing their best hockey (my LAK.com feature later today will cover this), and last night's game surely fit that script for much of its entirety. As badly as Los Angeles was outplayed in a dominant San Jose first period, it was a one-goal game after one, and they were still a play affected by a referee's whistle away from vastly changing the game's trajectory.
-So, about the whistle that negated Dustin Penner's goal. While at the game, writers aren't always privy to immediate multiple angles, additional replays and subsequent between-period analysis. From the press box, often we have to make our own judgments after only the initial replay. Having returned back home and having received a better view of the apparent goal that was whistled dead, I'm obviously amazed by the quick whistle. It didn't appear that there was a referee in the proper position to be able to signal that play dead. That was a puck that was destined for the back of the net regardless of whether Penner jammed it in.
-The Penner goal was a moment of intense frustration for Kings fans, but the reason this series is tied once again is because the Kings are struggling to score goals at even strength. Even if Penner's goal is counted, the Kings would have only three even strength goals in the last nine periods. The line of Dustin Brown, Anze Kopitar and Justin Williams has averaged one point per game through the playoffs after combining for 2.17 points per game during the regular season.
-Matt Greene appeared to be an asset on the blue line in his first playoff game of 2013. He ably battled San Jose's size in front of Jonathan Quick and capably cleared lanes in front of the Kings' crease. As long as his body is able to handle the battle of withstanding Joe Thornton's and Brent Burns' attempts at positioning through the remainder of the series, I don't anticipate him leaving the lineup again. Perhaps it's time to reunite the Martinez-Greene pairing from a season ago?
-I've been an enormous fan of the Kings' Twitter feed and social media presence for the better part of the last year. It engages hockey fans, and while there's a debate over whether it actually drives revenue and provides tangible marketing benefits for the team, it is an entirely welcome juxtaposition against the repetitive fan re-tweets, player appearance updates and generally unimaginative interaction that make many team accounts mostly cookie cutter versions of each other.
That's why it was so disappointing to read Kevin Ryder using the team's Twitter feed to equate a terrific shutdown play by Brad Stuart on Anze Kopitar with sexual assault. I wasn't "offended" by what he wrote, I just thought it was inappropriate, juvenile dialogue coming from a team of a major professional sport, and in stark contrast to the mischievous wit that has come to define the team's engaging online presence. When The Royal Half takes over the Kings' Twitter feed, boundaries are stretched without being crossed through intelligent smack talking and sharp give-and-take. When a morning disc jockey makes light of sexual assault, it crudely cheapens the online discussion and rightfully offends many.