It's not your typical trip Down Under for Kings defenseman Jordan Spence.
Like many of his teammates, his arrival to Australia marked the his first memories of visiting the country. Unlike those teammates, however, it is not actually his first time in Australia.
Spence was born here, even if he doesn't remember it. Born to a Japanese mother and a Canadian father, Spence's parents lived in Australia for the better part of three years, with Jordan born in Sydney. He lived in Australia during his early years but left the country when he was just a one-year old. Naturally, he doesn't remember those days all too well, but that doesn't make a return any less special. Spence hadn't been back to Australia since he left for Japan all those years ago.
Now, with aspirations of making his first opening-night roster, he's back where it all began.
"It's a pretty cool experience," he said after day one of training camp yesterday afternoon. "We're going to be here over the next six, seven days, so I'm gonna take it all in and actually remember it this time when I go back."
When he made his NHL debut during the 2021-22 season, filling in with the Kings during an injury crisis on the blueline that saw current teammates Drew Doughty and Matt Roy both out of the lineup, Spence became the first Australian-born player to reach the NHL. Spence said he himself didn't even know that at the time, but recognized how cool it is once he learned it.
Forward Nathan Walker, who was born in Wales but grew up playing in Australia, carries the flag for his own accomplishments, and rightfully so, but that should take nothing away from what Spence has done and the path he's taken.
Even if his time spent in Australia was minimal, Spence still comes from a background that saw him live several years of his life in Japan, before furthering his hockey journey in Canada. He carries both Japanese and Canadian passports, representing Canada at the World Junior Championships back when he played in the QMJHL. His Australian roots are a unique piece to the puzzle and he's looking forward to getting the chance to explore a bit as the week rolls on.
Spence noted that his parents have friends in Sydney, Australia – approximately a nine-hour drive from Melbourne, assuming you can figure out the whole driving on the left side of the road situation. His parents are planning on attending the games this coming weekend and Spence laughed when saying they're probably more excited for the trip than he is. Having lived in Australia as adults, it's a homecoming of sorts for them, with their son playing in historical hockey games the focal point.
From what they've told him, Australia is a country (and continent) with a lot of passion for their sports. Though hockey is far from the most popular sport down under, Spence has heard a lot about the energy and atmosphere he's expecting this weekend.
"There's a lot of cool stuff down here, just with what my parents have said, I think it's just the atmosphere and everything that's down here," he said. "They said that they love sports [in Australia]. They said hockey is not the biggest sport but us going down there, they said that it's going to be a pretty cool experience and there'll be a lot of people cheering, cheering hockey as a sport."
The wrinkle for Spence is that this is also his most important training camp on the ice as a professional. Whether he's skating in Melbourne or El Segundo, Spence is looking at his clearest path yet to a potential NHL roster spot. With Brandt Clarke – Spence's primary competitor for the RD3 position – currently out of action due to injury, Spence's opportunity is now that much greater.
His goal between the end of last season and the start of the present season was two-fold. Spence focused this summer on building strength and adding weight, which he felt he did, adding around ten pounds to his frame. The second is to improve upon consistency on the ice, which he feels is the biggest area he needs to improve upon when it comes to establishing himself as an NHL regular. Consistency is king, especially on the blueline, and he's determined to improve in that area.
"For me, I think it's just consistency," he said. "I want to bring it every game and that's the difference between the AHL and the NHL. You've got 82 games, so you got to bring it every game in order to be in the fold. So that's what I've taken from the last two years, I've been trying to build on that and hopefully I can do that this year."
Now, with one day of camp in the rearview mirror and a few weeks still to come, Spence is focused on securing a spot on the team. He knows what that will require and that's his best during training camp. Australian roots aside, it's a business trip at the end of the day and that's where the focus lies.
"I know my worth when I'm on the ice and all I have to do is bring it in camp," Spence said. "I have to show them that I can be on this team and I belong on this team this year and that's my goal."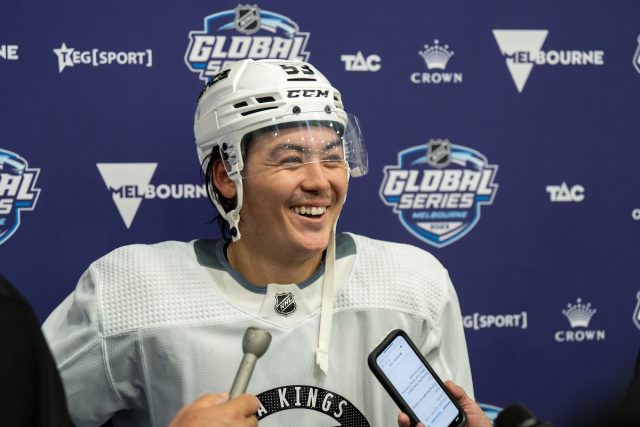 We're now onto Day 2, as the Kings contingent here in Melbourne gets set to hit the ice at 10 AM local time at the O'Brien Icehouse, 5 PM Pacific. Earlier on today, the Kings rookies skated at Toyota Sports Performance Center in El Segundo, heading into a day off tomorrow.
As far as the veteran group goes, we'll expect to see the same lineup today as we saw during yesterday's camp-opening skate. Listed for reference below is yesterday's alignment –
Quinton Byfield – Anze Kopitar – Adrian Kempe
Trevor Moore – Phillip Danault – Viktor Arvidsson
Kevin Fiala – Pierre-Luc Dubois – Arthur Kaliyev
Carl Grundstrom – Blake Lizotte – Trevor Lewis
Jaret Anderson-Dolan – Alex Turcotte – Samuel Fagemo – Jacob Doty
Mikey Anderson – Drew Doughty
Vladislav Gavrikov – Matt Roy
Andreas Englund – Jordan Spence
Tobias Bjornfot – Jacob Moverare
Pheonix Copley / David Rittich / Cam Talbot
Will update if any changes to that group, but it appears likely we'll see this alignment throughout the week and adjust from there. Day 2 recap to follow!