Practice #1 is in the books!
The LA Kings rookies hit the ice on Thursday afternoon before departing for Las Vegas to participate in the 2023 Rookie Faceoff. The group skated for 90 minutes or so, with an ice cut in between, in their only formal practice together before the showcase event.
Yesterday morning, the roster for the "showcase" – as Head Coach Marco Sturm called it – was unveiled. The group consists of several drafted Kings prospects, as well as several more who are attending the event via an invite. It's an interesting mix for the Kings, who will get underway tomorrow afternoon against the San Jose Sharks.
Rookie Faceoff is always an interesting event and for this season in particular, those attending will have even more opportunity than in seasons past. As the Kings head to Australia to begin NHL camp, several younger players will be here in Southern California to feature in not just the rookie games but also the first handful of NHL exhibition games stateside as well. It's a massive chance for those who are here this week to see how they stack up in an event against their peers, but also against NHL players in exhibition season.
For this group, that big word – opportunity – is the name of the game.
"In my experience, whether as a player or a coach, there's always a player or two who really stand out and surprises everyone," Ontario Head Coach Marco Sturm said. "Why not one of those guys. They don't have to be in Australia with the big boys, they can be here too, and I think most of them will have a chance to play in four games and those are great opportunities. I wouldn't be surprised if one of them will get a crack out of it with the Kings."
While Sturm is preaching it, the players in the room understand the situation as well.
Take Alex Laferriere for example.
Laferriere, who skated next to Francesco Pinelli and Andre Lee during today's practice, was one of the most productive players in the NCAA over the last two seasons at Harvard University. He signed his entry-level contract this past spring and made his professional debut with the AHL's Ontario Reign, scoring his first career professional goal against the Abbotsford Canucks in the process. His play led him onto Ontario's top forward line by the end of his short stint and he finished the season practicing with the big club during the playoffs against Edmonton.
Now, Laferriere is entering his first NHL training camp, with eyes on beginning his first, full professional season. Laferriere is not among those heading to Australia, but that doesn't mean he's off the radar either. As Sturm indicated, there will be a few players from this group, who will impress throughout the Rookie Faceoff and early exhibition games, who will get their chance afterwords with the big group. Laferriere is hopeful to be one of them.
"Any time you get to play in games, it's an opportunity to showcase your skills and there are a lot of guys that want to do that," he said today. "With most of the team going to Australia, I think we're going to get a chance to play in some of the games against NHL teams, so we'll get a chance to play games [in Vegas] and get ready for those games."
While a bit younger than his right wing, Pinelli is in the same boat.
The Stoney Creek, Ontario native is actually entering his third career Rookie Faceoff event, having represented the Kings in Arizona in 2021 and San Jose in 2022. After finishing up his junior career in the OHL, where he's captained the Kitchener Rangers over the past two seasons, Pinelli is now set to begin his professional career in Southern California this fall. He's just 20 years old, but he's one of the only players here who is playing in his third event. He believes there is an opportunity to be leader this weekend to teammates who might not be quite as experienced.
"A lot of guys are a lot younger, haven't been to a camp yet and this is my third one, so I have some experience," Pinelli said. "I can show the younger guys how to prepare for games and how to prepare themselves like a pro."
Pinelli indicated today that he can play both center and wing. He's been a center for the better part of the last two seasons and that's how we profiled him in the positional previews, but he said today he spent the bulk of his first season with the Rangers playing left wing. In his own words, he's comfortable playing on both sides of the ice, as well as through the middle, and he's willing to play wherever he is asked this season, regardless of level. That's the right mindset to have for a younger player who is trying to play his way into the mix.
Pinelli understands the opportunity in front of him and that opportunity starts tomorrow, when the Kings take on the Sharks.
"There's definitely opportunity available," he indicated. "I've got to play well, show up and opportunities will come. I'm looking forward to this tournament in Vegas and just looking forward to the overall camp coming up."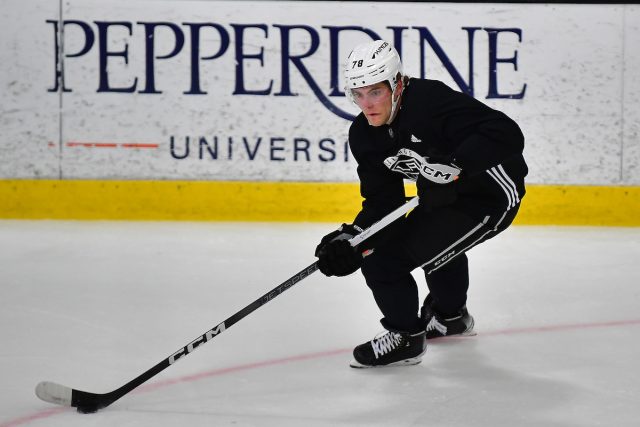 Opportunity doesn't just come up front – it'll be available to those on the blueline and those in net as well.
On the backend, Cole Krygier is more seasoned than most rookies, but he's entering his first full professional campaign nonetheless. Coming off of five seasons at Michigan State University, Krygier was acquired by the Kings late last season and he made his professional debut with Ontario in March. He went on to play in both of the Reign's postseason contests against Colorado, tallying an assist in Game 1.
While it was only 10 games, between the regular season and playoffs, it's experience which benefits Krygier coming into camp this fall. He's now taken that step up in competition from college to the professional game and that should serve him well as he gets underway. He's also familiar with the coaching staff, led by Sturm, which adds to the comfortability factor.
"Being comfortable and being familiar with them is huge," he said. "The systems we run are going to be the same as we ran last year, so that's a big advantage for me. Being ready to go and bringing my game to the team is the biggest thing for me."
Krygier's prospective path to the NHL will likely need to be shorter than most, due to being an older prospect, so he'll be eager to take advantage of any opportunity in front of him. He understands the situation here this fall. While he's never taken part in a Rookie Faceoff to date, being a collegiate player, he knows he'll get plenty of games over the next couple of weeks to showcase what he can do.
"I think any time you get an opportunity, you've got to take advantage and harness it and I think there is going to be opportunity here," he said. "There's a lot of guys here who have a chance to earn something."
Laferriere, Pinelli and Krygier are just three of the 27 players on this roster looking to seize the opportunity in front of them. With 15 forwards, nine defensemen and three goaltenders on the roster, expect to see everyone get their chance this weekend in Vegas, with main camp and exhibition contests on the horizon for many in this group the following week.
With the Kings participating in the Global Series in Melbourne, many within this group of players will also have the opportunity to play NHL exhibition games. As Sturm said above, there will undoubtedly be standouts from this group who will force their way into the conversation. We don't yet know who those players will be, but we know that the group at large is aware of what is at stake beginning this weekend. There is opportunity to be seized.
Now, it's time to seize it.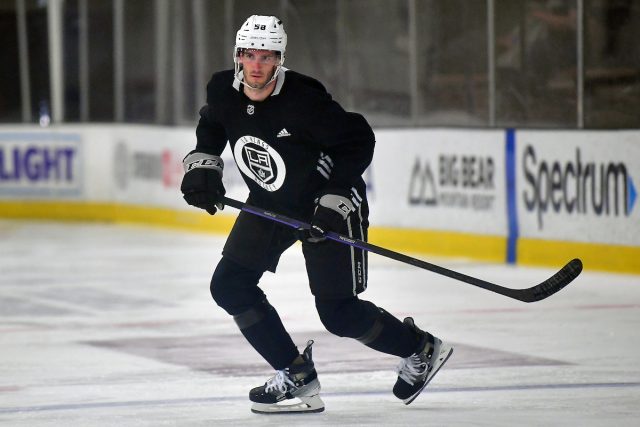 The Kings departed for Vegas earlier today, in advance of their first Rookie Faceoff game tomorrow afternoon. The Kings will face San Jose, Arizona and Anaheim over the next four days, beginning at 1 PM tomorrow versus the Sharks. Will have the live thread up on LAKI to follow along, with the game stream embedded to watch! Early word from the league is that games will NOT be blacked out, out of market, which is a win for us all. Will see if that comes to fruition, but we've got a game tomorrow, Insiders!! Exciting to be back.
Hit the ice before hitting the road 🛫#GoKingsGo pic.twitter.com/OxJmnxhJk1

— LA Kings (@LAKings) September 14, 2023