We are THIS close, Insiders!
This morning brings the roster and full schedule for the 2023 Rookie Faceoff in Vegas. The rookies will hit the ice tomorrow morning for practice in El Segundo before they begin a three-game showcase against rookies from other Western Conference teams. The game schedule for this season's Rookie Faceoff was already announced and we know that the Kings will take on San Jose, Arizona and Anaheim, beginning with the opener against the Sharks on Friday afternoon. A full schedule for the rookies is as follows, including practice days to begin and close the rookie-specific portion of training camp.
Rookie Camp Schedule
Thursday, 9/14 – Practice, Toyota Sports Performance Center @ 10:00 AM
Friday, 9/15 – LAK vs. SJS, City National Arena @ 1:00 PM
Saturday, 9/16 – LAK vs. ARI, City National Arena @ 3:30 PM
Sunday, 9/17 – Practice, City National Arena @ 11:00 AM
Monday, 9/18 – LAK vs. ANA, City National Arena @ 12:30 PM
Tuesday, 9/19 – Practice, Toyota Sports Performance Center @ 9:30 AM
As far as those participating, this is a less-experienced roster than we saw a season ago, when Quinton Byfield and Jordan Spence brought 70 games of NHL experience between the two of them. There are several players participating on tryouts with the Kings, though there are also a handful of players on NHL contracts at the forefront. In talking with Marco Sturm on Monday, he knows that nearly half of his group are tryout players and very few on the roster as a whole have participated in a Rookie Faceoff event before. Sturm said he'll lean first and foremost on the guys he coached in Ontario last season, with others who have a bit more seasoning expected to be in more of a leading role in an event like this as well. The full interview with Sturm will drop on All The Kings Men on Thursday morning, with full coverage to follow from Thursday's practice.
As far as the roster goes, the quartet of Martin Chromiak, Samuel Helenius, Andre Lee and Kim Nousiainen spent all of last season at the AHL level, playing at a high level and playing under Sturm. Additionally, Alex Laferriere and Cole Krygier played games at the end of last season, while goaltender Jacob Ingham has AHL and ECHL experience to his name, though he missed all of last season with an injury. Goaltender Erik Portillo – who Sturm called his top player to watch in the showcase event – practiced with the AHL club towards the end of last season after he was acquired from Buffalo at the trade deadline, so he isn't coming in cold from that perspective.
Among other contracted players are forwards Laferriere and Francesco Pinelli, two of the more exciting new professionals in the organization this season. Laferriere got his taste of professional hockey last season, as he played four games in the AHL with Ontario, before he joined the black aces during the Kings' series against Edmonton. Pinelli had a decorated junior career, captaining OHL-Kitchener over the last two seasons, and he'll now look to make the jump into professional hockey. You never know where a strong showing in training camp might take you and we should expect to see both Laferriere and Pinelli feature in several exhibition games early in camp, in addition to the Rookie Faceoff, giving both players ample opportunity to impress.
Forward Aatu Jamsen and defenseman Jakub Dvorak will be joining the roster from overseas, coming in with their seasons already underway in Europe. Perhaps no player is more ready to hit the ground running than Jamsen. His club in Finland, Lahti Pelicans, are participating in the Champions Hockey League and Jamsen has five points (2-3-5) from his first three games played in the competition, ranking second on his team in scoring. Dvorak has skated in a handful of exhibition games with his club in Czechia, Bili Tygri Liberec, and his club will be into the regular season when the Rookie Faceoff commences. While this will be the first formal practice for many, those two prospects will already be well adjusted.
2023 third-round draft pick Koehn Ziemmer will play in a Kings jersey for the first time during Rookie Faceoff, joining Dvorak as the two players selected this past July to participate. Rounding out the contracted prospects are defenseman Angus Booth and forward Kaleb Lawrence, who will both participate in their second Rookie Faceoffs. The pair of 2022 selections were a part of the squad last season in San Jose.
Rounding out the roster are 13 players on tournament invitations, as well as Ingham who is on an AHL-contract with the Reign. Five of the 13 players have professional experience, including Nathan Burke, Ryan Francis and Isaac Johnson, who played at the AHL level last season. Several of the players who are attending as invites participated in development camp over the summer, meriting a longer look here this fall. With just three extra players both at forward and on the blueline, expect to see these invited players get a look during the showcase here this weekend and many from that group will carry over into main training camp next week with the group getting underway in El Segundo.
Noticeably absent from this roster is defenseman Brandt Clarke, who participated in his first Rookie Faceoff last season. Clarke is a contender for an NHL roster spot and is slated to accompany the main group going to Australia to begin NHL Training Camp. Under normal circumstances, Clarke would be in Vegas, likely as a captain or alternate captain, helping to lead the rookie squad as a more senior player. However, with the schedule shaking out as it does, the Rookie Faceoff crosses over with the departure to Australia and as such, Clarke will not be participating in the showcase event.
A full showcase roster is listed below, and linked HERE –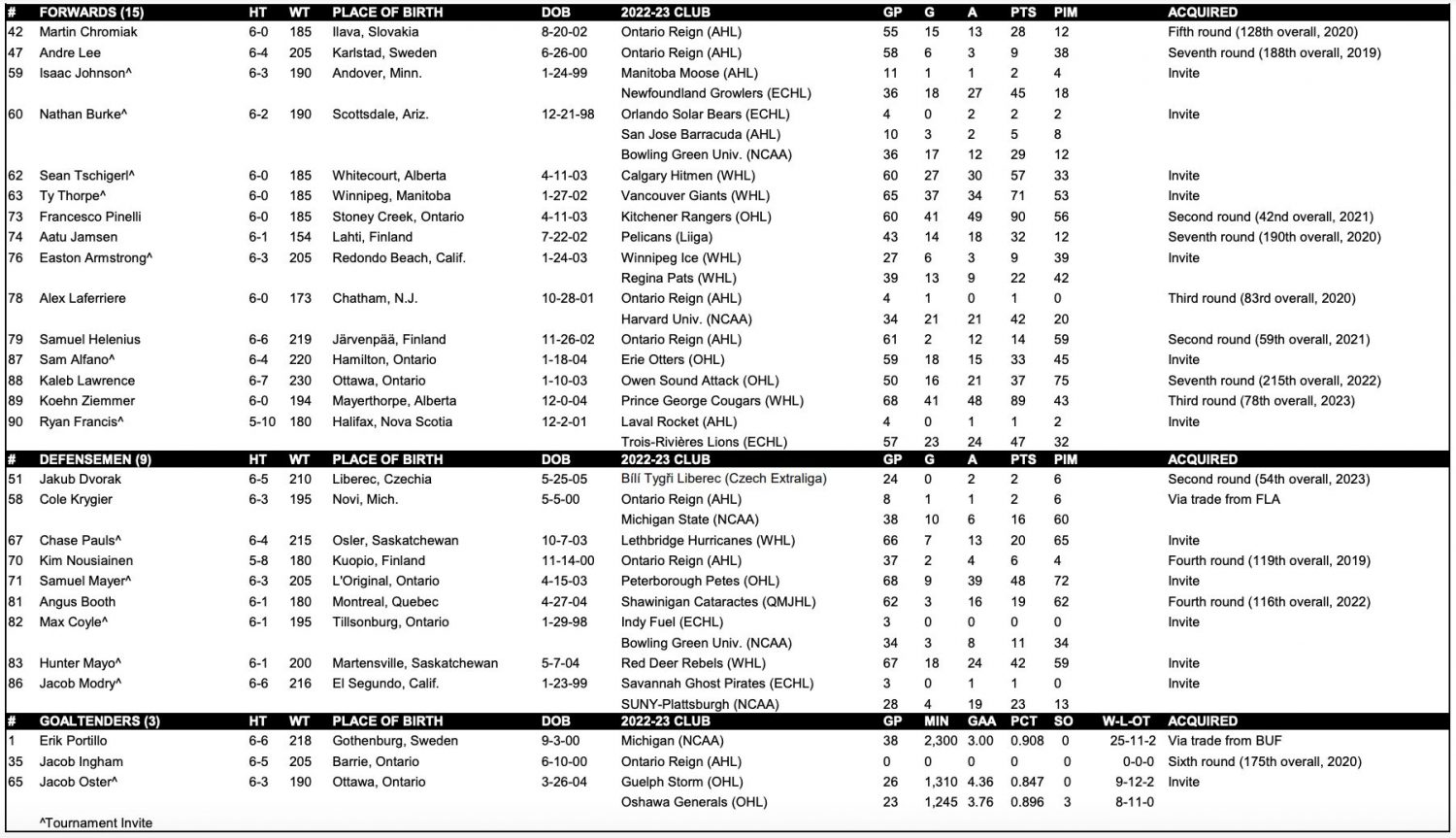 Forwards (15) – Sam Alfano, Easton Armstrong, Nathan Burke, Martin Chromiak, Ryan Francis, Samuel Helenius, Aatu Jamsen, Isaac Johnson, Alex Laferriere, Kaleb Lawrence, Andre Lee, Francesco Pinelli, Ty Thorpe, Sean Tschiegerl, Koehn Ziemmer
Defensemen (9) – Angus Booth, Max Coyle, Jakub Dvorak, Cole Krygier, Samuel Mayer, Hunter Mayo, Jacob Modry, Kim Nousiainen, Chase Pauls
Goaltenders (3) – Jacob Ingham, Jacob Oster, Erik Portillo
Full coverage to follow tomorrow as the rookies hit the ice to start the day. I'll be at that skate on Thursday and Ontario Reign broadcaster Josh Schaefer will have coverage from the trip to Vegas here on LAKI. So much more to follow, stay tuned!