WHO: Los Angeles Kings (14-11-4) @ Montreal Canadiens (13-11-2)
WHAT: NHL REGULAR SEASON GAME
WHEN: Saturday, December 10 @ 4:00 PM Pacific
WHERE: Centre Bell – Montreal, QC
HOW TO FOLLOW: VIDEO: Bally Sports West – AUDIO – iHeart Radio – TWITTER: @DooleyLAK & @LAKings
TONIGHT'S MATCHUP: The Kings look to get back on track this evening in Montreal, with the third game of their current roadtrip on the docket.
HEAD-TO-HEAD: Forward Alex Iafallo led the way last season against the Canadiens with three goals and four points from two games played. Defenseman Matt Roy and forward Anze Kopitar each had two assists. Forward Adrian Kempe has six goals and eight points from seven career games against Montreal. Forward Phillip Danault returns to Montreal for the second time since departing as a free agent in 2021.
KINGS VITALS: The Kings held a full-team skate this morning from Centre Bell, following no on-ice practice yesterday in Montreal.
Goaltender Pheonix Copley was off first this morning for the visitors and he appears to be in line for his second start in a Kings jersey later on this evening. Copley has faced Montreal once in his NHL career and made 18 saves on 22 shots in just over a period of work. On the young NHL season, Copley is 1-0-0 with a .939. save percentage and a 2.00 goals-against average.
This morning's line rushes below –
Fiala – Kopitar – Kaliyev
Moore – Danault – Arvidsson
Iafallo – Kempe – Vilardi
Anderson-Dolan – Lizotte – Grundstrom
Fagemo
Anderson – Doughty
Durzi – Roy
Edler – Walker
Bjornfot
Copley
Quick
From this morning's line rushes, the Kings do not appear set to make any changes from how they aligned in Toronto on Thursday. Defenseman Tobias Bjornfot and forward Samuel Fagemo, the scratches in Toronto, will be out again tonight. More on that below.
CANADIENS VITALS: Montreal is back home this evening following a four-game roadtrip to the West Coast, in which they posted a 2-2-0 record against Pacific Division opposition. Montreal has been off since Tuesday, when they defeated Seattle.
The hosts are expected to start goaltender Jake Allen in net tonight against the Kings. Allen brings with him a 6-4-1 record all-time versus LA, along with a .935 save percentage and a 2.05 goals-against average.
Per Montreal Hockey Now, here is tonight's projected lineup for the Canadiens –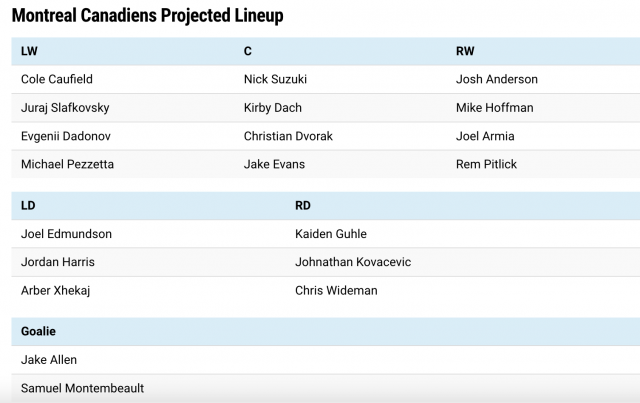 Montreal currently has four regular forwards on injured reserve – Pauk Byron, Jonathan Drouin, Brendan Gallagher and Mike Hoffman – though per the lines above, Hoffman is expected to play tonight. Dating back to 2009, no Montreal skater has faced the Kings more than Gallagher (14 GP).
Notes –
A Chance To Turn It Around
Only so many things you can say about Thursday's game at this point, right?
It wasn't good enough, no doubt about it. The reaction you might have could be two-fold: get on the ice yesterday and work, then make personnel changes entering tonight's game. Let's be clear, personnel was not the issue on Thursday and swapping a player who played for a player who didn't was not changing that game in particular, on a night when Toronto was in control from the opening faceoff through the final buzzer. It would not have mattered. Coming off a game like that, there are two schools of thought. You can make adjustments, personnel wise, or you can give that group the chance to run it back.
The Kings made the decision yesterday to use the same group and the same alignment tonight in Toronto.
"It can go both ways," McLellan said. "We have to plan our lineup based on our reaction to the game and how we dealt with it yesterday. We made the decision that we're prepared to give that group a chance, after our meeting yesterday, to try and turn it around."
Yesterday's decision came on a day when the Kings opted not to practice in Montreal, holding an off-ice workout instead as a group. The team is currently in the middle of a six-game trip, which includes a back-to-back tonight and tomorrow evening against Montreal and Columbus.
The Kings have played 15 road games to date and by the end of tomorrow, they'll be tied for the third most away games in the NHL. As noted above, one thought process would be to get out there and work the group on the ice in response to that game, focus on improvements and adjustments. McLellan has shared previously that he and his staff don't operate that way, however, making decisions around practices before a game to take the emotion out of the decisions. The Kings opted for the off-ice route, with a focus on energy levels and maintenance throughout the course of the six-game trip.
"We travel a lot and we travel in large chunks, not just the Kings but all the teams out [West] and you have to learn to manage the good and the bad," McLellan said. "Often, when it's not going well as was the case yesterday, you want to get on the ice and grind it a little bit, but that doesn't make any sense because it can be very taxing on the group. There are ups and downs on long roadtrips and you can't carry the last game into the next one, you've got to move on quickly. Those are all things we're trying to apply on this trip."
We'll see how things pay off tonight and the Kings will get another crack at two points.
A Time To Kill
One specific area that the Kings have struggled in over the last segment of games has been the penalty kill.
Dating back to the win over Chicago on November 10, a span of 14 games, the Kings have allowed 14 power-play goals. Just four games in that span were perfect nights on the penalty kill and one of those games did not see the team play shorthanded. That's not to say that special teams are sinking the Kings though, because they've also scored 14 power-play goals in that span, not to mention a shorthanded goal. So overall, special teams are a net neutral, but the team knows it wants to clean things up on the PK.
In the second half of last season, it was the opposite, with the Kings a Top 10 team by shorthanded goal differential (SHG for minus PPG against).
When asking members of that unit over the last few days about that area, the biggest word that came up was "clears." Take the Ottawa game for example. On the first Senators goal, the Kings had several opportunities to clear the zone but were not able to. Not that they were all no-doubters, but opportunities nonetheless, regardless of the percentage you'd give them. Once you don't get it out, it gives the opposition time to reset their alignment against an increasingly tired PK unit, which then makes the next clear that much more important and that much more difficult. In Ottawa, it resulted in the first goal against.
That's also perhaps the toughest part of the penalty kill to practice, because no two clears are the same and it's always different when facing your own power play versus the tenacity of an opponent, in-game.
"There are some rehearsed situations, where a puck is dumped in and you get a touch on it, you have some outs you'd like to use, but every situation is different," McLellan said of practicing clears. "Fatigue comes into play, the ice conditions, where the forecheckers are. A lot of times we're frustrated with clears, because it's just on our tape, but you have a fraction of a second to react. It's really hard to work on."
Speaking with three PK forwards – Trevor Moore, Blake Lizotte and Carl Grundstrom – that was one of a few areas that came up as focal points for the group and what they want to fix and work on.
Grundstrom – We've got to get better clears, I think. It's hard. Sometimes it doesn't go your way, but I think our clears and our structure have to be where they should be.
Lizotte – I think it's about four guys being on the same page. Whether you're pressuring or sitting back, I think that's big for our team is getting four guys on the same page going forward.
Moore – I think we've done some good things, but sometimes it's just the clears or the little mistakes that are costing us. We've got to be on the same page and if there's a loose puck or a breakdown, we have to all be going, it's not just one guy or two guys.
The other theme was having everyone on the same page, at the same time. Important to have the consistency there as well and two things to focus on as we watch tonight's game in Montreal play out.
Battle Of The Billet Bros
Lastly, Insiders, a note regarding Sean Durzi, who will face off against his former billet brother, Nick Suzuki, tonight in Montreal.
Durzi and Suzuki were teammates in the OHL, first with Owen Sound and later with Guelph during the 2018-19 season. Last season, the Kings and Canadiens met twice before Durzi was recalled in late-November, so the two did not get to square off. Tonight will be the first time they'll play in the same game at the NHL level.
Suzuki and Durzi lived with the same billet family – the Rowe family – who also hosted Wayne Simmonds back when he played in the OHL. Durzi called his and Suzuki's relationship competitive and he's sure it'll be that way on the ice tonight. But off the ice, the opportunity to play in front of the family they lived with together will be special.
"We've had a bunch of family who wanted to come out and we know we wanted to have [our billet family] at the game," he said. "We kind of joked about it, even when I didn't have an NHL career in sight at the time, of having them at our game against each other one day, or on the same team. It happens to be against each other and we're going to set them up with some good seats and go from there."
Durzi and Suzuki shared the cost of a suite tonight for their former billet family, as well as other friends and family who will be in attendance.
The young defenseman spoke highly of Phil and Sarah Rowe and is fortunate to still have a relationship with them now years later, with both he and Suzuki playing in the NHL. It'll be special, I'm sure for both players, to have them watching tonight.
"They're awesome, we were super fortunate to have them, they had been billets for 20 years when we had them, they've seen it all," he added. "For us to still be in touch and for them to be coming to our game in Montreal is going to be special, it'll be really awesome, we were blessed to have them and still have them in our lives."
Kings and Habs, tonight at 4 PM from Quebec.