32 players took the ice representing the Ontario Reign Sunday afternoon at Toyota Sports Performance Center on the first day of training camp for the Kings' primary affiliate.
The initial roster is primarily made up of skaters who began their season with the big club almost two weeks ago. Most of the concepts and systems the Reign use will mirror what the Kings are doing in an effort to keep everyone on the same page and prepare them for an opportunity at the next level.
On Saturday, LA reduced their main camp roster by 21 players, all of whom are now with Ontario. They also placed six players on waivers. Earlier today, all six cleared and were assigned to the Reign. Although the players released didn't have any travel to their new team, Reign Head Coach John Wroblewski is focused on getting each of his new members comfortable with where they're at now that they're in a different locker room. More on that in a moment.
But for many of these players, it's more of a re-acclimation to their surroundings. In total, 19 members of the initial Ontario roster have previously been with the team, led by 34-year-old captain Brett Sutter who is in his seventh season with the club.
Kings Head Coach Todd McLellan clarified Sunday that even though yesterday's moves have left NHL hopefuls wearing a Reign jersey for practices, it doesn't mean that they're out of the picture. He said he believes some players in the Ontario group will still see time in LA's three remaining exhibition games. So be on the lookout for more roster shuffling at some point.
A central theme of the Kings' camp has been how intense the competition for opportunities is, and that won't change even though the league has. With more cuts potentially still coming from above, it's already a crowded roster for the Reign, bolstered by the additions of four invite skaters (forward Dallas Gerads and defenders Frank Hora, Christian Kasastul and Bobby Russell).
There's no roster limit in the AHL, but 17 forwards, 10 defenders and five goaltenders is already an excess of players. There is much to still be decided both for who will be on the opening night roster and how many minutes those skaters in the lineup will be playing.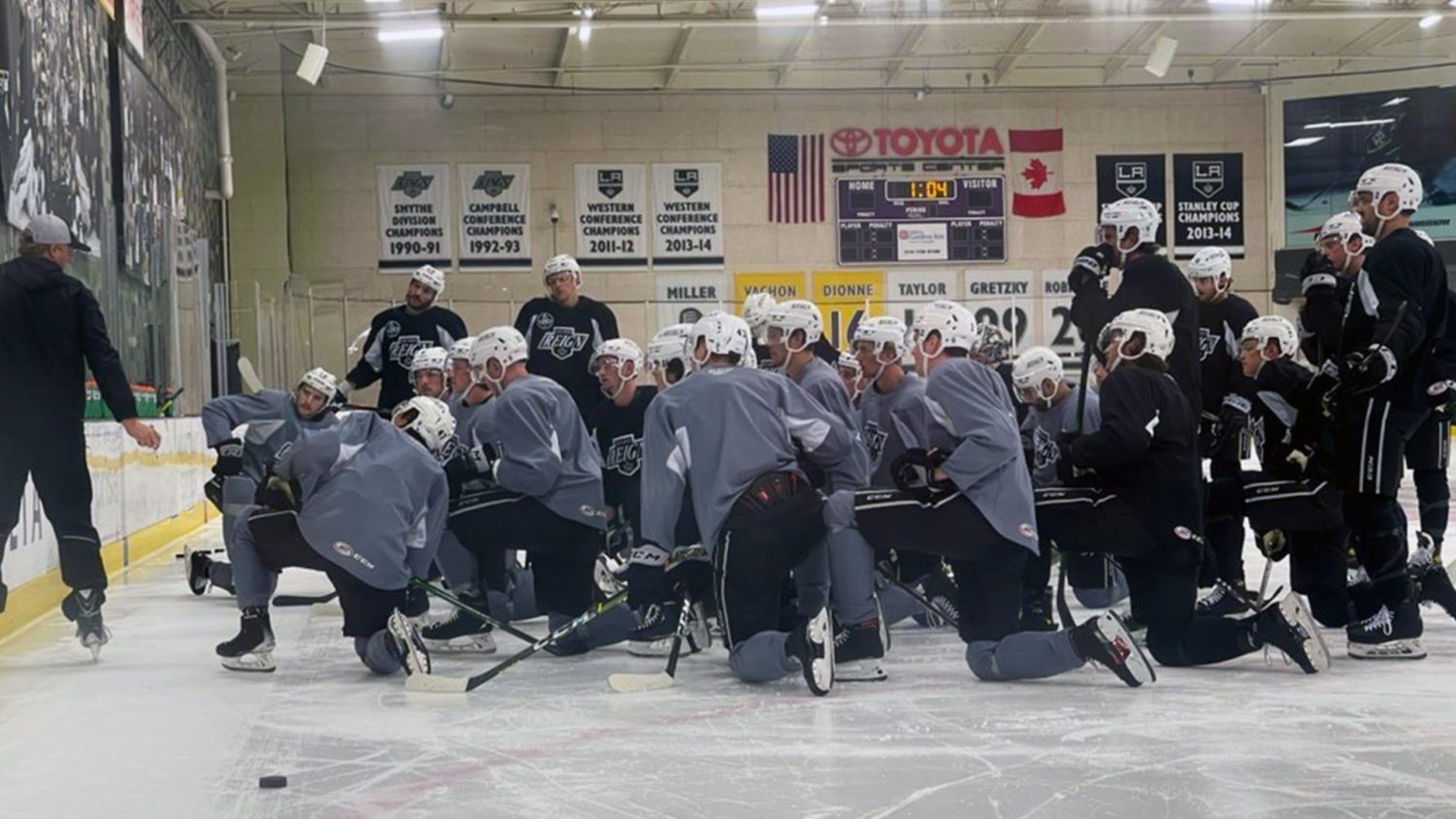 Sunday's practice was divided into two parts, with some rush drills in the first half to get everyone's legs moving. After a quick dry scrape of the ice, the group returned to work on breakout plays before a controlled scrimmage and then finished up with a full-team power play discussion led by Assistant Coach Craig Johnson.
We'll have more updates throughout the week as players get settled and prepare themselves for two preseason matchups with San Diego before camp comes to a close. More from Coach Wroblewski, including his full interview, below.
Head Coach John Wroblewski –
On how it felt to lead the team's first on-ice session
We've had a chance to work with the Kings and learn a lot from Todd [McLellan] and his staff so running practice isn't exactly a new thing for us but it does feel good to put the Reign logo back on and get with the core of our guys, having Brett [Sutter] out there, and it's always a great feeling to be with your club.
His keys to the first few days of camp
It's probably more on the side of being mentally sharp than it is actually physical. The majority of these players have seen what we're doing systematically. There are only a couple tweaks to different items that we've implemented for this season so I think for a lot of these guys it's wrapping their head around where they're at in terms of organizational position, being comfortable with that and being ready to put their best foot forward, be a professional and be part of the Reign.
Takeaways from seeing his players in NHL preseason games
Internally, it's very much a regular season game. You've got your fingers crossed when the guys you've coached are on the ice. You want them to perform. They're representatives of the Ontario Reign and we take that responsibility very seriously. It was great to watch those guys out there and we were very proud of them. The guys that got their chance we thought that they played pretty well but there's a lot of them that still have a lot of work to do and we'll help them get to that next level.