Insiders, the Kings are back!
Training Camp, Day 1, is in the books. The Kings skated across three groups this morning, with Groups A and B each holding their own separate practices, sandwiched around a scrimmage between the two groups, followed by Group C.
Through one day, which is an obvious indication of how the Kings will organize for all 82 games throughout the rest of the season, here's how the Kings lined up.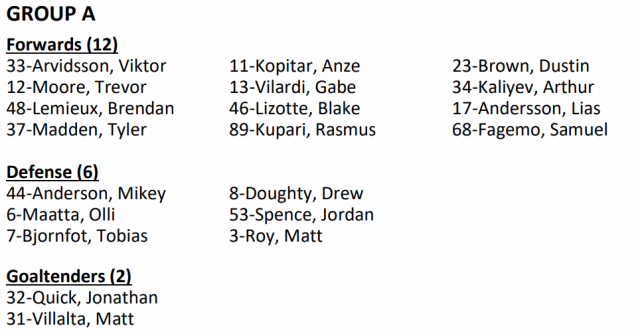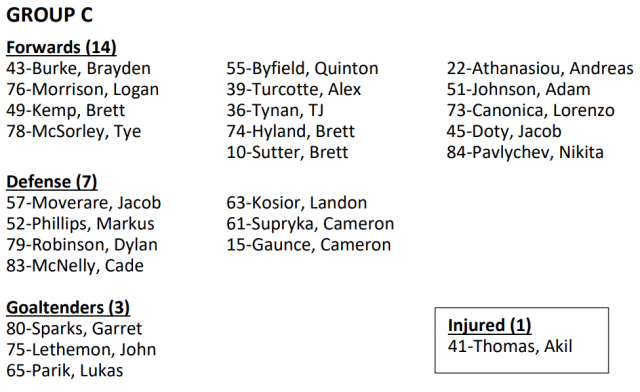 McLellan spoke about the differences between this and last season's camps. Last season, camp was so short that the Kings had to really hit the ground with close to what they wanted to see on Opening Night. A return to a more normal schedule opens up the possibilities.
"Last year we didn't have time, we put lines together, we got on the ice, we played a black and white game and we played for two points," Todd McLellan said. "Not that we have an overabundance of time this year, but we have seven exhibition games, we have a black and white game, we have these intra-squad games so we have an opportunity to move players around and quite frankly we have a lot of players that we have to figure out. Four new bodies that we've never seen before in a Kings locker room, and that's over and above all of the kids coming through. We will move players around."
The early days of training camp are always interesting. You don't want to draw too many conclusions from one skate, with players still at varying degrees of stages in the process between summer workouts and game shape. Still, there are takeaways to be made, and information to be learned. It's just what you want to focus on, and how you apply it.
"Re-establishing pace and intensity," McLellan said. "There's a significant difference, in my opinion and I'm sure the players would tell you the same thing, between summer hockey training. Even when you've got all of your NHL guys together, when the coaches are on the ice, the scrimmages are for real, the body contact becomes a little bit heavier, the pace and the timing becomes quicker, the fatigue factor sets in quicker, there's a lot of variables that have to get up to speed again."
Group A began the day with a 45-minute skate, featuring flow drills to get the legs going, some early-season work on the forecheck and some combinations of line rushes and full-ice drills, going from end-to-end. Group B ran what appeared to be a similar, if not identical skate, after, though we missed the first portion due to media availability with the first group.
The teams scrimmaged following Group A's skate, consisting of two, 30-minutes halves, running time. In the first half of the full-ice, 5-on-5 session, Group B struck twice through Austin Wagner and Martin Frk. Wagner's goal was a back post, tap-in finish, while Frk's was a shot from the high slot past Group A netminder Jonathan Quick.
The second half of the scrimmage saw forward Johan Sodergran convert for Group B, finishing a pass from Kale Clague who drove through the middle of the ice. Forward Phillip Danault created two additional, high-quality chances for Group B, with the best headed to Sean Walker, but Matthew Villalta made a solid save. Samuel Fagemo had the best opportunity for Group A, after he used his speed to draw a penalty shot, but he was turned aside on the backhand by Jacob Ingham.
"In watching the scrimmage, I always find it hard the first day, because you want to watch certain individuals and you're trying to watch 40 players, it's impossible," McLellan said. "If Kopi doesn't something really well and beats a player, am I watching Kopi or am I watching the player that he beat? We picked certain individuals, watched them as much as we can, and we get to know them as they move forward."
The afternoon finished with Group C on the ice for a full-team practice. Group C featured several players on AHL contracts, training camp invites and players working their way back into the fold, along with some players from last season's Ontario Reign roster. The groups, at this stage, are fluid and can be changed from day-to-day.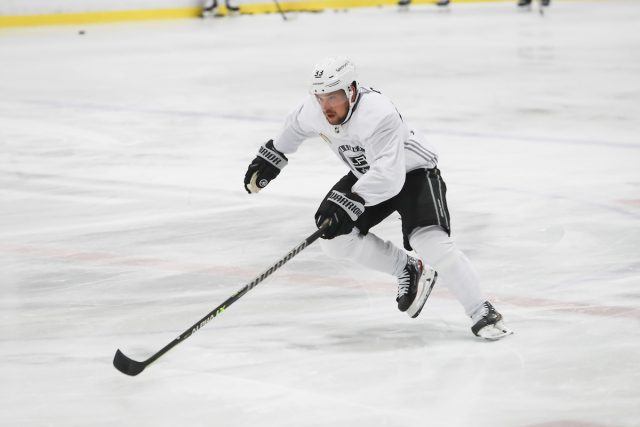 Early Expectations
Day 1 of training camp is a battleground for open-ended, larger-lens questions. The biggest of which posed today centered around whether the Kings are, or are not, a playoff team. Drew Doughty made his expectations clear, as he always does, while Anze Kopitar was a bit more reserved, as he always is. The common sentiment, though, is this team improved.
Todd McLellan brought the notion of not putting the cart before the horse. On Day 1 of training camp, to make big, sweeping declarations might be doing exactly that. Get better tomorrow, and go from there.
Todd McLellan – I know we better get better tomorrow. We haven't even played an exhibition game and we're trying to figure out if we're going to make the playoffs. I think this organization has to get better. We're moving forward. The playoff word should be used in every locker room right now, but we need to improve before we declare ourselves playoff-ready. Are we capable of it? I think we have the right players to do it, but can we get our game together quick enough, and maintain it long enough during the season to compete for that? We'll figure that out as we go. One step at a time for this group. Let's get better tomorrow.
Anze Kopitar – Do we want to be [a playoff team]? Absolutely. But most importantly, we're a better team than we were last year. It's exciting and I know it's going to sound cliche-ish, but it's the start that we're looking at right now. Have a strong start, don't fall behind and ultimately in March and April, get in.
Drew Doughty – I expect us to make the playoffs, I think that's our goal this year. We're not going to automatically make it, but I think for me, and everyone else, that's our goal. It's time for us to make that jump.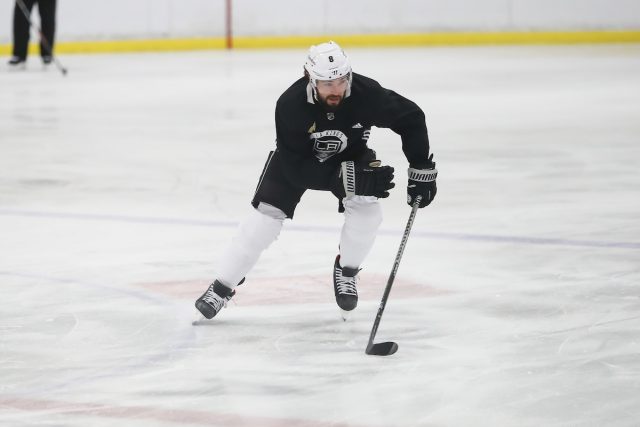 Summer Successes
A big focus for many of the veteran players on the Kings roster entering training camp last fall was the long, extended summer. The Kings ended their 2019-20 season early, in mid-March, and didn't reconvene as a group until late-December.
The time away allowed for certain veterans to take more time to get to where they needed to get to, both in terms of recovery and in building back up. This summer, ending in the middle of May and beginning here in late-September, that time was significantly shorter. Asking the players about the changes, while it wasn't the same, it wasn't necessarily worse.
Doughty explained the differences between his summers now, and his summers say as a 20-year-old. His time now relies more on maintenance than it used to, an important addition, and distinction, for the veteran blueliner. Kopitar and Iafallo emphasized that they both worked with the strength and conditioning staff here with the Kings to build a strong base.
Kopitar – It was a little bit different, definitely a lot more condensed. Matt and Trent did a really good job of putting a plan together for everybody, so we can come in, in good shape, and ready to start.
Doughty – You just feel a lot more of those bumps and bruises, when you were younger, you could recover a lot faster. Your summers become a lot more about maintenance, rather than maybe building more muscle. You still do that, at the same time, but maintenance is important. Getting treatments throughout the summer, whether or not you're hurt, staying in tune with your body. That's really the only change for me, the cardio is the same. Making sure I'm taking better care of my body, with nutrition and in the gym.
Alex Iafallo – I was here for most of the summer, so it was great to work with our training staff, they were great. We had a lot of guys in town, which was nice, to get that comradery for the whole summer. Most guys came in early too, so it was nice to meet them, have fun and train really hard. I think everyone is ready to rock this year.
New Guys
Today marked the first day, on-ice, and the first training-camp media session from Viktor Arvidsson and Phillip Danault. Also joining the duo was defenseman Alex Edler, along with KHL addition Vladimir Tkachev, who skated with the main groups.
For Arvidsson, it was his first training-camp skate with an organization that was not the Nashville Predators since 2013, while the same can be said for Danault, the Montreal Canadiens and 2015. Arvidsson was paired on a line with Kopitar and Dustin Brown, while Danault centered a unit with Iafallo and Tkachev. Strong, early combinations and both players were able to get a feel for training camp, Kings style, while earning some impressions along the way.
Arvidsson on his first camp skate with the Kings
Yeah, of course it was different, I was there for a long time, but I'm looking forward to this and this is what I'm focused on now. I'm trying to forget what happened and just look forward.
Danault on his first camp skate with the Kings
Yeah, there are so many things going on, so many new people, new media. It's a lot of things going on, but also a new city, getting the house and everything together. All the guys have taken care of me, and the organization has been great to me, supporting us as a family. They make it easier for us.
Kopitar on Arvidsson
We've skated here for the past two weeks or so, obviously a really good player. I didn't really like him when he was on Nashville, so I'm glad that he's with us now.
Iafallo on Danault
Great player. Very stable, it was fun playing with him, for the first time really. [He makes] short, little plays in the corners and he's a very good defensive centerman. It was fun today and I'm looking forward to playing with him.
So much more to come from today's interviews, including a look at Doughty and Kopitar's reactions to the moves made over the summer, plus an interview with the newly-extended Cal Petersen, who inked a new, three-year contract yesterday morning.
Day 1 Interviews