In early 2014, one of the most important decisions in LA Kings franchise history was about to take place, yet the impact wasn't immediately known at the time. It wasn't the garden variety signing of a contract extension for somebody on the team, nor was it a big-name free agent addition. There wasn't a new coach joining the team either. Instead, the announcement had to do with something the Kings were doing about 2,500 miles away in the northeastern part of the United States.
In true pioneer spirit, they were embarking on a journey that featured uncharted territory and going with little more than a belief that it was the right thing to do long-term, even if it created more questions in the short-term than provided solid answers. The Kings would lead the way for a handful of AHL teams to move West to California and create a network of development teams closer to their NHL parent clubs. While it may have seemed simple enough at the time, when you fast forward the clock five years, with the Kings in the middle of a full-blown rebuild, having all of their top prospects in-house, where they can work on becoming future LA Kings, all under the watchful eye of every key person in the organization, it really was a stroke of genius – even if few may have actually known it at the time.
While nobody could have ever predicted how far and wide a global pandemic would impact the world of hockey in 2021 — putting health and safety aside, and only focusing on the ice — it may have actually helped the LA Kings.
For example, in a normal year, two of the organization's prized prospects would have most likely been back in the Ontario Hockey League playing out their junior careers. Instead, Quinton Byfield and Arthur Kaliyev were able to spend a full season in the AHL, honing their craft in Southern California. To say they flourished would be a monumental understatement. It's even conceivable to think that in a few years from now, people will be talking about how this time period propelled their careers forward by leaps and bounds.
After 40 regular-season games, plus several more exhibition games and a postseason play-in contest, let's put a nice black and white bow on all of it by looking back at all of what went down this year with the Ontario Reign and hand out some (virtual) hardware.
2021 Ontario Reign Player Awards
Player of the Year
Winner: Arthur Kaliyev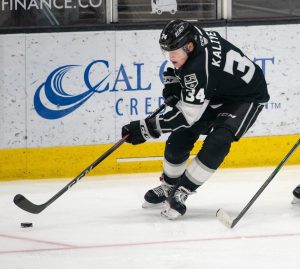 Players usually don't have trophies named after them until they've retired, but we're ready to rename the Reign MVP trophy the Arty Party Trophy right here and now. What he accomplished this year is quite stunning.
His story far exceeds the easy headlines of leading the team in goals (14) and points (31). He didn't back into those numbers while other guys were out of the lineup either. As one of only three players to suit up for every Reign game this season, Kaliyev was also second on the team in shots on goal and power-play goals, plus tied for the best plus-minus rating among all forwards who played in at least 15 games. Perhaps most impressive was his consistency. It essentially took the 19-year-old rookie pro less than five games to figure out the AHL. After going pointless in his first four contests, the 6-foot-2 winger put up 31 points in 36 games. Starting at Game 5, he recorded 8 points in 10 games, then at the end of the season posted 12 points in his final 10 games. His diversity was also on display throughout the season, seeing time with multiple centers, as he was routinely moved around in the lineup. He did it all this season, including possibly driving the team bus on road trips.
"Arty has bought in completely on the idea of being a 200-foot player and he's one of our more reliable players in our defensive system," Reign coach John Wroblewski noted. "Hats off to him for his dedication. Even when pucks weren't going in for him, he was frustrated with that, he didn't change his game, he didn't revert back to junior habits. He just kept pushing for his faith in the system, and the work ethic that he was putting in has been commendable."
Runner-Up: Akil Thomas and Rasmus Kupari
Vinnie LoVerde Award for Outstanding Defenseman
Winner: Jacob Moverare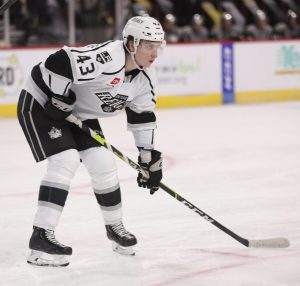 Named after longtime Reign captain Vinnie LoVerde, who proudly wore the 'C' when the team won the 2015 Calder Cup during their last season in Manchester, this award goes to the best all-around defenseman on the team. Ontario's 2021 winner might surprise people because he's a lesser-known name than some of the heavy hitters. At the same time, there is no denying what he brought to the Reign blueline was very similar to what fellow countryman Toby Bjornfot added to the Kings defensive core this season, as well. Both players easily provide a sense of calm, steady play. Jacob Moverare may have only played in 26 games this season – after missing about a month of action due to a wrist injury suffered in the opening weekend of the year against Henderson – but he never looked the part of a rookie defenseman playing in North America for the first time. Originally drafted by the Kings in 2016 as a 17-year-old, Moverare was one of the youngest players ever selected by the team, yet somebody Mark Yannetti claimed had the "highest hockey IQ" of any defenseman in that year's draft. Now 22 years old, the wait was worth it. He instantly made the Reign defense better and was nearly a point-per-game player over the final half of the season, posting 14 points in 18 games. Further, his overall .58 points-per-game led all Reign defensemen. Surrounded by a sea of forward prospects grabbing headlines, more people should be talking about Moverare's 2021 campaign and what the Kings might have on their hands after he gets another full year in the AHL.
Runner-Up: Kale Clague
Brandon Kozun Award for Unsung Hero
Winner: Mikey Eyssimont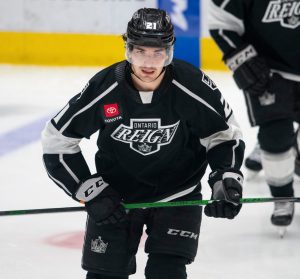 In what was a pivotal year for the former St. Cloud State Husky, Eyssimont came ready to deliver from the moment training camp opened. Arriving at 24 years old and with two years of pro hockey under his belt, he undoubtedly surveyed the landscape and knew his window to get noticed could be closing. No problem, though, he took full advantage of every bit of ice time he received. Statistically speaking, Eyssimont upped his goal pace from previous years, while never losing sight of his defensive responsibilities. He was seen by Wroblewski as a veteran player who could help "drag" young players like Akil Thomas into the offensive areas. In fact, some of his best work this season came when paired with Thomas. However, at one point or another, Eyssimont was on each of the team's four lines. The end of Tuesday's play-in game saw Eyssimont with a bloody face after taking a puck to the nose after nearly scoring in the overtime session. That wasn't the real exclamation point to his season, though. It came two weeks earlier against the team's biggest rival, the San Diego Gulls, when Eyssimont completed the Gordie Howe Hat Trick, as well a natural hat trick, in the third period. He played in all 40 games this season and left it all out there each and every time.
Runner-Up: Sean Durzi and Boko Imama
Kurtis MacDermid Award for Most Improved Player
Winner: Rasmus Kupari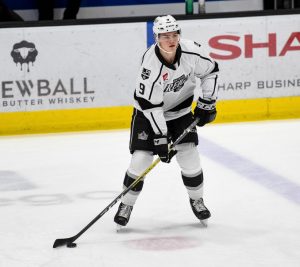 Let's begin with the obvious, how Kupari and MacDermid are being mentioned in the same sentence. Well, MacDermid played 194 games in Ontario, tied for second-most in Reign history. It was a grind to get to the NHL and he worked hard at his craft. Kupari is clearly a different type of player. Still, there's no denying how impressive the 21-year-old centerman has been in 2021 – even though you really have to go back to 2019-20 to tell the real story. Limited to just 26 AHL games then, due to blowing out his knee at the World Junior Championships, Kupari spent 2020 on the shelf after undergoing surgery. And while it usually takes players a full season or more to come back from such an injury, he made the most of his downtime, getting stronger and actually better. Kupari went from a .30 points-per-game in his rookie campaign up to .72 PPG this season. He finished third on the team in points despite playing in only 32 of Ontario's 40 games, having missed time while he was up in the NHL with the Kings. What's even more intriguing is the fact he only took 56 shots on goal. Wroblewski routinely expressed wanting to see more shots from Kupari. Which makes it scary to think about Kupari even finding another level of success next season.
Rookie Of The Year
Winner: Arthur Kaliyev
See above.
Runner-Up: Quinton Byfield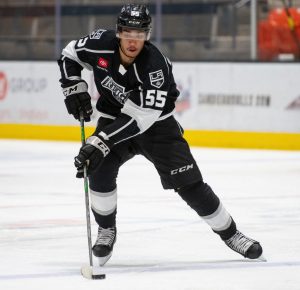 With the case for Kaliyev already made above, let's deviate from the format here and offer a few words on QB. As an 18-year-old serving as the team's 1C most of the season, his confidence visibly grew as the year moved along. Not only was he adjusting to a new league full of much older players, Byfield was also adjusting to the extra 15 pounds he put on during the long break in 2020. Although plus-minus isn't the best gauge of a player's performance, LA's first round draft pick got off to a rough start — and was playing for golf's green jacket, as he joked about — but he figured it out eventually. In fact, over Ontario's final 10 regular season games, Byfield was only a minus player one time (and a minus-1 at that). He also had a 7-game point streak in late March, where it was obvious he was starting to impose his will on a more consistent basis.
Most Likely to Breakout in 2021-22
Winner: Akil Thomas
Had it not been for Kaliyev and Byfield stealing most of the headlines this season, Thomas would be the big story of 2021. Another of Ontario's first-year players, he more than held his own, finishing second on the team in goals (11) and points (26). Additionally, his .65 PPG were just a smidge better than Byfield's .63 and on par with Alex Turcotte's .66 PPG. Thomas just quietly went about his business and placed top-10 in AHL rookie scoring. He also ended the regular season with a seven-game point streak and scored the first goal for Ontario in their post-season play-in game.
"Akil Thomas was a very valuable player throughout the whole season, and in different positions, whether it was wing, center, power play, penalty kill, just throughout the lineup," said Kings GM Rob Blake earlier this week.
Don't sleep on Thomas. After another offseason of training like a pro and armed with his knowledge gained during his rookie campaign, he's poised to have a huge second season.
Runner-Up: Lias Andersson and Quinton Byfield
The Smurf Award, in honor of Jason Christie
It's nearly impossible to give a head coach an award when passing out team honors; after all, there would only be one candidate. Even so, it just didn't seem right to not acknowledge the work put in by John Wroblewski in his first year behind the Reign bench. Christie is the winningest coach in ECHL history and his finest work may have been his first season with then ECHL-Ontario. Hired just a few weeks before the season, he rallied to put nearly an entire roster together and went out and won the division. The man everybody called 'Smurf' had an amazing ability to get people to buy in. In similar fashion, Wrobolewski was obviously able to earn the trust and respect of his players this season. Despite winning only one game in their first 13 contests — at a time when some were calling for his head — players never lost faith in him and would constantly sing his praises, both publicly and privately. Then, after finding their sea legs, the Reign rattled off a 16-9-2 record over the remaining 27 games. Some see a roster littered with high-end prospects and think he should have been blowing people out 7-1 every night. Reality was more like he had a team half-filled with very young rookies and little veteran support around them. He stepped into some very big shoes left behind by former coach Mike Stothers and found a way to dodge every curveball thrown at him, to the point he guided the Reign toward a finish that had them as the hottest team in the Pacific Division at the end of it all, going 8-2 over the final 10 games.