WHO: Los Angeles Kings (16-19-6) vs. Vegas Golden Knights (28-11-2)
WHAT: NHL REGULAR SEASON GAME
WHEN: Wednesday, April 14 @ 7:00 PM Pacific
WHERE: STAPLES Center – Los Angeles, CA
HOW TO FOLLOW: VIDEO: NBC Sports Live – AUDIO – iHeart Radio – TWITTER: @DooleyLAK
TONIGHT'S MATCHUP: The Kings and Golden Knights are back in action this evening, with the rematch tonight at STAPLES Center, following Vegas' 4-2 victory on Monday.
HEAD-TO-HEAD: With a goal on Monday, forward Anze Kopitar now has seven points (2-5-7) from seven games played to lead all Kings skaters against Vegas this season. Kopitar has now collected a point in 13 of the last 15 LAK – VGK matchups, including the last seven played at STAPLES Center. With 21 points (8-13-21) from 20 career games played against Vegas, Kopitar is the NHL's all-time leading scorer versus the Golden Knights. For the visitors, defenseman Shea Theodore tallied two assists on Monday to lead all scorers in the season series with eight points (1-7-8). Forwards Max Pacioretty (3-4-7), Mark Stone (2-5-7) and Jonathan Marchessault (1-6-7) each have seven points from seven games played against the Kings this season.
KINGS VITALS: Following yesterday's practice, the Kings held an optional morning skate today at Toyota Sports Performance Center.
A look at the overall landscape points to goaltender Jonathan Quick in net tonight, considering the usual one-for-one rotation between he and Cal Petersen, who made 37 saves in Monday's loss. Quick has won his last two starts to improve to 8-8-2 on the season. The veteran goaltender is 4-6-1 from 11 career appearances against the Golden Knights, with a .891 save percentage and a 3.54 goals-against average.
In terms of the skaters, neither yesterday's practice nor this morning's skate gave us an indication of any potential changes the Kings might make, if any at all. For reference, here's how the team lined up on Monday –
Iafallo – Kopitar – Brown
Kempe – Anderson-Dolan – Moore
Grundstrom – Lizotte – Athanasiou
Lemieux – Vilardi – Wagner
Anderson – Doughty
Wolanin – Walker
Maatta – Clague
Quick / Petersen
One player who is not an option, though continues to positively progress, is defenseman Tobias Bjornfot. Bjornfot has skated with the full group in a non-contact jersey each of the last two days, as he inches his way back towards returning to the lineup.
"He's on the ice and he's skating now with his teammates, so that's a real good sign," Todd McLellan said earlier today. "Obviously not in the lineup tonight, I don't think we're going to see him in the lineup in game one in Colorado, we'll see where we can get him for that Sunday game. If not, we're looking at the following week."
Options to check-in who were on the ice this morning include Kurtis MacDermid on the blueline, plus Matt Luff and Drake Rymsha at forward.
GOLDEN KNIGHTS VITALS: The Golden Knights returned to the ice this morning, following an off day yesterday.
Robin Lehner earned the start on Monday and made 26 saves to improve to 4-0-0 on the season against the Kings, from four starts. Expected to return to the net tonight is Marc-Andre Fleury, who is 1-2-0 against the Kings with a .900 save percentage and a 3.08 goals-against average, his lowest, and highest, totals against any opponent this season. Fleury is an obvious Vezina candidate this season, and a small sample size versus the Kings does nothing to alter a tough matchup in net.
Here's how the Golden Knights lined up on Monday –
Pacioretty – Stephenson – Stone
Marchessault – Karlsson – Smith
Carrier – Nosek – Tuch
Jurco – Roy – Coghlan
Martinez – Theodore
McNabb – Pietrangelo
Hague – Whitecloud
Fleury / Lehner
With Keegan Kolesar and Ryan Reaves both out with injury, usual defenseman Dylan Coghlan dressed as the team's 12th forward, while forward Tomas Jurco was recalled from AHL-Henderson prior to the game. Expected to dress tonight is the newly acquired Mattias Janmark, who joined the Golden Knights on deadline day from Chicago. Janmark could skate on a forward line with Nosek and Tuch, which would naturally move Carrier to the fourth line, giving Vegas 12 natural forwards.
What Went Well?
Over the last two days, we've beaten to death what went wrong for the Kings, and turned Monday's game in favor of the Golden Knights, but we haven't touched on what went well that put the team ahead by two goals to begin with.
"After killing that initial penalty, I liked our intensity and our attack," McLellan said. "I thought we were playing on our toes, making real good, aggressive decisions, we weren't on our heels and backing off. As we played North, and aggressively, we made good decisions."
The first 30+ minutes of Monday's game felt like one of the most entertaining hockey games of the season, and the Kings wound up with a 2-0 lead as they approached the latter stages of the second period.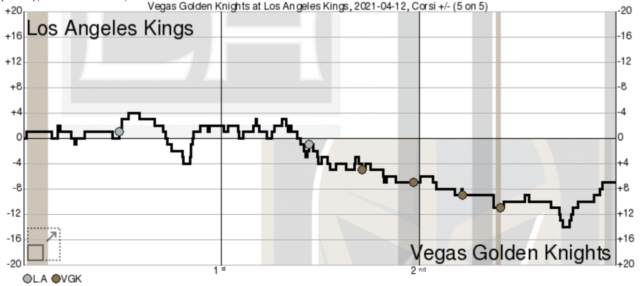 The above photo shows a pretty clear trend as the second period progressed on, with the Kings continuing to hold their own in the first half, before the Golden Knights controlled the game in the second portion. High danger opportunities were similar, with the Kings +3 in the first period, and Vegas +3 in the second.
The thing though, is that level of play for 30 minutes against a team like Vegas won't hold up more often than not. The Golden Knights showed how well they can play in transition, and flip a two-goal deficit to a tie game in the matter of two odd-man rushes.
"As the game went on, they picked their game up certainly, we made a few bad decisions, we didn't handle the rush well in a few situations and all of a sudden, they have the lead," McLellan added. "They're very capable of doing that, we need our A game for a full 60 and we believe we can get that tonight."
Lose track of a team like Vegas for even just a few minutes and their ability will make you pay. The Golden Knights are one of the NHL's top teams for good reason and are very strong in transition.
As we saw in game one, a mistake or two can be the entire difference in the game.
"They're that strong, that you go to sleep, you make a poor play, or combine 2-3 bad plays or get caught out long and they're making you pay for it," McLellan said on Monday. "That's what championship-caliber teams do."
K̶o̶p̶i̶t̶a̶r̶ ̶T̶o̶ ̶B̶r̶o̶w̶n̶….Brown To Kopitar
Anze Kopitar with a nice pass to Dustin Brown for a goal around the crease. Tale as old as time. On Monday, however, it went in reverse.
What a play by Dustin Brown 👀 pic.twitter.com/cU080TktXh

— LA Kings (@LAKings) April 13, 2021
After Alex Iafallo won the puck back in the offensive zone, Brown hit Kopitar in front with a pinpoint feed, and an empty net, for his ninth goal of the season. The goal was good, but the pass, from a weird angle without a ton of room to miss, was the play to note.
"Probably about six inches or so," Brown said on what he saw for space. "It wasn't a long pass, I didn't have many other plays, it was a quick, bang-bang play, just kind of happened. Just the way the play developed, the pass was tight but he was wide open at the same time, there weren't many guys around him. He just collected it and put it in the net."
With the area on the ice that Iafallo created the turnover, it put Brown in a position to make a play that might catch Robin Lehner off guard. Brown noted that turnovers in that area of the ice create difficult plays for the goaltender to make and that he just tried to get the puck to Kopitar when he saw him, knowing he was wide open if the pass was completed.
"It was a tight pass, but I knew if he got it cleanly it was going to be an empty net, just the way Lehner had shifted over," Brown added. "It was kind of a tricky play for the goalie, because it was a turnover behind the net by them and a quick play. I just tried to get it [to him]. I saw him there, knew if it got to him it would be a pretty simple finish and glad it worked out, he needed to score."
A bit of a smile as he dropped that "needed to score" in there. As the recipient of that pass the other way, Brown would certainly know.
Rolie Polie Olli
Lastly, hear from defenseman Olli Maatta in advance of tonight's game. Maatta recently returned to the Kings lineup in San Jose last weekend and spoke with media this morning on his return to the group, his approach to the trade deadline, as a guy who has been traded in the past and handling the strong transition game that Vegas brings.