Kyle Clifford, once again an Ontario resident, arrived at Toyota Sports Performance Center in shorts and a T-shirt. Jack Campbell wore long pants, but his shirt was short-sleeved. Only Jake Muzzin, who regained his Ontario residency one year earlier, wore long sleeves.
As the rest of the Maple Leafs trickled out of the Kings' practice facility and into the team bus and Ubers, all were dressed similarly. Never mind that a cool ocean breeze kept the temperature mild in El Segundo; at their last home game, the temperatures didn't reach 20 degrees Fahrenheit in downtown Toronto.
This, of course, not a vacation. There are some unfamiliar feelings – "a lot of emotions," as Jack Campbell said – that add theatre and pageantry to the Leafs' annual Staples Center visit, given the teams' recent trading histories. But come puck drop, if the extraneous emotions become a factor, that's not necessarily a good thing for the visitors. This is a work trip, not a cathartic send-off.
"I can't imagine what Cliff's going [through] here, being here for a decade, Muzz, too," Campbell continued. "It's nice to see a lot of friends and familiar faces, but obviously we have a big hockey game tomorrow, so I'm just trying to keep it business. But you're not human if you don't feel the emotions."
There actually isn't a surplus of familiar faces – for Muzzin, at least. Clifford and Campbell were preseason or regular season teammates with all LA Kings other than Trevor Moore, who formed the package in their return, Gabriel Vilardi and Mikey Anderson. There are nine current LA Kings who never played with Muzzin.
"It's tough – I was looking at the lineup the other day, and I didn't really know too many people, and I got a little bit sad, actually, because what we had there was special, and I guess that's just the part of sports and business where change, it just comes," Muzzin said. "It's a transition period for them. They have some great young players coming up, and you have some old veterans there that are leading the way and showing them how it's done. It's a part of any sport."
Clifford is the only member of the three slated to play Thursday. Campbell is projected to back up Frederik Andersen, while Jake Muzzin remains out with a broken knuckle and won't play on this trip. Speaking with reporters after Toronto's practice, Clifford, Muzzin and Campbell all reflected on their Los Angeles tenures and the impact of those they shared the room with. RELATED: Doughty on Clifford, Muzzin, Campbell
Kyle Clifford, on his transition to Toronto:
I felt like the guys have been very welcoming. We've gelled really well. Soupy and I, obviously we have a lot of familiar faces here with Muzz and other guys that are in the staff, so I thought the transition was really easy. Just looking to continue to build off it.
Clifford, on returning to Los Angeles:
It was different. It's just different being on the visitors sides of things, but it's business like usual. You go out and you put your best foot forward in practice to prepare for the next game.
Clifford, on what he misses most about his Los Angels tenure:
You know what? I had a lot of good years there. I have no regrets from my time in LA. A lot of good teammates, obviously a lot of really good friendships and bonds formed throughout those Cup years. I just have nothing but great things to say about the coaches I've had, the general managers and the players I was privileged to play with.
Clifford, on whether he was expecting to be traded the night he was:
No, I had no idea. It just kind of caught me off guard. As a professional hockey player you know it's a part of the business and you try to prepare for it because it can happen. If Gretzky can get traded, anybody can get traded. Yeah, it caught me off-guard a little bit, but at the same time I've really enjoyed my opportunity with the Leafs. It's fun being in games every night and competing for a playoff spot. I think we all know from the time in LA, it doesn't really matter about where you land in the playoff seeding, it's just a matter of getting in. We've got a special group here.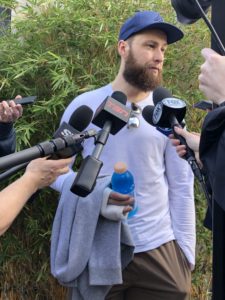 Jake Muzzin, on what stands out from Los Angeles' winning culture and Stanley Cup runs:
The bond that you create and have for the best of your life when you go all the way and win is something that's really special, and no one can take that away from us. So, even when you see guys that you haven't seen in two or three years or what-have-you, you still have that banner up there and your name on the Cup together, and that's a special thing that not too many people get to do.
Muzzin, on wanting to bring that same culture to the Maple Leafs:
Yeah, we're trying. We want to get to that level. We believe in that group in there, it's just getting there. It's tough. [Reporter: What have you seen in the last couple weeks? This team has had games where you've seen the upper end, and then you have games where it isn't there, which is I guess something we've talked about throughout the season.] Yeah, I probably touched on it earlier – it's tough to be on the top of your game consistently night-in and night-out. The teams that find a way to do that the most are at the top of the league and get themselves to win a Cup. It's a battle throughout the season to continually bring your game and your emotion and your compete level and all that kind of stuff, and we're working to get to that level.
Muzzin, on his reaction to knowing Kyle Clifford and Jack Campbell would be his teammates again:
Well I kind of had some inside info on that, so I kind of knew it was coming a little bit. Definitely excited. Two very good people coming into our dressing room. Good character guys that work hard every day, and you know what you're going to get when those two guys are in the lineup or at practice or in the gym or what-have-you. They're going to do it the right way, and it's contagious when you have guys doing that night-in and night-out even in practice, so it's nice to have.
Muzzin, on Clifford and Campbell's assimilation:
They're quickly growing in the room. Going through it myself last year, it's tough to get traded into a new group and really be yourself and feel comfortable. But we have a good group of guys in there that allowed me to do that easily, a nd it's the same thing this year with Cliff and Soup. The guys, they're right at home now.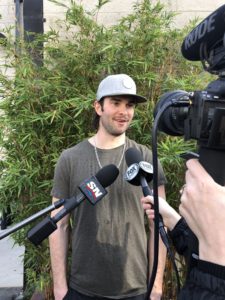 Jack Campbell, on buying Drew Doughty a Gucci tie as a thank-you:
Oh, boy. This is going to blow up. He's just the man. I just thought it was like him. It's funny, that's like his go-to tie. It looks good on him. It's funny he brought that up, but I love that guy, he's awesome. [Reporter: How good was the afterparty?] It was a good time. Drew's a great guy to hang out with. We always had a great time at the rink or away from the rink, and those are memories I'll always have.
Campbell, on what he learned from Los Angeles' culture after the Stanley Cups:
I just remembered getting traded here into LA, and I just remember walking into the room and feeling that winning presence. Even though the last couple years have been tough, there are still so many guys in that dressing room who not only know how to win but can still win. Obviously, the results are disappointing, and that's why Muzz, Cliff and I are gone, but that dressing room has so many incredible leaders and players on t heir team, and it's really disappoi9nting to leave it because it was a really special group. Obviously I'm super excited about the group we have here in Toronto and I love every second of it, but I'll always appreciate what I learned here in LA.
Campbell, on how he'd describe his three and a half years in the L.A. organization:
The word I think of with L.A. is just how grateful I am. Obviously the Dallas days didn't work for me and it was a really dark time, and L.A. believed in me and brought me in and made the trade and put in all the effort they could to help me as a player and person, and I think the results I had here spoke for themselves. That's just for the people that helped me, so it's incredible being a part of this organization.
Campbell, on whether he "cut the cord" immediately, or whether there's still some residue:
I mean, the emotional attachment of your some of your best friends in life, saying good bye to them, that's the hard part. But the moment Cliff and I got the call, I mean, you hear 'Toronto Maple Leafs' and your name in the same sentence, if that doesn't put a fire in your belly to do well, I don't know what does. So, we were both super excited to get going with the Leafs. This time of year, you have no time to really think. You don't overthink anything. It's just game time and you've got to perform. We both are really enjoying Toronto, but obviously we'll always love L.A. and all of our friends and family here.
Campbell, on the players in Los Angeles he appreciated:
I mean, I just appreciate guys like – I don't even want to say specific guys, because if I leave someone out, I'll feel bad. Like, so many of the older guys that took me under their wings, helped me believe in myself as a player and turn the page and become a full-time NHL goalie. I don't know. As sad as it is, I'm also so excited to be a Leaf. I don't think 'sad' is the right word, it was more I just appreciate the friendships I had there, and I love being in Toronto now and it'll be good to see these guys whenever we can.