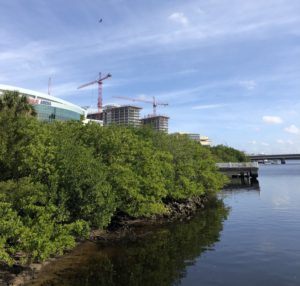 INSIDERS. There are worse things than back-to-back-to-back walks alongside the waterfront on comfortable, 80-degree days. Between the fifth and sixth walks to and from Amalie Arena this week, the LA Kings held an optional 11:30 skate that gave clear indications to tonight's lineup and the health of several boldfaced names.
Notes!
— The vitals: We're expecting Jonathan Quick, who's 6-4-1 in his career against the Bolts with a 2.12 goals-against average, a .925 save percentage and one shutout in 12 career games. Todd McLellan confirmed the Kings would roll with the same lineup he used in Hartford South, meaning you should expect them to start with forward groups of Iafallo-Kopitar-Toffoli, Clifford-Carter-Brown, Kempe-Amadio-Wagner and Prokhorkin-JAD-Lewis and defensive pairs of Martinez-Doughty, Hutton-Roy and Forbort-Walker. Matt Luff and Kurtis MacDermid aren't expected to get in, while Joakim Ryan's close and Blake Lizotte won't join the team at the end of the trip. More on that in a moment.
How does McLellan structure the lineup? Does everyone get a chance to play over the two-game Father/Brother Trip? "We're going to try and win games, so we'll see what we do with the lineup. The players understand that," McLellan said. "We've got to make decisions based on who we're playing. It would be nice to get everybody an opportunity, but that may or may not happen."
— Updates on Lizotte and Ryan, via McLellan: "Blake Lizotte is at home. He's rehabbing. He won't join us on the remaining segment of this road trip. He'll stay home and rehab, and we believe he'll be ready to go when we start up again after the break, whatever day that's on. And Joakie is really close. If we needed him tonight, I'm sure we could put him in but we're going to go with the same roster as we went with in Carolina."
— Their vitals: If it's Andrei Vasilevskiy, as expected, he'll be vying for his ninth consecutive win. The 25-year-old is 3-2-0 in his career against Los Angeles with a 2.79 GAA and .917 Sv%. Via Joe Smith of The Athletic, Tampa Bay is expected to roll with forward lines of Palat-Point-Kucherov, Johnson-Cirelli-Stamkos, Killorn-Paquette-Gourde and Verhaeghe-Stephens-Volkov. Potential defensive pairs are Hedman-Rutta, Sergachev-Shattenkirk and Coburn-Cernak. Ryan McDonagh (upper-body) and Pat Maroon (upper-body) are out but skated this morning. A 62-win team last season, the Lightning's 10-game winning streak ended two nights ago in New Jersey. "They've committed themselves to playing on the defensive side, and they're shutting teams down. Their goaltender's been outstanding, and then all of the offensive attributes that go into their game. Their power play at home is deadly, their ability to transition from defense to offense. They have all the tools necessary to win 62 games, and now to climb the standings consistently for the past month, they're as good a team as we're going to face in the seven or eight months that we're together."
–Steven Stamkos, on facing Drew Doughty:
— More McLellan, this time going into some detail on Jaret Anderson-Dolan's first game of the season:
"He was fine. That game was going fast, and when you're coming from the American League up, you've got to adjust to the pace. And sometimes organized pace. I'm not saying the American League's disorganized, but it can be a little more scrambly, and organized pace is even faster because guys are in position both offensively and defensively and you've got to make decisions really quick and you've got to get yourself into those spots. As the game went on, I thought he did a better and better job of that. Young players, it's often easier to start with the team and get up to speed. It's hard to come up and jump right into that speed, so he did a good job."
A few good chats were had with JAD, who's joined on this trip by his former billet dad in Spokane, Rob McCann, who also billeted Michael Grabner, Jared Cowen and Adam Helewka, to name a few Chiefs past and present. (Much support to his Rob's wife, Rachael, profiled four years ago as a Broncos fan living in Washington State who won tickets to Super Bowl 50, where she perhaps brushed shoulders with a handful of LA Kings – as well as LAKI, in his #87 Eddie McCaffrey jersey.) Anderson-Dolan attended the McCann's kids' basketball games and other family events and even caught the odd Gonzaga game or two while living in Eastern Washington.
Tonight, some 3,000 miles to the southeast, McCann will have the opportunity to sit in on Kings meetings and get a feel for the plan of attack against a high caliber NHL opponent.
"We want them to be a part of our team, so not only do they come and watch, but they participate in the meetings. At least today, they will," McLellan said. "We want them to know what the game plan is, we want them to sit with their sons after the game on the plane and evaluate their play, the team's play, and they can't do that unless they know the game plan, so we shared it with them and it'll be interesting to see how it goes. I've seen over my years dads being very comforting, I've seen other dads tell their sons to get their [stuff] together, 'let's go,' so everybody reacts differently. But interestingly, it doesn't take long. After about three or four days you can almost tell who belongs to who. They've got similar mannerisms, shyness levels or aggressive levels."
And, after three or four days and a perhaps beverage or two, then the inhibitions are really lowered. "I'll probably get an ice time question at some point, a power play," he said, laughing.
— Erik Cernak. Potentially a sore subject for many LA Kings fans. That's short and to the point and much different from the lede I had planned on writing that included a joke and a Simpsons reference but was probably a bit, let's say, nerve-touching. But this isn't funny! Not allowed to have jokes in blogging, so no jokes in the lede.
Also definitely not a joke: the job done by Los Angeles' scouting and hockey operations staff around the 2015 NHL Draft, when they nabbed Cernak (43rd overall), Austin Wagner (99th) and Matt Roy (194th), all without having a first round draft pick. They also selected some big boys representative of the team's bent at the time like Alexander Dergachyov (whose rights they still own) and Matt Schmaltz, but a review of that class minus the context of the Cernak trade reads a job well done by a number of talented people working in concert.
This is empty praise, of course, because Cernak, who was shipped to Tampa Bay in a trade that netted the Kings seven games of Ben Bishop (and a fourth round pick that was used on defenseman Markus Phillips and a fifth used on Drake Rymsha), has grown into a force on the right side of the ice, where he's quickly become a physical, shutdown defenseman on a top team. You're aware of the history, and
maybe even some of the backstory
in which there were some road blocks towards explaining to Cernak the benefits to playing major junior hockey after he'd won championships in the Slovak Tipsport Liga and wasn't yet ready to step into a role with AHL-Ontario, where he'd been assigned after training camp as an 18-year-old in 2015.
Whether that at all influenced Cernak's trade is moot at this point; he's moved on, and as one would expect he's happy in his surroundings.
Erik Cernak, on how he's grown since the trade, personally and professionally:
Since last year when I got to the NHL, I was growing every single day and everybody here helped me a lot when I started my career in the NHL, the first couple games. That was awesome, and now I'm just trying to play my game, grow as a player all the time on the ice.
Cernak, on what he recalls from his time at Los Angeles camps:
It was a really good time there, too. It was my first couple months in the US, so everything was kind of new for me. My English wasn't [good] and everything was new, but I had pretty good memories there. They were working hard with me there, and the time I got traded here, I took the opportunity here in Tampa. I'm really happy to be here, be with the team and the guys here. The training staff, coaches, everybody's amazing here, so I really like it, and I want to stay here.
Cernak, on whether the trade was a surprise, or whether he expected one:
I was still in junior at the time when I was traded, so I didn't think that much about it because I wasn't in the NHL. But I knew it's a pretty big opportunity for me, a new team, a everybody's new in the organization, so I since I got here for my first training camp I've been working hard.
— One last bit. Apparently Michael Amadio was offered the first right of refusal to what turned into Adrian Kempe's faceoff goal in Las Vegas. McLellan, the mastermind of the play, as shared by Kempe, first shared the idea with Amadio, though the center wasn't feeling confident about making that play on from the left-handed faceoff dot as a right-handed shooter and passed the opportunity off to his linemate. "He (Kempe) told me to go backdoor, so I was trying to jump forward," Amadio said, but no rebound resulted.
— Tonight's officials are referees Brandon Blandina and Jon McIsaac and linesmen Pierre Racicot and Darren Gibbs. Thank you for reading, Insiders.