INSIDERS. A fine Monday afternoon to you. Please note that I'm off Tuesday and Wednesday and that Zach Dooley will be driving the limo at LAKI. Several notes:
BEAR FOOT CAMP: As shared yesterday, Tobias Bjornfot is headed to rookie camp and training camp with the LA Kings after having signed his ELC. This is actually kind of news-ish, though perhaps more in Stockholm than El Segundo. Whereas hockey operations confirmed that fellow 2019 signee Samuel Fagemo, one year Bjornfot's senior, will play for defending SHL and CHL champions Frolunda in 2019-20 before making the jump to North America in 2020-21, Bjornfot's 2019-20 club is still up in the air (though likely still Djurgardens). "We need to understand the playing situation in Sweden – wanted him here for camp and to control the situation," GM Rob Blake said over email yesterday. "One of the reasons we signed him."
Asked whether the ELC was influenced by the possibility of Djurgardens assigning Bjornfot to their U-20 team – the 18-year-old left-shot defender appeared in 39 U-20 games and 7 SHL games before logging U-18, U-20 and SHL playoff outings – Blake responded, "we will have control over that," while adding that the impetus to sign him was because the team "mainly wanted him here for rookie and main camp."
What this means: Bjornfot is still probably headed to Djurgardens on a loan, but the Kings gain some assurances in his usage, aka, "the playing situation." For what it's worth, there are nine defensemen listed both on Djurgardens' official site and on the EliteProspects roster. One other player is signed by an NHL club: 23-year-old Ottawa left-shot defender Olle Alsing, who totaled 15 points in 49 games with the Stockholm club last season but will vie for a spot with the Senators. He's "most likely a Belleville guy," a Swedish scout told The Athletic reporter Graeme Nichols, and were he to make the leap across the Atlantic, the logjam would be alleviated somewhat but would still be a logjam nonetheless. Also, tracking down the Djurgardens depth chart and linking to Ottawa organizational lists is Peak July Content, so thank you for reading.
I haven't heard anything to suggest that the Kings would assign Bjornfot to AHL-Ontario to join an already young defense, nor am I expecting that to be his final destination.
Today is the 1st deadline for NHL clubs can sign players to ELCs who meet the following criteria:

– Drafted June 21-22, 2019
– Drafted out of Europe
– Player has a contract in 2019-20 with a IIHF club

2nd deadline is Aug 15, otherwise the player is ineligible to sign this year.

— CapFriendly (@CapFriendly) July 15, 2019
VOYNOV TO KHL: Slava Voynov has signed a one-year contract with KHL-Omsk. He remains suspended by the NHL until the mid-point of the NHL season. While Los Angeles still owns his rights, the team shared a statement in May that said, in part, "from our perspective, the player will not be playing for the Kings." It is unclear how that particular asset is valued elsewhere (i.e. very little), nor is it particularly important.
ODD ODDS: Time for the requisite So You're Telling Me There's A Chance. The opening conference odds, courtesy of BetOnline:
Odds to Win the Western Conference
Vegas Golden Knights 11/2
Colorado Avalanche 13/2
St Louis Blues 7/1
Winnipeg Jets 7/1
Calgary Flames 9/1
Dallas Stars 9/1
Nashville Predators 9/1
San Jose Sharks 9/1
Chicago Blackhawks 16/1
Minnesota Wild 16/1
Arizona Coyotes 20/1
Edmonton Oilers 20/1
Vancouver Canucks 25/1
Anaheim Ducks 33/1
Los Angeles Kings 33/1
Odds to Win the Eastern Conference
Tampa Bay Lightning 4/1
Boston Bruins 7/1
Toronto Maple Leafs 7/1
Florida Panthers 9/1
Pittsburgh Penguins 10/1
Washington Capitals 10/1
New Jersey Devils 12/1
New York Islanders 12/1
New York Rangers 12/1
Philadelphia Flyers 14/1
Carolina Hurricanes 20/1
Montreal Canadiens 20/1
Buffalo Sabres 25/1
Columbus Blue Jackets 25/1
Detroit Red Wings 50/1
Ottawa Senators 80/1
RFAS COMING: Probably real soon. Let's talk in a bit.
PRESENTED WITHOUT CONTEXT: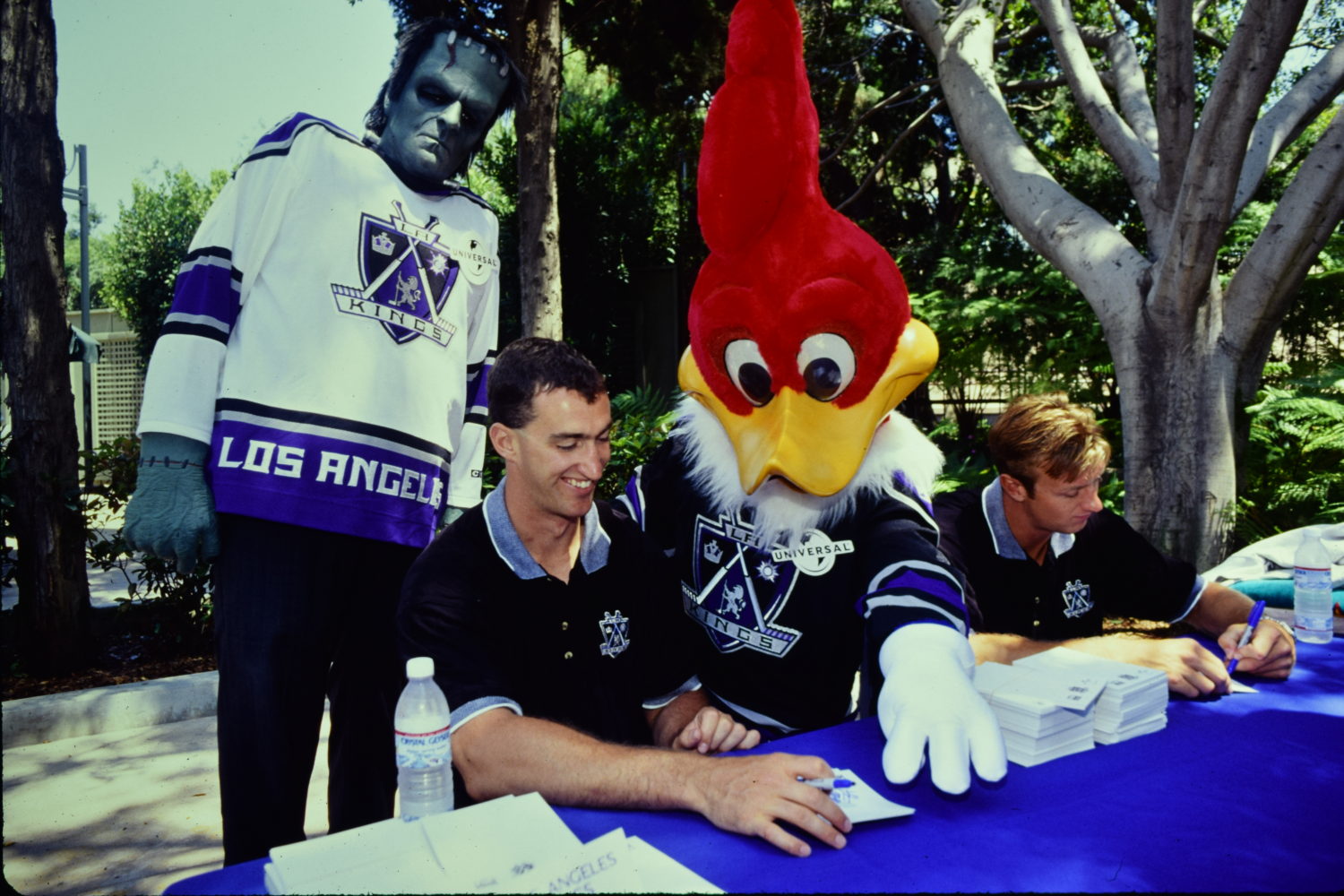 –Lead photo via Juan Ocampo/LA Kings