The Manchester Monarchs, ECHL affiliate of the Los Angeles Kings and Ontario Reign, announced today that they are ceasing operations:
Looks like the organization will have a new ECHL affiliate next season. @MonarchsHockey will not return to the ECHL next season, per their website. pic.twitter.com/SW265wWvC9

— Zach Dooley (@ReignInsider) May 15, 2019
This was expected news, but it still really hurts for those who supported the team through 18 years and grew attached to the revolving doors of Kings prospects who jokingly but endearingly elevated "Manchvegas" to near-cult status during their time in the American Hockey League. It was a day-long flight from Los Angeles that required a change of planes, the weather was harsh and made travel occasionally treacherous, and, while in the AHL, it wasn't quite as desirable of a temporary home as Cedar Park, a suburb of Austin, or places like San Jose and San Diego that gained Pacific Division affiliates during the 2015 migration west. But Manchester was a charming medium-sized New England city that despite its far flung location was home to a devoted group of fans that came to follow and support the Kings as much as they did the Bruins in many cases, offering appreciation and devotion for players who passed through Manchester en route to NHL stardom. These fans welcomed our buses back to Manchester when we arrived at six in the morning after the Monarchs had won the Calder Cup in Utica the night before.
The Calder Cup champs are greeted warmly as they pull into Manch: pic.twitter.com/FI30wqWm94

— Jon Rosen (@lakingsinsider) June 14, 2015
Kevin Westgarth played 224 games in Manchester, Thomas Hickey 212, Dwight King 202, Matt Moulson 188 and Trevor Lewis 182. Dustin Brown spent the famous 2004-05 season in Manchester, where he, Michael Cammalleri, Tim Gleason, George Parros and Mathieu Garon played for a 110-point team during the NHL lockout. The Monarchs averaged 9,052 fans at (then) Verizon Wireless Arena that season, an average that dipped to 5,621 during their final AHL campaign in 2014-15. Fans I spoke with during the Calder Cup Final – after it had already been known that they would flip-flop with Los Angeles' Ontario affiliate – were willing to be open-minded about the ECHL and continue to support the team. They largely did in the first season, when attendance dipped to a respectable 4,622 per-game average in 2015-16, ranking 11th in the league. But attendance continued to fall after the LA Kings and AEG announced the sale of the team in August, 2016, and in 2018-19, the team averaged 2,458 fans even as the on-ice product remained competitive.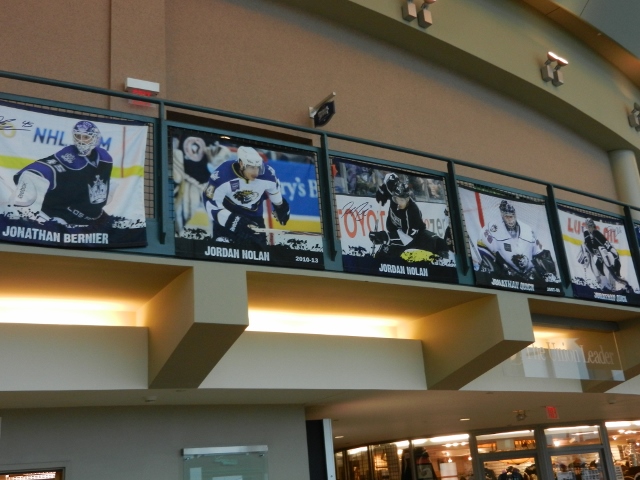 The Kings have not finalized any plans for their ECHL affiliate in 2019-20. According to a team source, the team may look to split an ECHL affiliation with another NHL team, though that's something that would require that NHL team's agreement. Something to keep in mind is that often the most high-profile prospect that a team will place in the ECHL is the third goaltender within the professional ranks. Sometimes that's a good young goalie that simply was placed out of an AHL role because of numbers. Jonathan Quick played 38 games with Reading in 2007-08; I interviewed Darcy Kuemper while he played for the ECHL-Reign in 2011-12. So, if the team ultimately decides on splitting an affiliate, it would have to be a one in which playing time in goal would have to be taken into consideration. Los Angeles has two goaltenders under contract who who could theoretically see time in the ECHL this season in Cole Kehler (18 ECHL games in 2018-19) and Matthew Villalta (20 years old; also eligible to return to OHL-Soo). No ECHL teams split affiliations in 2018-19; I believe the last teams to split an affiliation were Tampa Bay and and New Jersey with Adirondack in 2017-18.
In addition to the 2015 Calder Cup, the Monarchs won a five division titles (4 AHL, 1 ECHL) and qualified for the conference finals five times (4 AHL, 1 ECHL). Current Ontario Head Coach Mike Stothers won a championship in Manchester during the final AHL season, while Reign General Manager Richard Seeley coached the Monarchs for three seasons in the ECHL.
LA Kings prospects to play for ECHL-Manchester: Spencer Watson, Alex Roach, Alex Lintuniemi, Joel Lowry, Drake Rymsha, Stepan Falkovsky, Pavel Jenys, Cole Kehler, Boko Imama, Damir Sharipzianov, Austin Strand, Zac Leslie, Scott Sabourin, Patrik Bartosak
Related: Behold: Verizon Wireless Arena | Weekend in Manch | A look at Manchester through quotes, pictures | Ice level photo gallery: Albany at Manchester |