INSIDERS. A good afternoon to you all. The LA Kings took the Toyota Sports Center ice shortly before 10:00 a.m. on this, the final day of their seven-game home stand, and aligned thusly:
Iafallo-Kopitar-Brown
Kovalchuk-Carter-Toffoli
Pearson-Amadio-Lewis
Clifford-Kempe-Thompson
Forbort-Doughty
Muzzin-Martinez
Phaneuf-Fantenberg
LaDue
Notes!
–The vitals: Oh, boy. Stretch out those tweetin' fingers, because the #LAKingsGoalieTweetOff is once again front and center. Peter Budaj was the first goalie to leave the ice at the morning skate and is therefore expected to start in goal against Toronto (7:30 p.m. / FOX Sports West / FOX Sports app / LA Kings Audio Network). Over eight starts, Budaj is – hey, look at that – 5-1-0 in his career against the Maple Leafs with a 1.54 goals-against average, a .934 save percentage and one shutout. That one shutout was a 19-save blanking of the Leafs on Election Night 2016, a 7-0 win at what used to be known as Air Canada Centre. Paul LaDue remained on the ice for extra work with Gabe Vilardi and Cal Petersen and is not expected to be in uniform. Jack Campbell was officially placed on IR today; there was no corresponding move on Tuesday.
–Regarding Vilardi (back), he's progressing, but there's still no firm timeline on his next steps. I had heard in the preseason that once he returned to health that the team would weigh the possibility of a conditioning assignment, but per hockey ops, he's still a ways away from such a loan, so don't expect him to travel to Grand Rapids and Milwaukee with Ontario this weekend. Because this is his 19-year-old season and he was drafted out of major junior hockey, Vilardi can't play full-time in the AHL until the Kingston Frontenacs' (or any OHL team that acquires his rights) season comes to an end. But, if you remember the Curious Case of Brayden Schenn, he can still consent to be loaned to a minor league club for at most 14 consecutive days without having to clear waivers.
–Their vitals: Frederik Andersen is expected to start in goal for Toronto and has had some success in his career against Los Angeles, going 6-1-2 with a 2.47 goals-against average and a .925 save percentage in 10 games. Thousand Oaks native Trevor Moore, who played for the LA Selects and the University of Denver, was recalled from AHL-Toronto earlier today but is not expected to play tonight. Neither is Auston Matthews (shoulder), who skated at the end of yesterday's practice but won't play on the Leafs' three-game California swing.
Via Chris Johnston of Sportsnet:
When Babcock saw Matthews skate out near the end of Monday's practice in suburban Los Angeles, he hoped it was a sign his star player is closer to being a lineup option.

"I just told him there today — he got on the ice there — and I said 'buckle up, join the drill,"' said Babcock. "And then I noticed a dog collar got on him and they pulled him right next to the bench and they said 'No chance."'
Matthews had 10 goals and 16 points in 11 games; Toronto is 3-3-0 since he succumbed to injury on October 27. The Kings have won four straight against the Maple Leafs on home ice since a 3-2 setback on March 13, 2014 that ended an eight-game winning streak.
–Drew Doughty is friendly with Morgan Rielly, but they're from virtually opposite corners of Canada and aren't particularly close beyond the genial and supportive fraternity of NHL players. "I don't watch them play or anything, but he's obviously putting up great numbers and he's the best defenseman on their team, so he's doing a good job," Doughty said.
That he is. Rielly, a Vancouver-born defenseman, leads Toronto with 21 points (7-4=21) and has always been known for his elusive skating and high-level playmaking ability.
"Yeah, he's a really good skater," Doughty said. "It's hard to skate like that. Once you can skate like that, you're going to play a long time in the league, especially the way the league's going nowadays when it's just about speed and less about thinking."
Doughty excels at both, though when one reporter noted that Rielly had praised Doughty's skating ability, there was some skepticism in his response.
"My skating? I don't see my skating as one of – well, it's a strength of mine, but it's definitely not one of my top attributes," he said.
Like Doughty, Rielly also plays top minutes in a variety of situations. Both lead their teams in time on ice – Rielly with an average of 22:25 per game and Doughty with a clean 27-minute average.
"I've been playing 27-to-30 minutes the last however-many years now," Doughty said. "I'm pretty used to it, and I've never been tired going into the playoffs and I've never been tired during games. I know I can do it, but whatever [Willie Desjardins] wants is what's going to happen, so I have to make the most out of however many minutes I play, no matter what."
–Since we're on the subject of Peter Budaj, here's an Erik Cernak update: Los Angeles' second round pick in 2015 who was included in the Budaj/Ben Bishop swap will make his NHL debut tonight for Tampa Bay. The 21-year-old right-shot defenseman has two goals and seven points in nine games with AHL-Syracuse this season and per Joe Smith of The Athletic will be paired with Ryan McDonagh. Click here, here, here or here to re-live Cernak Watch, 2015.
–Desjardins and consultant Adam Oates spoke last week for several hours and then again briefly after the Calgary game. Oates was brought on to offer input on player skills evaluation and development, and that includes trying to wring more offense out of the group, namely on the power play.
"It's not that those guys aren't playing hard, and sometimes you'll have power play runs like that where you're not standing out," Desjardins said. "But I didn't think we created as many opportunities as we needed to. It's one thing not scoring, it's another not creating opportunities, and we didn't create opportunities, so we knew we had to change it up, so it was kind of a good time where he came in and we had that opportunity."
Oates will assist in individual players' skill development and will work heavily with Desjardins on special teams detail.
"I think he'll do talk and video if he works with guys individually. That's more up to the guys themselves," Desjardins said. "I think for us, I can't say exactly how much, but I think we might meet up with him in Chicago here for the first time he gets with the group. Then maybe with the power play, he'll talk to some of the guys at different times. With the team, I couldn't say, but maybe once or twice a month."
–Marco Sturm, who arrived yesterday from Munich and took part in his first on-ice session with the club this morning, was asked whether he had kept up with the Kings prior to becoming an assistant coach. "I always kind of follow my old teams, I've got to say, but not as closely, obviously," he said. "When I got the call last week just to kind of [hear] what I'm thinking, then I kind of focused a little bit more on the LA Kings and tried to watch some games, but last week was a busy week for me also, so the 12-hour flight, I tried to put as much video in as I could. It's definitely a lot of new things coming at me, so we'll take a little time. On the other side, I think it's good to get thrown in right away with the game tonight." Sturm's first priority was coaching the German team – which he led through a Cinderella Olympic run to a silver medal at the 2018 PyeongChang games – at last week's Deutschland Cup. Now the fun starts. More to come later today from Sturm.
–Last Thursday, the LA Kings held a pre-game moment of silence to honor the victims of the Thousand Oaks tragedy. The message that night was that continuing to view mass killings of this nature as a new reality is not acceptable in the team's minds and that action is needed to end this type of violent behavior. The team's hope is to continue to amplify this message as no one should have their life taken away by the choice of another. Kings players, coaches and staff all held signs with the word "ENOUGH" during the moment of silence and have now created a T-shirt to honor the victims of this senseless tragedy. 100% of net proceeds will benefit families of the victims of the Thousand Oaks Tragedy through the Ventura County Community Foundation.
ENOUGH shirts will be on sale for $20 and helmet decals for $10 at the Team LA Store inside Staples Center. Those unable to make it downtown can also purchase an ENOUGH shirt through this link. Shirts purchased through the online link will begin shipping on November 16. If you're interested in Lakers and Clippers ENOUGH shirts, click here and here.
I read one of the hateful emails my husband received when he said, "ENOUGH".

It wasn't meant to be political—neighbors, friends & family are senselessly dying. Still, some only see division & feel rage.

In the end, hate can be noisy, but LOVE will always be louder. #ENOUGH

— Stacia Robitaille (@StaciaRR) November 13, 2018
Related: Amid tragic time for hometown, Leafs' Moore earns bittersweet call-up (TSN) | Kings say ENOUGH is ENOUGH as they spread the word of acts that 'can't be accepted' (LA Times)
–Interesting observations from Dustin Brown and Desjardins on net-front presence, as well as from Marco Sturm on the work ahead will come later today. Tonight's officials are referees Chris Rooney and Pierre Lambert and linesmen Lonnie Cameron and Pierre Racicot. Tim Kepler and Jessica Meuse will split national anthem duties. There's lots more to come, Insiders. Let's talk soon.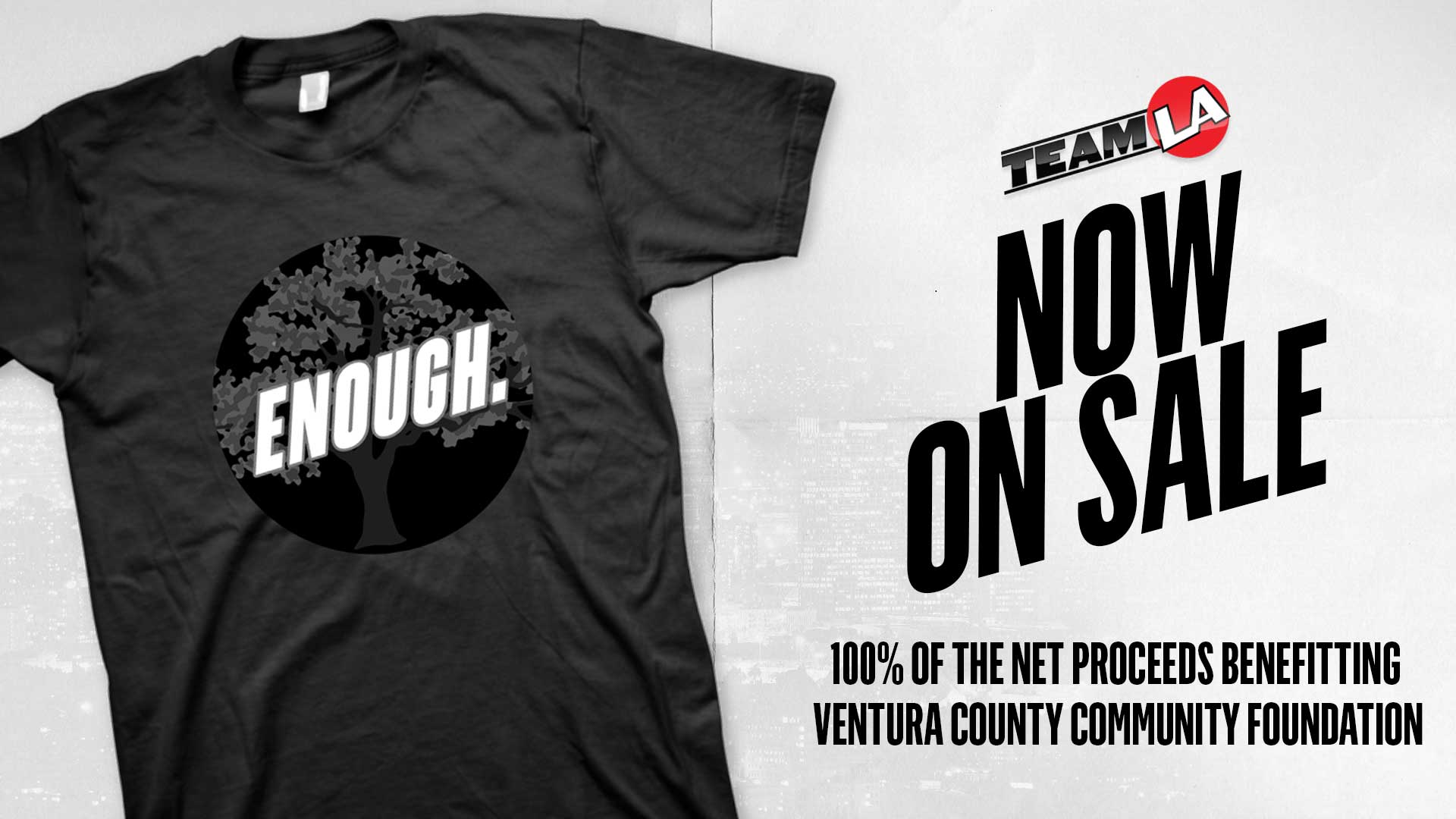 –Lead photo via Aaron Poole/NHLI