The Kings' rookie camp roster has been released: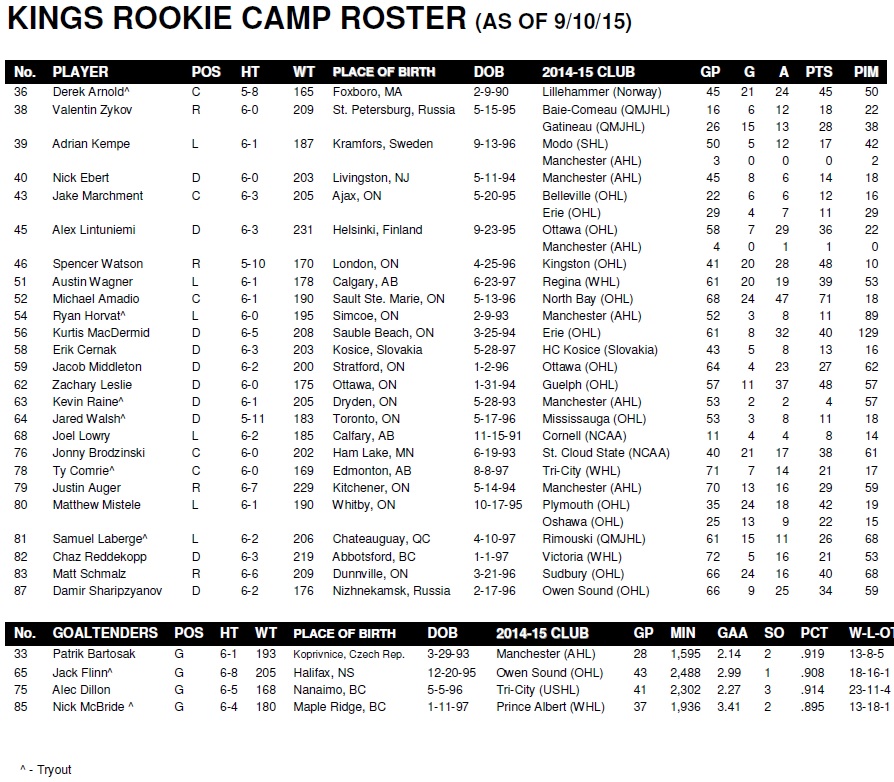 The first on-ice session is scheduled to take place between 10 a.m. and 12:00 p.m. on Friday, September 11.
Notes:
-Of those who received invites to development camp, only forward Samuel Laberge and goalies Jack Flinn and Nick McBride will return as invites, while Damir Sharipzyanov will attend as a player recently inked to an entry level contract (though it is likely that a broken wrist suffered during Russia's World Junior Championship summer development camp will keep him away from the on-ice work). According to the roster, forwards Alexander Ruuttu and Reid Sturos and the German contingent that included defensemen Kai Wissman, Dominik Tiffels and Jonas Müeller and goalie Maximillian Franzreb will not return for rookie camp.
-New faces! LAKI had already reported that Ty Comrie would get a tryout. Joining him, Laberge, Flinn and McBride will be forwards Derek Arnold and Ryan Horvat, and defensemen Kevin Raine and Jared Walsh. Raine and Horvat both played for Manchester on AHL deals last season and logged games in the 2015 Calder Cup Playoffs. Horvat, who wore the Go Pro camera during Manchester's on-ice championship celebration, has been signed to an AHL contract by Ontario. Raine won a community relations award with the Monarchs last season and acquitted himself well in a Kings preseason game last fall. The 5-foot-8, 165-pound Arnold appeared in 154 games over four years with UMass-Lowell and has already been signed to an ECHL contract by Manchester. Walsh attended rookie camp with Buffalo last year and will look to add to his 32 points in 99 career major junior games with OHL-Mississauga when he returns to the Toronto-area club for his 19-year-old season.
-Of the players who appeared in the Calder Cup Playoffs with Manchester, Adrian Kempe, Nick Ebert, Justin Auger, Patrik Bartosak, Horvat and Raine will take part in rookie camp. Kempe did not participate in camp last year because of his contract (and overlapping schedule) with SHL-Modo. Alexander Dergachyov, selected in the third round this past June, is currently playing with KHL-SKA St. Petersburg.
-From my most recent conversations with hockey operations on the injury front, it's likely that Joel Lowry will not take part in on-ice sessions as he continues his rehabilitation following back surgery that prematurely ended his senior season at Cornell. While they're not rookie camp participants, don't expect to see Paul Bissonnette (hernia surgery) or J.F. Berube (ankle) on the ice much at training camp as they work their way back from injuries. If you recall, Berube suffered an ankle injury during Game 3 of the Calder Cup Final, which set the wheels in motion for Peter Budaj to ultimately sign a PTO in advance of training camp, thus providing another experienced option in the event an additional goalie gets dinged up in camp.
-One interesting player to watch will be Erik Cernak, the 6-foot-4 defenseman who was chosen with the 43rd overall pick at the NHL Draft in June. Cernak was selected by OHL-Erie in the CHL import draft, though I've been told by a member of hockey operations that because he has played (and won back-to-back titles) with HC Kosice of the Slovakia Extraliga that it'd be more likely that he'd return to Kosice should he not earn a spot with AHL-Ontario (which could be a tall order for an 18-year-old). This will be a secondary story during camp.
Invited Players:
Derek Arnold

Ryan Horvat

Kevin Raine

Jared Walsh

Ty Comrie

Samuel Laberge

Jack Flinn

Nick McBride