NOW, WHERE WERE WE? | A good Monday afternoon to you, Insiders. Thank you for your patience during a few light-news days as Mr. and Mrs. Insider traveled with Toddler Insider to their sacred vacation lair. We're back to regular operating hours, and with a lot of important dates on the horizon, there should be some interesting news, notes and doings over the next month:
Here is an overview of some of the upcoming important NHL off-season dates: pic.twitter.com/2klHUm9CSs

— CapFriendly (@CapFriendly) June 4, 2018
THINKING OUT LOUD | There were a couple LA Kings notes in Elliotte Friedman's most recent 31 thoughts. First:
15. There were reports Montreal began some preliminary discussions with Max Pacioretty, who is one season away from unrestricted free agency. There's a serious sense that those brief discussions are being prompted by other teams curious to hear what the winger is looking for on an extension.

A sign-and-trade makes a lot of sense for the Canadiens, too, as cost certainty makes him more valuable. Technically, he can't sign a new contract until July 1, but there can be a "nudge, nudge, wink, wink" verbal agreement.

Somehow, Los Angeles is going to add scoring, and I can see the Kings being one of the clubs involved. Evander Kane's seven-year, $49-million extension is good news for James van Riemsdyk, Pacioretty and maybe even the Penguins and Phil Kessel – you can certainly see a team considering the four years and $6.8-million AAV remaining for Kessel rather than something like Kane's commitment, and the Penguins might be willing to eat money, too.
As Friedman intimated, the Kings will be exploring ways to improve their offense, and if there are personnel-based means to do so, they will at least explore them. They're doing their diligence. I haven't inquired about his specific name recently, but Jeff Skinner has been linked to Los Angeles and will be a player who will be followed closely around the draft. The Kings aren't looking to part with productive young (and young-ish) forwards with term remaining on their contract, especially for a player (such as Skinner) who has the ability to walk after the 2018-19 season. Barring any hypothetical extension on top of a hypothetical trade, I don't see them moving any of their locked-in, productive pieces up front to bring him in. Friedman also raises Florida as a potential player for Skinner.
Also, Friedman reported, "It's believed assistant GM Mike Futa — linked to almost every job opening in existence — signed an extension with Los Angeles," which has been confirmed by the team. This is very good news for Futa and Kings fans and representative of both a strong team culture and the Kings' ability to retain intriguing and successful members of its staff. As noted last week, Futa no longer serves as the GM of the Ontario Reign in addition to his AGM duties; that GM role now belongs to former ECHL-Manchester coach Richard Seeley.
NE-KOVY-ATIONS, 2.0? | Ilya Kovalchuk met with the Kings last week, per Darren Dreger:
Ilya Kovalchuk in California this weekend. Visited with the LA Kings yesterday and will meet with the Sharks tomorrow.

— Darren Dreger (@DarrenDreger) June 9, 2018
There's still gas left in that tank. While part of NBC 4K's Olympic hockey coverage, I called five of the six games played by the Olympic Athletes from Russia men's team (and one OAR women's game!), and he was dominant – perhaps more so than any of his gold medal-winning teammates – during stretches of games en route to being named the media's tournament MVP. If I were to pick out the five most impressive Russian skaters from that tournament, they'd be forwards Kovalchuk, Nikita Gusev and Kirill Kaprizov, and defenseman Slava Voynov and Vladislav Gavrikov. (Pavel Datsyuk was still awfully good, too.)
Of course, this wasn't a best-on-best tournament, so it's fair to be skeptical when referencing his Olympic credentials. But Kovalchuk was still extremely impressive even when given the opposition and placed in context with his younger, dynamic teammates. For a team looking to boost its speed and skill, recruiting a player who scored 63 goals over his last 113 KHL games and would not come at the cost of any assets makes sense.
(Also, it's neither here nor there, but Gusev, the KHL MVP who turns 26 in July and has one year remaining on his contract with SKA, became Vegas property in expansion draft negotiations that steered the Golden Knights towards selecting Jason Garrison from Tampa Bay. He'll be heavily pursued by the Knights, who'll try to bring him over one year from now.)
KINGDOM NOTES | A heartfelt stick tap to two popular members of the hockey operations department who will not return in 2018-19. Lee Callans, the Kings' Scouting Operations Coordinator and a member of Los Angeles' staff since 2000, has seen regimes rise, fall and rise again. He's moved on from the team this off-season – such a coincidence that his departure coincides with Radiohead's 2018 tour! – and concludes his Kings body of work with two Stanley Cup inscriptions. When you're months deep into a hockey season, there are few things more enjoyable and stress-relieving than Callans' back-and-forths with Daryl Evans at the Chick Hearn Press Room dinner table. The best of luck to Lee in all of his future endeavors.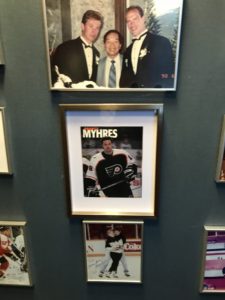 A stick tap also goes out to Brantt Myhres, who was hired by Dean Lombardi for a newly created player assistance position during the 2015 off-season but will no longer serve in that capacity with the club as both the team and Myhres have moved on. This was, as we remember, in the aftermath of a nine-month span in which Slava Voynov was arrested on suspicion of domestic violence and subsequently charged with a count of corporal injury to a spouse, followed by Jarret Stoll and Mike Richards' drug-related arrests. The Kings and Myhres parted ways earlier in the year, which, selfishly, is disappointing because he was an engaging and highly positive figure (and one of the NHL's true Chinese Food Insiders whose head shot hangs at Edmonton's Blue Willow Restaurant below a picture of Wayne Gretzky, late Blue Willow owner Vic Mah, and Mark Messier). More importantly, Myhres, who has battled his own drug and alcohol-related illnesses and addictions, was a confidant to the players who helped educate the team on behavioral health-related challenges. You'll be hard-pressed to find a more genuine person in the sport than Myhres, who had a great relationship with Chris Sutter and hosted him at a number of games this season. The best of luck to Brantt in his future work.
SO YOU'RE SAYING THERE'S A CHANCE | Via Bovada, preliminary, post-Cup, pre-movement Stanley Cup odds:
Tampa Bay Lightning 9/1
Boston Bruins 10/1
Toronto Maple Leafs 10/1
Vegas Golden Knights 10/1
Winnipeg Jets 10/1
Nashville Predators 11/1
Pittsburgh Penguins 11/1
Washington Capitals 14/1
Edmonton Oilers 18/1
Anaheim Ducks 22/1
Chicago Blackhawks 22/1
Columbus Blue Jackets 25/1
Dallas Stars 25/1
Calgary Flames 28/1
Philadelphia Flyers 28/1
Los Angeles Kings 30/1
Minnesota Wild 30/1
San Jose Sharks 30/1
Colorado Avalanche 40/1
Florida Panthers 40/1
New Jersey Devils 40/1
St. Louis Blues 40/1
Montreal Canadiens 50/1
Carolina Hurricanes 60/1
New York Islanders 60/1
Buffalo Sabres 66/1
New York Rangers 70/1
Detroit Red Wings 75/1
Arizona Coyotes 80/1
Vancouver Canucks 80/1
Ottawa Senators 100/1
Keeping in line with beating you guys over the head with The Athletic recommendations, here's a recommendation from The Athletic: By the numbers: Examining next season's Stanley Cup odds (via Dom Luszczyszyn)
HAPPY ANNIVERSARY | Where were you on this night? I was in the auxiliary press box, midway up Section 316, watching the culmination of what we expected to occur after working the first two games of the second round series in St. Louis. I've said it a number of times: when the Kings bent but didn't break against an early onslaught and emerged with a win in Game 1 against the Blues, and then jumped out to a 4-0 lead after 20 minutes of Game 2, I experienced a "my word, this is probably going to happen this year" moment. I will always remember locking wide, incredulous eyes with Bob Miller during the first intermission at the Scottrade Center that night.
How many times have you watched these highlights?
-Lead photo via Harry How/Getty Images