Hey, it's NHL Draft Lottery time again. The lottery, which will determine the first 15 picks of this year's draft, will be held on Saturday, April 29 in Toronto and will be covered live on NBC CBC and TVA beginning at 4:30 p.m., PT.
The actual draft will be held on June 23-24 at the United Center in Chicago, IL.
The lottery will consist of three drawings. The first draw will determine the club selecting first, the second draw will determine the club selecting second, and the third will determine the club selecting third. Los Angeles has a 4.5% chance of winning the lottery for the first overall pick and a 14.4% chance of earning a top-three selection. Las Vegas enters the lottery with the same odds as the team finishing the regular season in 28th place overall, Arizona.
The odds in the second and third drawings will increase proportionately based on which clubs wins prior drawings and are removed from the pool. All teams participating are those that did not qualify for the 2017 Stanley Cup Playoffs.
Chance of winning the first overall selection:
Colorado Avalanche: 18.0%
Vancouver Canucks: 12.1%
Vegas Golden Knights: 10.3%
Arizona Coyotes: 10.3%
New Jersey Devils: 8.5%
Buffalo Sabres: 7.6%
Detroit Red Wings: 6.7%
Dallas Stars: 5.8%
Florida Panthers: 5.4%
Los Angeles Kings: 4.5%
Carolina Hurricanes: 3.2%
Winnipeg Jets: 2.7%
Philadelphia Flyers: 2.2%
Tampa Bay Lightning: 1.8%
New York Islanders: 0.9%
And, courtesy Tankathon, all teams' chances of landing in particular draft slots: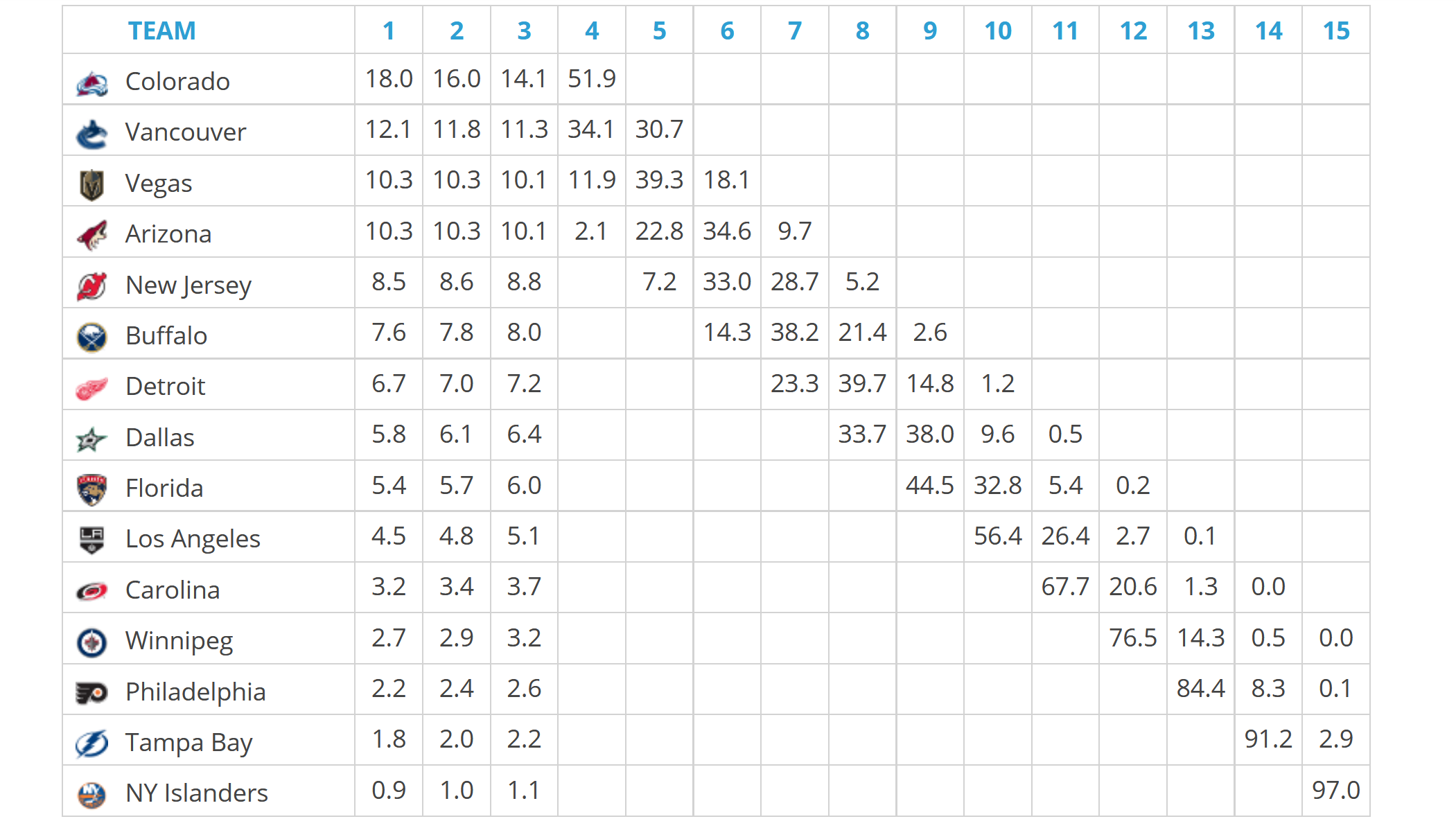 Tankathon – which doesn't sound like a site you'll be eager to visit for information about your favorite team – also has a lottery simulator, which, if you're looking for time to waste, will once in a while spit out the Kings. I tried it this morning, and Vegas came up on my first spin. L.A. came up second. (Pay this no mind.)
Two off-seasons ago, the Kings had a 2.0% chance to win the lottery and select Connor McDavid. (BREAKING: That didn't happen.) This year, Nolan Patrick of WHL-Brandon and Nico Hischier of QMJHL-Halifax are the two prospects who have separated themselves from the pack, based on comprehensive and ongoing scouting by a number of experts and scouting services. The Kings have a better than 50% chance of selecting 10th overall, and TSN's mock draft links them to Owen Tippett, who had 44 goals and 75 points in 59 games with OHL-Mississauga and is not related to Arizona Coyotes coach Dave Tippett.
The 2017 NHL Draft is being pooh-pooed as one lacking in an abundance of star names and, potentially, depth, though similar things were said of the 2012 NHL Draft, in which the Kings' 29th overall selection, Tanner Pearson, has distinguished himself well beyond Nail Yakupov, who was chosen by Edmonton first overall.
Highly skilled 5-foot-8 forward and former L.A. Junior King Kailer Yamamoto is ranked 17th overall among North American skaters. The 18-year-old Spokane native, whose September 29, 1998 birthday placed him in the 2017 draft – the cut-off for draft-eligible players is September 15 of the year they turn 18 – totaled 42 goals and 99 points in his second full season with WHL-Spokane. Manhattan Beach native and former L.A. Junior King defenseman John St. Ivany checked in at 125th overall among North American skaters after posting one goal and 10 points in his rookie USHL season with Sioux Falls.
Los Angeles currently holds their own selections in the first, second, third, fourth, fifth and sixth rounds, as well as Tampa Bay's fifth round selection.
NHL Central Scouting's final draft rankings: NORTH AMERICAN SKATERS | NORTH AMERICAN GOALIES | EUROPEAN SKATERS | EUROPEAN GOALIES