The Kings out-chanced and by virtually any appraisal outplayed the St. Louis Blues Saturday night but were forced to kill off a five-minute major that unfairly deprived them of a high-usage defenseman late in the game and forced them to defend for the better part of the final 10 minutes of regulation in a 2-1 shootout loss. The Kings allowed very little at even strength. With 9:30 to play in the second period Los Angeles was out-shooting St. Louis 10-4, and by the end of the night had allowed only 24 five-on-five shot attempts (!). This isn't exactly out of character in the series, given the teams' adherence to tight-checking in all zones, and the Blues weren't exactly opening up their systems with so many injuries on the second night of a back-to-back set. It's probably not an enormous surprise that this game saw all of two goals scored in regulation, but credit an excellent Brian Elliott for turning away all but one high-grade Kings scoring chance and backstopping his team to its first Staples Center win since a game played nine days before Anze Kopitar was felled by a broken ankle late in the 2010-11 season.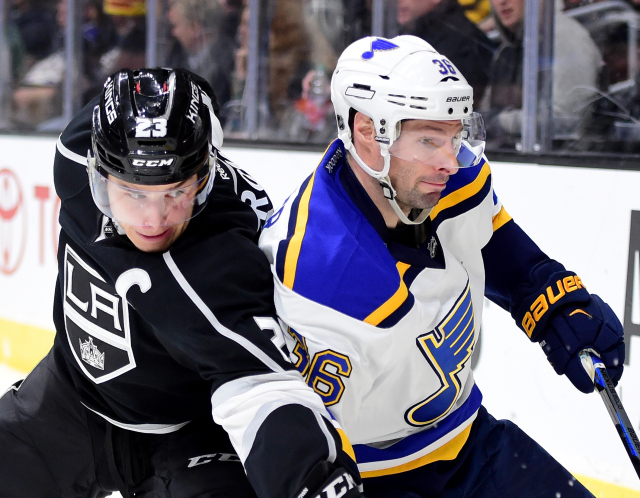 Speaking of Kopitar, his line set a hard, straightforward tone, and Milan Lucic's play alongside Kopitar was the best it had been at any point this season. I haven't seen a full replay of the shift leading to the goal, but it began with Tyler Toffoli maintaining possession of the puck while absorbing a hit in the neutral zone before issuing it to Kopitar, who used a bull-like power move to will the puck along the boards into the offensive zone from in front of the team's bench. The play ended with Kopitar slipping free in front of Elliott, and Lucic threading a needle with a soft, backhanded pass to get him the puck all alone in a dangerous area. Toffoli and Tanner Pearson may have created the most high-danger scoring chances, according to War-on-Ice, but Lucic was effective on the forecheck and played a hard, power game that ultimately resulted in a shot attempt differential of plus-11, tied with Jake Muzzin for the best on the team. Lucic was putting the puck on his teammates' sticks all night.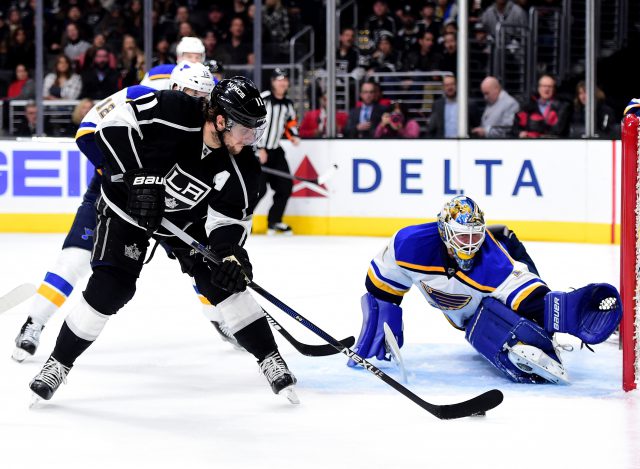 Do the Kings have a shootout drop-off after their first wave? Anze Kopitar and Marian Gaborik have combined to go 5-for-6 this season, while all other shooters have combined to go 0-for-10. Jeff Carter, one of the league's premier players at shooting at a high speed, hasn't found a great deal of luck in the shootout over the last three seasons and is now 4 for his last 23 in the extra session since opening up the 2013-14 season with a pair of shootout game winners at Minnesota and Carolina, both of which were scored on his backhand. Carter still enjoyed a thoroughly positive night as his minutes were back up to 22:17, and he totaled five shots on goal and eight attempts while winning six-of-10 faceoffs and maintaining strong possession numbers.