The puck inside Jonathan Quick's glove probably passed the goal line. Original on-ice calls aren't overturned over probability, though, and so Toronto's call that there was inconclusive video evidence to overturn the on-ice call was the correct one, and the Kings skated to a narrow, 3-2 victory over the Edmonton Oilers to run their winning streak to five games. All safeguards worked as they should have: the referee could not tell if the puck fully crossed the goal line, so he waved the goal off (I can't speak on what Rob Martell had originally seen when his first gesture was to signal goal before waving the goal off; perhaps he thought the puck was in the back of the net?), Toronto found no conclusive video evidence to overturn, and all we were left with was a twitter battleground and angled photographs and obscured screenshots that provided more of a debate than any neatly packaged conclusion. Like the Red Wings' "goal" in Detroit two years ago, perhaps this event spurs a rule change that, in this case, allows in-post cameras during the regular season or goal line technology that adds another perspective to what is available. Credit to the Edmonton fans who, while disappointed, did not send Rexall Place to its expiration date six months prematurely. Could you imagine if a similar call had gone against the Kings at Staples Center? In a game against Anaheim or San Jose?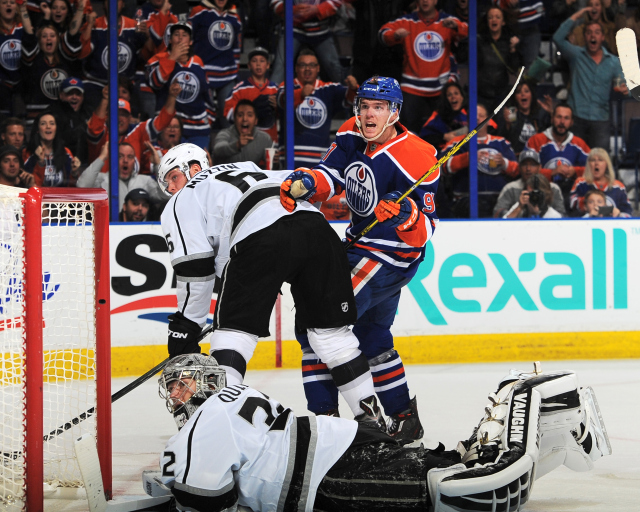 The win represented a strong team-wide effort and mostly the type of performance Darryl Sutter was searching for when adjusting his lines prior to the game. Andy Andreoff struggled at the faceoff dot, though his line provided some quality minutes and was rewarded with an expanded workload, as indicated by their time on ice. Looking to establish his identity as a disciplined center who brings energy and is positionally sound, Andreoff jumped onto the ice for his first shift and issued an immediate and hard neutral zone hit on Eric Gryba two and a half minutes into the game. Kyle Clifford finished a goal shy of a Gordie Howe hat trick and had two quality opportunities to bury one, though credit Cam Talbot for denying his stuff chance after he had made a hard move to the front of the goal in the second period. Jordan Nolan also assisted on Anze Kopitar's goal by forcing a Gryba turnover in the neutral zone before Clifford dished the puck to the eventual goal scorer. On top of that, the team was whistled for only two minor penalties in a tight divisional game. Interestingly, Darryl Sutter chose to roll the top two lines while on the power play, and the game-winner was scored by the Kopitar line's newest addition in Tanner Pearson. On the other hand, Marian Gaborik, who skated alongside Nick Shore and Trevor Lewis, finished with 12:50 of ice time, only 19 seconds of which was spent on the power play.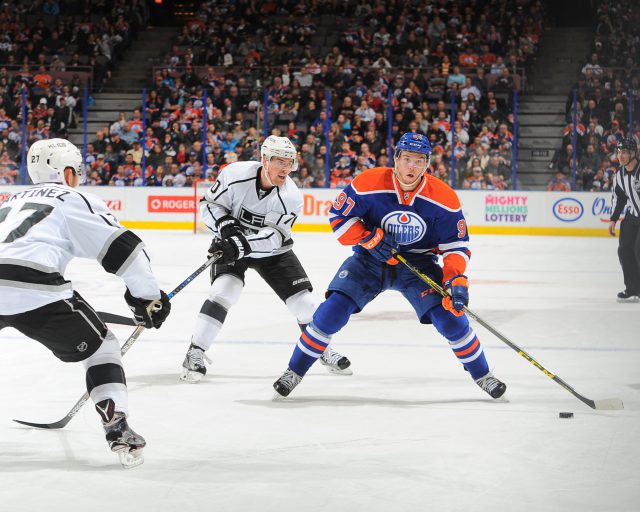 There's better depth on this Oilers team as well as a very sturdy coach behind the bench, and while there will be hiccups in their final season at Rexall Place, there is obviously tremendous direction. They'll continue to improve in Todd McLellan's first season, and when Jordan Eberle returns, it wouldn't be surprising at all to see them insert themselves in a conversation for a playoff spot (though, in all likeliness, at this point it does appear as though the Central Division will receive five berths, and the Pacific only three). Relying mostly on the Nick Shore and Jeff Carter lines, according to War-on-Ice, the Kings played Connor McDavid to mostly a draw possession-wise – though the Carter line did appear to eke out a slight victory territorially – and other than the rookie's brilliant rush down the right wing and past Jake Muzzin to set up Benoit Pouliot's goal, there wasn't a surplus of high grade opportunities for his line up until the final 10 seconds of the game. That's not to pick on Muzzin, who had an otherwise strong game calming plays down in the Kings' defensive end (and assisted on the game-winning goal), though McDavid did create separation with a shove to his back during the game's peak moment.