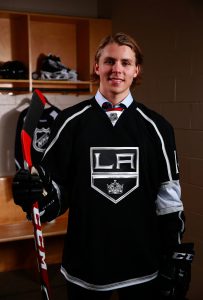 Southern California-based hockey reporter Gunnar Nordström – who will be an upcoming guest on All the Kings Men Podcast – wrote in today's Expressen that 2014 first round draft pick Adrian Kempe arrived yesterday in Manchester, has signed a tryout contract, and could make his North American debut when the Monarchs close out their regular season with three games in three nights this weekend. Hockey operations confirmed the Expressen report.
Via Google Translate (click for a full translation of the article):
Modo already counting Kempe lost. His contract with Öviks club, which therefore includes the 2015-16 season, has an NHL clause so Adrian can leave Modo this summer.

LA Kings had representatives of Sweden and saw Kempe in two games in February against Everton at the Royal Court and then Modo's meeting with Växjö in Fjällräven Center.

– He definitely has the qualities to become a good NHL player, but probably need to record on the smaller North American ice surface in the AHL, says Jack Ferreira, who is an advisor to general manager Dean Lombardi.

The process begins then with high probability at the end of this week.
Kempe's two-year contract with Modo ran through the conclusion of the 2014-15 season. The Örnsköldsvik-based club finished in last place in the SHL but successfully defended its place in Sweden's top hockey league by avoiding relegation with a four-game sweep of HC Vita Hästen in the Direktkval till SHL tournament. Altogether, Kempe totaled five goals, 17 points and 42 penalty minutes in 50 games with Modo and added four goals and eight points in six games at the World Junior Championships.
Kempe doesn't turn 19 until September 13, so he's still very young, and any hypothetical production during an AHL opportunity would be a good omen. Already having played two seasons in Sweden's top hockey league, Kempe has experience facing older competition and with an honest, 200-foot game should be well equipped to transfer his skill set into professional surroundings in North America. As a player drafted from his European club, he'd be eligible to play a full season in the AHL as a teenager, and Nordström's article hinted at the forward playing for the Kings' top affiliate in Ontario next season. Hockey Operations noted to LA Kings Insider that Kempe will be slated to play for the Reign in 2015-16.
Writing for LAKings.com in February, John Hoven consulted with Kings Director of Amateur Scouting Mark Yannetti about the timetable in bringing Kempe to North America and getting him acclimated to both the North American style of play and the expectations and necessities of playing in the Los Angeles organization.
"When he comes, I liken Kempe to somewhere between Pearson and Toffoli, two guys who figured things out fairly quickly," Yannetti told LAKings.com. "I think Kempe is in that same boat, where he has a lot of the tools. He has a lot of the foundation… I don't think he's going to take three years, like some guys did. I would expect him to have to play a minimum of a half to a full year in the AHL. Is it out of the realm of possibility he could make the team [out of camp]? He's a hell of a player and, as a finished product, he is well along. There are a lot of things that will help him translate immediately to the NHL pro game. However, in my professional opinion, he most likely will still need a year in the AHL."
Based on recent correspondence with Kings hockey operations, there is a good chance Kempe will officially sign an entry level contract with the club soon. There is also the possibility that 2013 second round pick Valentin Zykov will join AHL-Manchester when his QMJHL season ends; his 14th-seeded Gatineau Olympiques are currently tied 1-1 in a second round series against top-seeded Rimouski after having upset third-seeded Blainville-Boisbriand in the first round. QMJHL playoffs are seeded 1-16.