Was the Kings' 2-1 shootout loss to the New York Islanders on Thursday night a just result? Maybe, maybe not. Los Angeles was good for most of the first and third periods and played with a brisk pace in a spirited overtime only to fall 2-0 in a shootout that didn't take as half as long as the dry scrape. The Kings engineered a great start, got bodies and pucks to the net, were rewarded with an always welcome greasy goal, continued to generate near misses (remember the Jake Muzzin attempt from the left point that caught the cross bar or the Pearson-Carter mid-air knockdown?) only to have the visitors level the game on a puck that snuck underneath Jonathan Quick's arm from a sharply angled Brock Nelson shot on the power play. Both goaltenders ended up etching out quality outings, but Chad Johnson made several important saves (and relied on pucks that trickled just wide) in the first period to keep Los Angeles from doubling its lead. Other than the New York goal that developed on a somewhat harmless play (though punctuated heavy power play zone time), the Kings' penalty killing was outstanding against one of the league's top offensive units and a man advantage that entered the game having potted two power play goals the night before and four goals in its last 17 chances.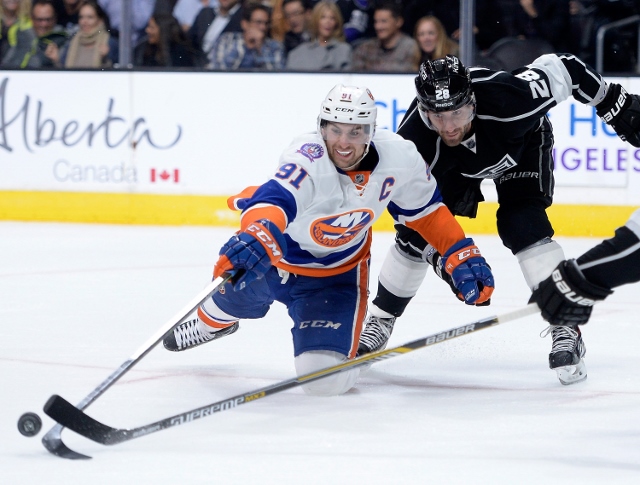 It's kind of funny that when Jake Muzzin commits a conspicuous turnover that anyone could be guilty of my responses on Twitter turn into VENEGANCE TWEETS, yet when he strings together 24 minutes and seven seconds of sublime hockey in which he leads all skaters in shot attempts, ties for a game-high with three blocked shots and deftly leads the Kings' out-of-zone breakouts and calms down high tension plays – as he did last night – there's hardly a peep in my mentions, not even for his one-on-one snuff-out of a third period John Tavares zone entry. Muzzin engineered what was clearly his best game of the season, and it followed what was a step forward in his play in the Dallas game. I wasn't paying as much attention to players wearing white as I was to players wearing black, but from what I saw, Muzzin was the best player on the ice in the loss. At even strength, Muzzin tied Dustin Brown for the best Corsi +/- on the Kings with a plus-seven. Leading all skaters was Lubomir Visnosky with a plus-eight.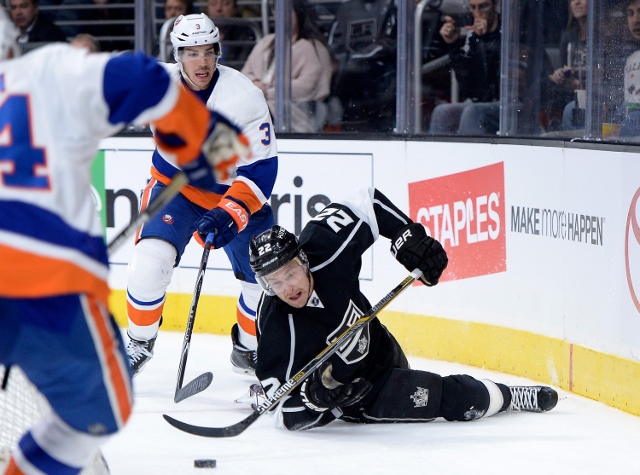 While Drew Doughty and Muzzin's games appear to be in order, there are several individuals who are still trying to refine theirs. Tyler Toffoli wasn't as dangerous on Thursday and only generated two shot attempts in 17:08 of ice time, and though Jeff Carter recorded eight shot attempts and several quality chances, his scoreless streak extended to six games, which matches a career-high. Anze Kopitar (no shots on goal; three shot attempts) and Marian Gaborik (no shot attempts) were unable to build on a strong performance in Dallas as they look to rekindle the palpable Gabotar chemistry that helped lead the team to the Stanley Cup last spring. Their next attempt will come on Saturday against the streaking Vancouver Canucks, whose 46 goals lead the Western Conference.