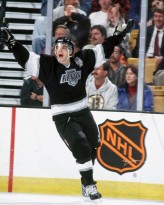 With two Stanley Cups and a Western Conference Final appearance over the last three seasons, the Los Angeles Kings are riding the surge of the most accomplished three-year stretch in franchise history. As part of their Legends Night Series in 2014-15, they'll look back to their original Stanley Cup appearance while honoring the highest scoring left wing to have ever played the sport.
LA Kings Insider has learned that the Kings will honor Luc Robitaille, Tony Granato and Barry Melrose as part of the 2014-15 Legends Night series. Robitaille, a 2009 inductee into the Hockey Hall of Fame and whose number 20 hangs high above the Staples Center ice, will also have a statue of his likeness unveiled in the Star Plaza at Staples Center.
The statue, created by Julie Rotblatt Amrany and Omri Amrany, will join the statues of Wayne Gretzky (unveiled 2002), Magic Johnson (2004), Oscar De La Hoya (2008), Chick Hearn (2010), Jerry West (2011), and Kareem Abdul-Jabbar (2012) as legendary Los Angeles sports figures to have been honored in bronze at the downtown arena, which opened in the fall of 1999.
Robitaille's Legends Night will be celebrated on March 7 when Los Angeles plays host to Pittsburgh. The franchise's all-time leader in goals scored, Robitaille spent 14 of his 19 seasons with the Kings, amassing 557 goals and 1,154 points over 1,077 career games in L.A. A ninth round draft pick in 1984, Robitaille enjoyed a remarkable run from 1987 to 93, when, beginning with his sophomore NHL season, he averaged 105.5 points over a six-year stretch. In the Kings' 1993 run to the Stanley Cup Final, he posted career-highs of 63 goals and 125 points. Having made the transition to the club's front office in 2006, he now serves as Los Angeles' President, Business Operations.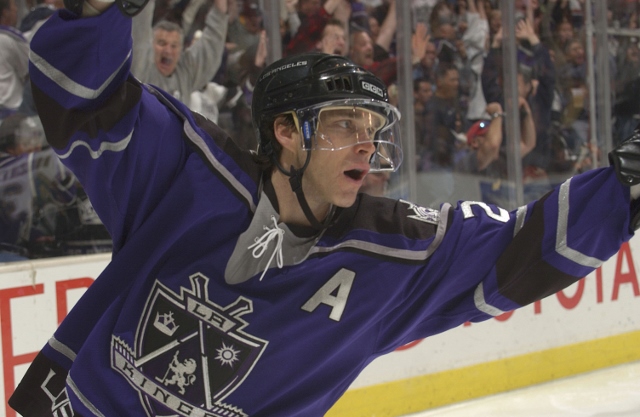 Melrose, the Kings' head coach from 1992-95, will be honored prior to the Los Angeles-Calgary game on February 12. Having posted a record of 79-101-29 over 209 games, Melrose became the first Kings coach to lead the team out of the second round of the Stanley Cup Playoffs when in 1993 he guided the club to a Campbell Conference championship and a berth in the Stanley Cup Final before Los Angeles' dream season ended in a five-game defeat to Montreal that spring. The former coach serves as an analyst and commentator for ESPN and the NHL Network.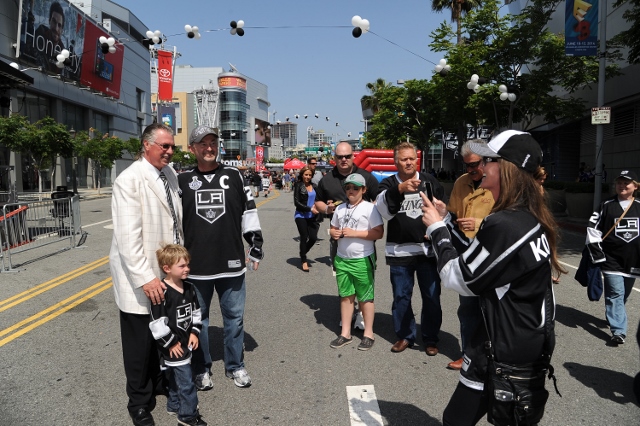 Granato, who totaled 148 goals and 305 points over seven seasons and 380 games with the Kings and played with Robitaille under Melrose from 1992-95, will be honored prior to the February 24 game between Los Angeles and Detroit. Granato was hired as an assistant coach under the Red Wings' Mike Babcock earlier this summer after having served as the head coach and an assistant coach of the Avalanche from 2002-09 and as an assistant coach with the Penguins from 2009-14.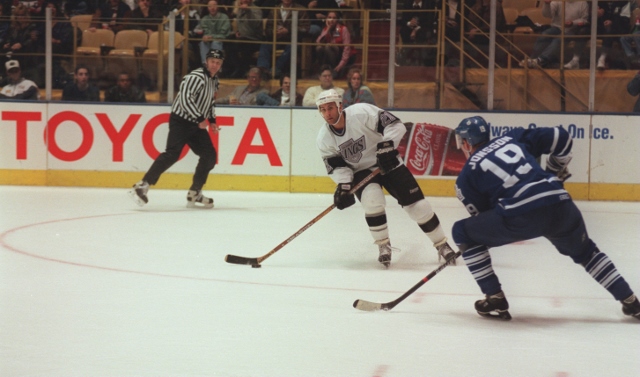 The Kings will unveil their gold vintage jerseys for the February 12 game. Having worn their Forum Blue jerseys for previous Legends Nights, LA Kings Insider reported earlier this year that the team will make a switch back to the gold jerseys similar to those worn between 1967 and 1970.
"We know our fans love those jerseys, and they seem to like when we go back in our history," Robitaille, Los Angeles' President, Business Operations, told LA Kings Insider earlier this year. "To me, the LA Kings have been around since 1967. I've looked for so many years, and I don't think people really understand how long we've been around for. To have the opportunity to bring back those jerseys and show some respect to our history is very important."
The Kings honored Jay Wells, Larry Murphy and Jim Fox as part of last season's Legends Night series. The careers of Rogie Vachon, Bob Berry, Bob Pulford, Bernier Nicholls, Daryl Evans, Charlie Simmer, Kelly Hrudey and Ian Laperriere have also been celebrated on Legends Nights.
2014-15 LEGENDS NIGHTS
Barry Melrose – February 12 vs Calgary
Tony Granato – February 24 vs Detroit
Luc Robitaille – March 7 vs Pittsburgh