On the morning of February 6, the Kings weren't scoring, weren't connecting on the power play, and even though their underlying possession metrics were sound, it didn't take Willie Mitchell's diagnosis to fully absorb the bona fide slump that had enveloped the team at the conclusion of a one-win-in-10-games stretch.
"Anytime you're in a funk…you have to find a way to play a tight game and squeak out a game whether it's 2-1, 3-2, 1-0," he said. "That's usually what happens when you're not scoring goals, you have to win a game that way."
The Kings did just that, eking out a 2-1 overtime win over the Columbus Blue Jackets that night. The Olympic Break allowed the players to hit the proverbial reset button, and when they reconvened in Denver in late February, they were on the brink of what eventually evolved into an eight-game winning streak that featured a comeback from two-goals down in a thrilling 6-4 win over the Colorado Avalanche on February 26. Though the team traded for Marian Gaborik one week later, they were also relying on the youthful legs of Tanner Pearson, whose recall prior to the end of the Olympic break represented his final roster move of the season, as well as reigning AHL Rookie of the Year Tyler Toffoli.
"It was certainly in the back of our mind that when we weren't scoring there, that we had the potential to maybe address that from within," Dean Lombardi said.
Having done that, Lombardi also looked outside the organization to fill a scoring need, and on March 5 acquired Marian Gaborik from Columbus in exchange for hardworking but unproductive winger Matt Frattin and a pair of second round draft picks.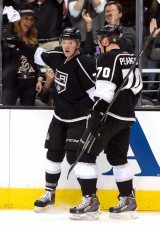 Along with a balance that has spread scoring throughout the team's offensive ranks, the acquisition of Gaborik and Pearson's promotion and subsequent postseason scoring spike gives the Kings so much of what they had been searching for over the last three years – production on the left side. Left winger Dustin Penner didn't fill that need in the fall and winter months as a King, but when he found his stride in the 2012 Stanley Cup Playoffs, he was scoring crucial goals for the team and playing a key role in an offense that jumped from 2.29 goals per game in the 2011-12 regular season to 2.85 goals per game in the playoffs.
A more pronounced production surge has accompanied Los Angeles' run to the Stanley Cup Final in 2014. In the 63 games before Gaborik's arrival, the Kings averaged 2.32 goals per game. In 21 playoff contests, they've averaged an NHL-leading 3.48 goals per game. Los Angeles erased two-goal deficits in a pair of wins over Chicago and will represent the Western Conference as a team with a well chiseled offensive credentials.
Dean Lombardi, on the team's mid-season search for scoring:
You could look at our roster even before the season and say you know, 'We probably could use some skill here,' or whatever, but we don't want to sacrifice our identity. You don't want to sell your soul. Again, players that care that care and play the right way – to get a quick fix, and that was what you were wrestling with whenever certain players came up [in discussion]. OK, we might be able to address this, but are we getting away from what we want to not lose what we've tried so hard to put in place. But you also look, like I said, going back to the other side, we didn't feel our scoring should've been that far down. You're always doing your analysis, your matchups and everything during the summer and throughout the season. You're checking all your numbers, your stats, seeing what you're seeing. I get it. We're not there as personnel in terms of being able to get in a shootout. We're going to have to play this way. But we were concerned that we were that far down on the scoring ladder. So there was a little concern. It was too far down, but we had a chance to address it partially within, and then hopefully find the right trading partner. But I guess obviously, even with the Chicago series there, that's a big difference. You don't get the sense, even when you're down two-nothing, like you might've had back in January, 'Oh, this game's over.' Clearly this team now – it's not that we want to be down two-nothing or anything. We still don't ever want to lose that we're hard to play against and that we're one of the best defensive teams in the league. That is something that we will never give up on. But you want to have the other tools in your arsenal. You want to be a complete army but never lose what you've established. So that's kind of the way the whole thing played out in our head. There was a chance we could fix it, but there was definitely a concern that we were 30th in the league with what we had. Obviously, it's kind of worked out OK.
Lombardi, on Gaborik's defensive acumen and ability to fit in with the Kings:
Well, everybody forgot he was tutored by probably one of the best defensive coaches – I'm not taking anything away from Darryl – but I'm sure he has a lot of respect for Jacques Lemaire. And that's the one thing about Marian that was very clear – that he knew what to do defensively. He's as smart defensively as he is offensively, and he had been trained that way, and he had been trained that way, and he had also been trained that defense was a priority to the point where maybe there was that criticism out there to turn him loose. But Jacques Lemaire knows what wins. So he had been trained properly from a very young age, and those things. And, quite frankly, only in recent memory have you been getting European players that are maybe fascinating to watch but can be coined 'one-way players.' But traditionally, the European player has been a 200-foot player when you look at the Larionovs and the Fedorovs and the Hossas of the world. He had been schooled, and he would fall into that category even before he got to Minnesota. The thing about Marian…as much as you knew what he could do as a player, the most important thing was that this was a good teammate that was well-liked. Whenever you have a high profile player of his caliber, to get back that from other players that have played with him was huge. And you go back to that this guy cares. Now this is something that we can look at. But the biggest thing that makes that work, particularly over a short period, is the way those guys in the room went out of their way to embrace him. Jeff Carter grabbed him, said 'You're not staying in a hotel rom. You're coming to stay at my place.' He lands in Winnipeg, the first guy that grabs him is Mike Richards. 'Let's go out for breakfast.' His acclimation, being part of this group is such a tribute to the guys in that room that embraced him right away, that made him feel a part of the family, and by virtue of that, impresses upon him, 'Hey, this is the way we play here. Certain things have to be done. Now go do what few players can.' Like, you look at his goals, when we did all our work on him going back to when he was in Minnesota, people think those pucks he's knocking out of the air are luck? You look back at his tapes – the 40 goal seasons – how many he knocked in like that. That's a skill. But you've got to be a good teammate, and you've got to do certain things that every King has to do, now go do those things that make you special. When you see that acclimation happen so quickly, there is no other reason for that than the guys in that room. Like I said, that's a real tribute to those other 20 guys. Now the guy goes out and performs and gives you something that makes you better.