Matt Frattin didn't practice on Friday. "It's basically maintenance from last night," Darryl Sutter said.
As noted yesterday, Frattin wore a full face shield with jaw protection after sustaining a cut on a high stick from Tampa Bay's Pierre-Cedric Labrie on Tuesday that necessitated 14 stitches.
"Based on how he played last night, he should get hit in the mouth every game – the game before," Sutter joked while referencing a quality stretch of games etched out by the right wing.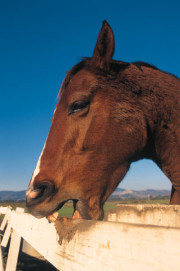 He then equated Frattin's full face shield to a protective device placed on horses to keep them from gnawing on their enclosure while in distress. It's a type of behavior known as "cribbing."
"It's what I was telling those guys – that cage he was wearing yesterday in practice – when they put them on horses, that's 'cause they crib. The horse will crib. So that's what I told him – you're a racehorse now," Sutter said.
Sutter also offered an analysis of Frattin's contributions over the span of time in which the team has dealt with injury woes.
"He's supposed to produce. If he doesn't, so what? His ice time has gone from not dressed, eight minutes, 17 minutes. It's based on performance. I'm not babying guys. They've got to perform. And if we're banged up, it's even more so," he said.