The Los Angeles Kings and Anaheim Ducks have excelled at expanding their alumni relations and bringing former players back within their organizational borders. Unfortunately for fans of the two Southern California teams that had hoped otherwise, there won't be an alumni game surrounding the January 25 Kings-Ducks Coors Light NHL Stadium Series event at Dodger Stadium, as noted by Kelly Cheeseman, Chief Operating Officer, AEG Sports, in a conversation with LA Kings Insider.
"We went through that exercise ad nauseum to try to make that work, because…we were very excited about that possibility. But, unfortunately, just the logistics and the timing of our game, and the concerns of the ice conditions, aren't going to allow us to pull off an alumni game, unfortunately. We got pretty far down the line. We looked at all the possibilities, and then we just said for the good of the game and for protecting the ice conditions, we needed to make sure that we held that integrity," Cheeseman said.
Cheeseman said that the experience will incorporate "innovative ideas that will make the game different than any of the outdoor games that we've seen today."
"It's definitely going to represent Southern California. It's not going to be what you would traditionally see in any other market."
Though there isn't an opportunity to rub shoulder pads with L.A. alumni on the ice at Dodger Stadium, the team is still offering fans the chance to immerse themselves with Kings alums at Frozen Fury Fantasy Camp, a four-day Vegas vacation that puts campers on the ice, at the poker table, and at an MGM Grand pool party alongside Luc Robitaille, Rob Blake, Sean O'Donnell, Charlie Simmer, Glen Murray, Jim Fox and Bob Miller, amongst other organizational greats.
Earlier this week Dennis Bernstein of The Fourth Period tweeted a Dodger Stadium seating map for the Stadium Series game: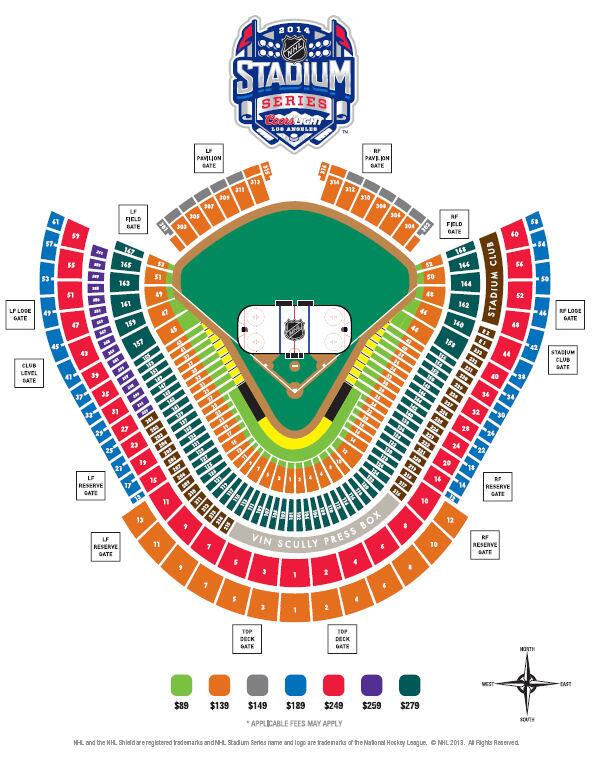 LAKI will continue to update the planning, logistics and execution of the Stadium Series Kings-Ducks game as the event takes shape.