As the April 3 trading deadline approaches, any personnel decisions the Los Angeles Kings make will be with a keen eye kept on defenseman Slava Voynov, who becomes a restricted free agent on July 1.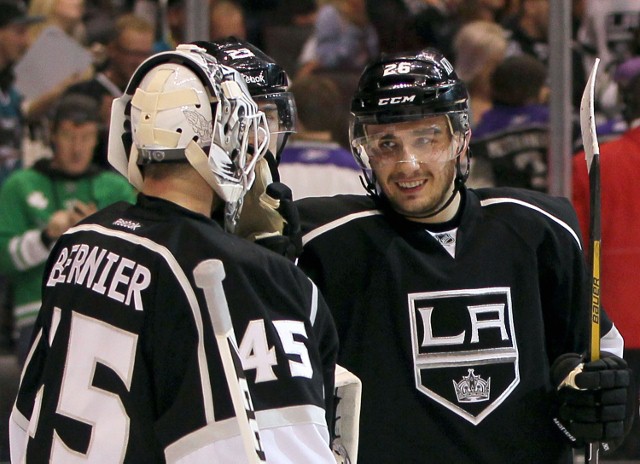 With a salary cap that dips to 64.3 million dollars next season and a total of 49.5 million dollars in salary allotted to 13 players, a narrow financial tightrope will have to be navigated in order to divide salaries to some of Los Angeles' eight restricted free agents (Voynov, Clifford, Lewis, Nolan, Martinez, Ellerby, Muzzin, Bernier) and four unrestricted free agents (Scuderi, Penner, Drewiske, Richardson).
Though ensuring the future of the other younger players listed above remains an important task, an eventual contract extension for Voynov, who ranks second on the Kings in ice time, tied for fourth in points and has developed into a reliably efficient player at both ends of the ice, should be seen as the most important contractual hurdle for general manager Dean Lombardi to clear.
Unlike 21-year old Phoenix restricted free agent Oliver Ekman-Larsson, who signed a six-year, 33-million dollar contract earlier this month under greatly different circumstances, there isn't an impetus to sign Voynov as quickly as possible.
"You've got to be careful at times getting too bogged down so the player can focus on playing right now," Lombardi said. "But it's safe to say I wouldn't anticipate going to July 1st on this."
Phoenix's need to get Ekman-Larsson under contract was heightened due the possibility that another team could sign the franchise cornerstone to an offer sheet that the Coyotes, a more financially rigid team in the process of emerging from league control, might not be able to match.
For as much talk as offer sheets seem to generate, only eight have been offered since the implementation of the previous CBA in 2005. Dustin Penner, who signed an offer sheet with Edmonton that Anaheim chose not to match in 2007, is the only player to have changed teams in such a method over that time period.
Though the possibility exists, the history of the offer sheet doesn't appear to be working against the Kings in this situation.
"A lot of teams are facing that too," Lombardi said, and he's right – St. Louis' Alex Pietrangelo and Kevin Shattenkirk are among the league's defensemen facing restricted free agency.
"I guess you could've said the same about [previous RFAs] [Michael] Del Zotto and [John] Carlson and all of those guys, right?"
Carlson is actually an interesting comparison. Four days older than Voynov and with two and a half years of NHL experience when he signed a six-year, 23.8-million dollar contract on the eve of the expiration of the previous CBA last September, his contract is likely a more accurate barometer of what Voynov could receive than Oliver Ekman-Larsson's contract if a long-range deal is what the Kings and Voynov's representation agree upon.
As for that agreement, it remains a priority – along with the agreements of other players that comprise the team's young core – that the club will address in due time.
"All our discussions haven't gotten down to really the brass tacks," Lombardi said. "You sketch some parameters. You get some idea, because part of it too relates to term, and how that affects the cap number. So anything we're doing we're planning with him in mind."
Keeping Voynov and the other young players "in mind" is an indication that the Kings aren't likely to add a weighty contract that extends past this season prior to next Wednesday's trading deadline. In addition to the restricted and unrestricted free agents above, there's also the considerations of team captain Dustin Brown, who becomes an unrestricted free agent following the 2013-14 season.
While the team is obviously cognizant of Brown's situation, Voynov appears to be among the current contractual priorities, and Lombardi is only taking it one July 1st at a time.
"I would expect to have something done before then…to be honest with you," he said. "You try and do all your planning now. You talk to the agent, you get the range, and I think your focus right now, obviously, is there any way we can make the team better without getting off track?"