The Los Angeles Kings compiled a record of 437-406-63-78 (W-L-T-OTL) with purple as a primary color from 1998-2011, and that says little about a teasing and often frustrating era of Kings hockey.
With the two-game home sweep of Phoenix serving as the official retirement of the purple jerseys, I decided to compile a top-10 list of "favorite moments in black and purple" before realizing that any accurate account would rely too heavily on the most memorable moments from the 2001 playoff run: The Frenzy on Figueroa. Adam Deadmarsh's series clincher against Detroit. Glen Murray's double-overtime goal against Colorado.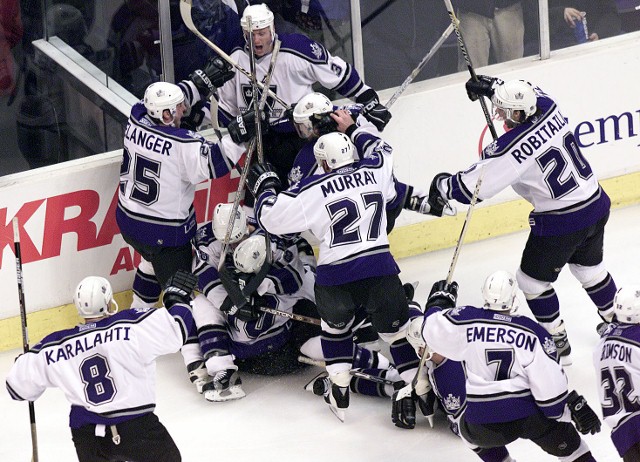 If there was one play that seemed to represent a 12-season span in which the Kings won one playoff series, it was Bryan Smolinski hitting the post late in the second period of a tied road game against the Colorado Avalanche in the decisive match of the 2001 Western Conference Semifinals.
"A 1-1 game, Game 7, going into the third against the No. 1 seed, you're kind of liking your chances," Head Coach Andy Murray told Helene Elliott of the LA Times in May, 2001. "Some of the guys we talked to said if Smolinski had scored, we would have won, 2-1, and would have shut them down in the third period. But you never know. And for whatever reason, we didn't play as well as we needed to."
"But you never know" might as well have been the motto for a talented core of players that appeared to be on the verge of building something special with playoff appearances in three consecutive years from 2000-02.
Instead, the only trophies the team collected over the subsequent seasons were black and purple in their unattractive, bitter appearance: bruises.
What would have happened had franchise cornerstones Jason Allison – a point-per-game player in his season and a half in L.A. – and Deadmarsh not succumbed to career-derailing injuries early in the 2002-03 season? Where would the Kings be had they not surpassed their own 2002-03 record of 536 man-games lost to injury with an unofficial NHL record of 629 games lost to injury one season later? And what to make of Ziggy Palffy? Had Todd Simpson not grabbed a hold of his stick in overtime and dislocated his shoulder in a game in Anaheim nine years ago, where would his standing be in Kings history?
There are no answers to these questions, nor have Kings fans been asking them since last June.
A Stanley Cup banner has recently been hung at Staples Center, and any festering irritation towards an often unforgiving period has been virtually drained. It is no longer a "frustrating era". It was simply "an era", and one that spawned the careers of Dustin Brown, Anze Kopitar, Jonathan Quick, Jonathan Bernier and Drew Doughty in its later years.
As those players continue to evolve, so will our views of the black-and-purple years of the Los Angeles Kings.
For more on the retirement of the Kings' purple jerseys, I recommend this icethetics blog post, Mourning Purple.