In both the grand scheme of the 1992-93 season and in its most focused moments, Luc Robitaille was front and center – or, perhaps more accurately, front and left wing.
His 125 points marked the most ever recorded by a left wing in one season in league history, and until Alex Ovechkin scored 65 times in 2007-08, his 63 goals stood as a left wing single season record as well.
And then, the defining moments: his Game 5 double-overtime setup of Gary Shuchuk's legendary goal in Vancouver and the wild celebrations on the Pacific Coliseum ice that followed, and the cross-slot feed to Wayne Gretzky against the Toronto Maple Leafs at The Forum in overtime that ensured a Game 7 would be played in the Campbell Conference Finals.
Statistically speaking, Robitaille never had a better individual campaign than his 84-game, 125-point performance in 1992-93. Collectively, Los Angeles' ascendance to the Stanley Cup Final 20 years ago represented the highest achievement by a group of players in a Kings era defined by gifted, high-profile stars.
Luc Robitaille, the Kings' President, Business Operations, spoke of that special time and place with LA Kings Insider. On an upcoming edition of "First Taste", he'll share his recollections of Shuchuk's memorable double-overtime goal in Vancouver.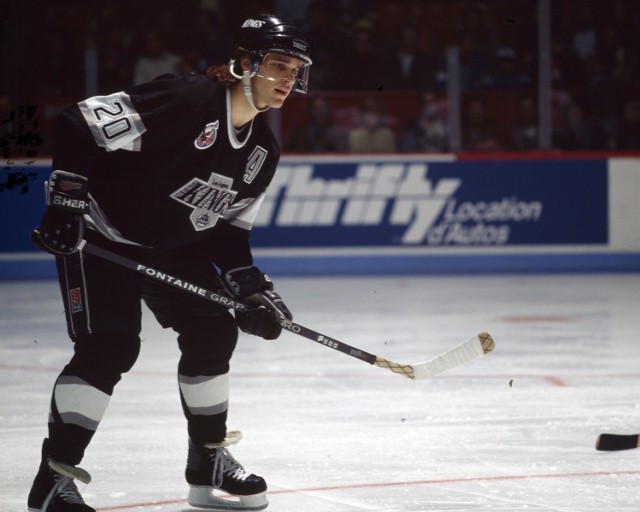 Robitaille, on the 1992-93 season, which began with an injured Wayne Gretzky:
"It was an up-and-down season, but definitely at the beginning of the year…we were not a playoff team, according to everyone, so we came out storming in the first couple months of the season. We had a great start, and then we seemed to get tired, and sometimes you get a couple of injuries. We weren't playing quite as good. But in the month of March, and coming into – I can't remember when we started the playoffs – but I know the last three weeks of the season, or four weeks of the season, we were as good as anybody in the NHL. I mean, Wayne was piling up points, and we finished real strong. So coming into the playoffs, we came in playing really well, a little bit like the Kings last year. That was the biggest difference. I think coming into the playoffs, we were like a well-oiled machine playing really well. There was certainly an amazing playoff series, and an amazing finish to that season."
Robitaille, on what 63 goals meant to him personally:
"I mean, it was a lot of fun. I was given more of a leadership role, and it was probably my first time playing on like a real first line. Certainly, it was a lot of fun, but I think it was more the success of the team that was so much fun, because we played every game like a playoff game that whole year because we knew we were always the underdog. Until Wayne came back, we were constantly the underdog. It was just a lot of fun. We had a team that was really together, and we were accomplishing things that no one ever expected us to accomplish, so it was a lot of fun. To me, what was the most fun was we played every game like it was a really important game, and we played for the team."
Robitaille, on whether the Game 6 home win over Toronto, in which he recorded four points and Gretzky scored the overtime game-winner, represented an entire era of Kings hockey:
"It was truly amazing. That whole playoff run, it was incredible how everybody realized how big hockey could be in L.A. That night certainly was a very special night. We were down…3-2 in the series, and to go out and win that game, we kind of just felt we were going to win Game 6. We didn't know Wayne Gretzky would be Wayne Gretzky. But it certainly was a special night, and you kind of could tell it turned the city upside down. It was pretty neat."
1992-93 teammate Warren Rychel on Luc Robitaille:
"Luc was a great guy. Coming in, he was always nice to me. Right off the bat he was great to me – he and his wife. Luc was a guy that loved hockey. He just was a hockey player, you know? He was always in a good mood. He came to the rink and he laughed and was always a good guy. We were always chuckling. That was the one thing about our team in that 92-93 season, that everyone got along and everyone had a good time. Luc was a good guy, a pretty funny guy and was a real class act off the ice, too. So I took that from him. But just the ability – this guy had a natural goal scoring ability, it was crazy. Everything he touched went in. It was a pleasure to be able to play with him, obviously a Hall of Famer and still with the Kings as Vice President, I believe. What a great guy, for sure, a great guy."
Previous First Taste features: