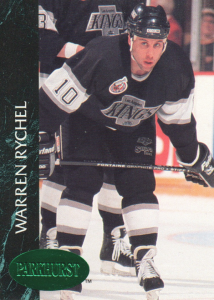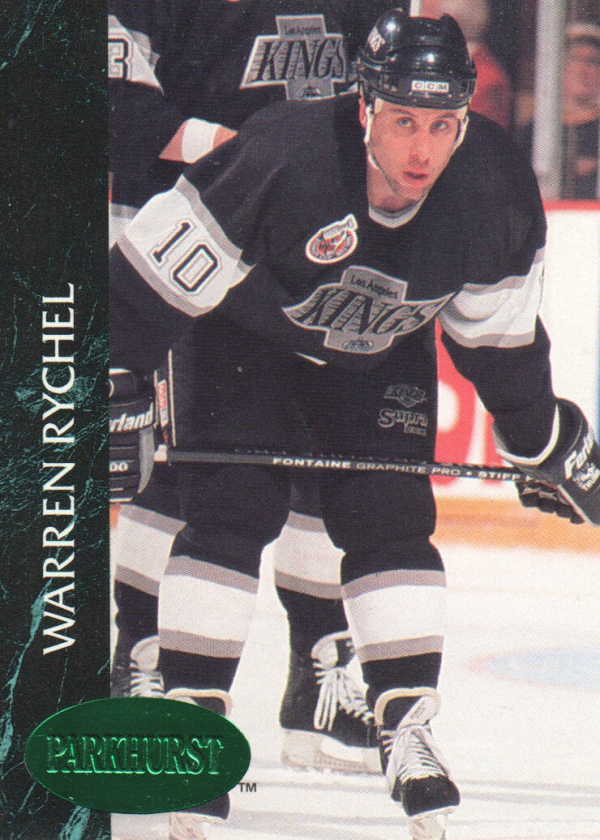 As the 2012-13 season marks the 20th anniversary of the Kings' 1992-93 run to the Stanley Cup Final, LAKings Insider will be catching up with members of that memorable Kings team as part of a "First Taste" series – a reader-suggested reference to the franchise's "first taste" of Stanley Cup action. LAKI also spoke last week with Kelly Hrudey, who described the atmosphere in the locker room late in the Campbell Conference Final against the Toronto Maple Leafs. Hrudey then shared his recollections (shared below) of rookie Warren Rychel, who turned in an unsung performance in the 1993 postseason that was part of a collective effort that lifted the Los Angeles Kings to series victories over Calgary, Vancouver and Toronto.
A YouTube search of Rychel calls to attention one distinct aspect of the rugged forward who broke through with the Los Angeles Kings in his first full National Hockey League season in 1992-93.
Rychel didn't shy away from the heavy lifting during his 406 regular season NHL games, and by a HockeyFights.com account, there were an eye-opening 57 altercations that he took part in during the two full seasons he spent in Los Angeles in an era when he regularly went toe-to-toe with noted combatants such as Bob Probert, Gino Odjick and Shane Churla.
While memorable, the most impactful aspect of Rychel's NHL career was his ability to produce in the postseason and to do things that helped teams win hockey games. In addition to his playoff run with Los Angeles in 1993, he was a member of the Colorado Avalanche team that captured the 1996 Stanley Cup and also recorded four points in three playoff games with the Chicago Blackhawks in 1991 after spending the entire regular season with the IHL's Indianapolis Ice.
Early in the 1993 postseason, Rychel was placed on a line with Wayne Gretzky and broke through with a 23-game, 13-point postseason that included six goals, a Los Angeles rookie playoff record. The 13 points tied Daryl Evans' 1982 rookie record. For his performance, he was nicknamed "Connie" by his teammates, an allusion to the Conn Smythe Trophy.
Rychel is currently a part owner and the Vice President and General Manager of the OHL's Windsor Spitfires, a position that he has held for seven seasons. Windsor won back-to-back Memorial Cups and OHL Championships in 2009 and 2010 and has produced burgeoning NHL stars in Taylor Hall, Cam Fowler, Adam Henrique and Ryan Ellis. Rychel captured the OHL Executive of the Year award in 2009.
Rychel's son Kerby was ranked 18th amongst North American skaters in the 2013 NHL Central Scouting Midterm Rankings. A left wing with the Spitfires, Kerby Rychel leads the club with 39 goals and 86 points in 65 games.
Kelly Hrudey on Warren Rychel:
"Warren was a unique guy. When I first met him, I was like, 'Boy, this kid's kind of cocky.' That soon went away. You know what I really remember most about him, besides his fierce attitude on the ice? How he fit in in the dressing room. All of us veterans just fell in love with him quickly, because he was really quick witted. He had no problem in giving us the business, and he had no hesitation going after us. I'll tell you what – most rookies are quite quiet, and he just fit in so well, because that was a pretty impressive group of players. I mean, you're talking about Wayne and Jari and Marty and Pat Conacher, Charlie Huddy – a lot of guys. Tony Granato. Guys with pretty good resumes, and he just wanted to fit in so well, and he did."
Warren Rychel, on joining a locker room with a handful of established NHL stars:
"Well, obviously I came there as a free agent. I wasn't that young. I was 25. I had played five years in the minors, and I finally made my first NHL team full time. I just was myself. I just did the things I usually do – laughing and joking. I'm a pretty easy guy to get along with. Here and there were a lot of real heavy chirpers. McSorley and Kelly Hrudey and stuff like that – you have to back yourself up. You have to be heard early. You can't get pushed around. I just remember chirping a lot with these guys and having a lot of fun. We really had a lot of fun on and off the ice."

Rychel, on whether Marty McSorley offered him advice:
"Oh, for sure – just coming into games and opponents. One thing with Marty – he never really wanted me to fight the real big guys. It was good, because he was a heavyweight, and I was kind of a middleweight, and we kind of shared that role. It was good. We talked a lot about it, and I sat in there in the dressing room, and he let me know about guys, how they fought and different things like that. Just to work on your game, too – he's always the guy that wanted to work on the game, and he helped me in that regard, too. I think it was a good one-two combination, for sure."
Rychel, on skating on a line with Wayne Gretzky:
"In the playoffs, you see a little bit less of fighting, and Barry put me on his line in the first series against Calgary, and it just came to be pretty good. I just went out and hit, and I got him space, got him the puck with [Tomas] Sandstrom. Things seemed to work out. I was more relaxed, because I had an 80-game regular season under my belt. I just felt I went there and played. The motivation for me was obviously to win a Stanley Cup, and secondly, I was a free agent at the end of the year, too. I really wanted to play the best as I could. It was a dream ride, obviously, and every day you would just wake up and be thankful you were playing and trying to win a hockey game. We sure did have some exciting hockey games, that's for sure."
Rychel, on the Kings winning the Cup and Dwight King approach his rookie playoff record:
"Yeah, I saw that coming up, and he had a great playoff. He was a big part of the Stanley Cup championship. I forgot about that record a bit. It's been a while. Records are meant to be broken. It's not that huge of a record in the big picture, but he played very well and had some timely goals, and he reminded me of us – the third and fourth line guys that played so well in the 93 run."