Day By Day, Insiders.
The roster today is the roster today. The roster today does not always equal the roster tomorrow. It's a bad year to assume, for a number of reasons. We could expect to see moves in one form or another on a regular basis throughout the course of the season and here we are again today.
First things first, a look at what has already happened today.
The Kings recalled forward Alex Laferriere from AHL-Ontario. Laferriere is on the ice with the main group today, likely skating alongside Pierre-Luc Dubois and Kevin Fiala, the line he played with at Frozen Fury on Thursday during the preseason. Additionally, forward Jaret Anderson-Dolan cleared waivers today and has been assigned to the AHL's Ontario Reign.
Instant Analysis
We spoke all camp about how there would be a player who rose up from the group not taken to Australia, who impressed so much that he earned a look with Group A. Laferriere turned out to be that player. He was a standout performer during the exhibition season, showcasing maturity despite his age. His skating, his positional awareness and a nose for the net have stood out to Todd McLellan and his staff. He was assigned to Ontario between the eighth and ninth preseason contests, suiting up for the Reign yesterday in an exhibition win over San Diego, but finds himself back with the big club today.
Laferriere has had a very strong camp and today he gets another opportunity to suit up with the main group. Again, the roster today is the roster today. It is not necessarily the roster tomorrow, or the roster for opening night on Wednesday. For today, though, it's a well-deserved recall for Laferriere, who showed the self belief to play his game on a line with two highly-skilled players in Fiala and Dubois. In that position, we've seen other, younger players defer to the veterans. Laferriere was unafraid to make the right play for the right situation and that spoke volumes about his maturity level and confidence.
McLellan on Laferriere
We talk about his maturity level, there are 18, 19 year olds who come to training camp and are trying to make the team and then there are some college players, Alex is a little bit older, so you can tell, he's got that going for him. The games that he's played, the practices he's been involved in, he's got a pretty good speed element, he anticipates well, so that together with good skating skills gets him into plays and the spots he needs to be in. He always seemed to be able to get a shot off in the exhibition season, good releases and he's around the net, as a result he scored some goals.
Regarding Anderson-Dolan, he was placed on waivers yesterday by the Kings as a part of the movement towards a final roster. Consider him to be a victim of the salary-cap crunch. Anderson-Dolan was an effective and serviceable player for the Kings a season ago, spending the entire season with the NHL club. Perhaps his biggest strength is his versatility. He can play both center and wing, he's a trusted and defensively-responsible player and he proved to be effective at slotting into various lineup spots with a moment's notice. It's part of what kept him with the NHL club all season long.
Now, he finds himself back in the AHL, where he was a dynamic scorer, especially on the power play, during the 2021-22 season. It's not the role he will expect to play in the NHL, but it's a role he excelled at during his time with Ontario. Among the forwards who are currently with the Reign, consider Anderson-Dolan at the top of the list for a recall, along with Alex Turcotte, who was a training camp standout coming off a strong summer.
McLellan on Anderson-Dolan
I think that JAD's an important part of the organization. If I'm JAD today, I'm unhappy. I'm unhappy that I'm down in the American League right now, but the type of person he is, he'll get over it and he'll work his way back up here and he'll force us to keep him and that's exactly what we need from him right now. The longer you're a pro player, the more likely that this could happen to you, unless you firmly establish yourself and that's part of growing up. We've got Brandt Clarke or Spenny coming into the league and it's not always that quick. You either make sure you don't. Later on, you're surviving any way you can and it changes quickly.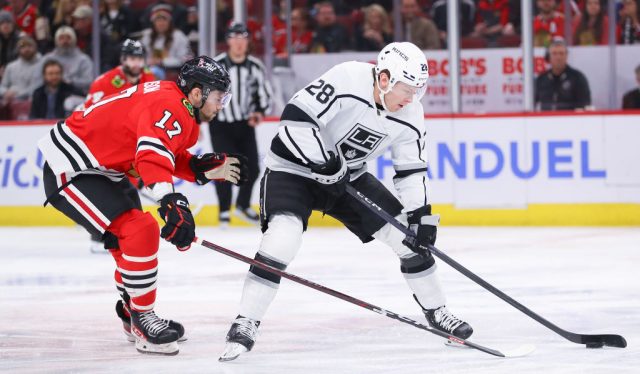 As far as today's practice, the Kings lined up as follows –
Byfield – Kopitar – Kempe
Moore – Danault – Arvidsson
Fiala – Dubois – Laferriere – Kaliyev
Grundstrom – Lizotte – Lewis
Anderson – Doughty
Gavrikov – Roy
Englund – Bjornfot – Spence
Copley / Rittich / Talbot
Forward Viktor Arvidsson left the ice today during practice, with McLellan referring to it as an "adjustment".
"Just an adjustment. Sometimes players leave for different things, just a quick adjustment, he'll be good."
Will continue to monitor, if monitoring is needed.
McLellan mentioned after the preseason finale that there were a couple of areas that needed to be addressed today – sort outs defensively off the rush and net play. There were drills today that seemed pointed towards working on those areas.
The Kings also spent a good chunk of time working directly on the power play. The PP scored a very silky goal against Vegas on Saturday, led by quick puck movement, freeing up Adrian Kempe for a one-timer and Viktor Arvidsson to clean up the rebound in front of the crease. There have been sequences like that, which are encouraging, but there have also been power plays that haven't clicked in the way that they did last season.
More to follow on the PP, with players and coaches weighing in on where it's currently at.
In Arvidsson's absence, Laferriere took repetitions with Kopitar's unit. Per McLellan's above quote, doesn't seem as if anything will keep Arvidsson out of action in the longer term, so shouldn't need to read a ton into it. With that being said, good to see a young player get those reps during practice, before potentially being asked to do it during a game.
Looking ahead, the Kings still have decisions to make regarding their roster for opening night.
The Kings, as has been well documented, will not carry a roster of 23 players going into the season. Arthur Kaliyev's suspension has complicated that even more. McLellan noted that he is regularly meeting with Rob Blake, Jake Goldberg and the management team to navigate through the situation as best as they can. It's not always simple, it's not always easy, but it's the situation that the Kings and several teams around the NHL are working through. It's a day-to-day process and the Kings are treating it as such.
"I came in yesterday and Blakey and I and Jake [Goldberg], who takes care of the cap and the constraints all that type of stuff, we met for quite a while yesterday, got a head start on it. We again met upstairs today, we met downstairs today, so all of this is going on. During practice, the waiver period went through and there's discussion about that situation, so that's how much we're meeting."
McLellan called his level of input on these types of decisions "standard", meaning not more or less so than in seasons past. He said pointedly after Saturday's game that he would prefer to play with 12 forwards and six defensemen, which wasn't the alignment on Saturday, and today a forward was recalled. That won't always be possible, but it could be on Wednesday, even with the suspended Kaliyev. We'll see how things shake out here over the next 48 hours, but the Kings have those two days until Game 1 against Colorado. Lots can, and likely will, change.
More to come, Insiders! Have a few additional storylines in the works here, with commentary on the power play, individual lines and chemistry and more. Also expecting to chat with General Manager Rob Blake tomorrow, so will share his remarks here as well!