Day 1 is in the books!
The LA Kings hit the ice for their opening day of training camp, coming this season at the O'Brien Icehouse in Melbourne, Australia.
A non-traditional opening skate of the season in so many ways, but in others, it was just like a typical first day skate. Players had a few jitters, the coaching staff worked the group hard but also made sure to emphasize structure and details, and we all got our first chances to overreact to line combinations, defensive pairings and inter-squad drills. Good to be back, baby.
"It was a good day," forward Anze Kopitar said. "Day one is always highly anticipated, maybe a little bit of nerves too, but I thought all in all it was good. We came here, put in the work and we got better today."
Upon arrival in Australia, the Kings chose not to skate yesterday, opting instead for an off-ice workout outside of Rod Laver Arena. From a team perspective, it made more sense to give the group an opportunity to stretch and get the body going in that form, before jumping into the first day of training camp today.
Kopitar felt that the workout yesterday helped the group out when the skate finally arrived. Having a chance to do what they did, as opposed to jumping in cold, was a benefit in his eyes.
"Just to get the blood pumping a little bit and get moving, get the hips somewhat loose so you're not jumping on the ice pretty much off the plane, it was good," he added. "Like I said, I thought it was a good day."
Todd McLellan seemed inclined to agree, on both points.
One, the Kings bench boss was happy with the first day of on-ice practices. He and the coaching staff pushed the group hard, by design, with conditioning skates at the end of a fast, high-tempo practice. McLellan took the time to individually tap each player on the shin pads after the end of the sprints, signaling a job well done.
Speaking after Day 1, McLellan was pleased with how the group took in the skate, while complementing the job the support staff, led by Matt Price and Trent Frey, did yesterday in running the off-ice workout.
"I thought we had a real good first day," McLellan said. "There's always extenuating factors that come into play, especially with this type of travel. Our support staff did a tremendous job yesterday, it was a very interesting day with workouts, sleep schedule and everything else that went into it. They did tremendous job, the players responded and today we pushed them. They passed the test. While we were doing that, we were able to remind them about some of the structure that we want to play, very simple stuff, but stuff that we need before we can move on. I would call it a good day for us."
As he noted, the structural reminders are a common theme early in training camps for a McLellan-led squad.
It's something we've heard from TM over the last few seasons, though the context has changed. In the 2021-22 season, it was all about getting the newer players up to speed. We saw that throughout training camp and early in the season, as it took the group a bit of time to come together, but eventually we saw the finished product for what it could be. Last season and this season, the newer players have been less plentiful.
Looking at the group on the ice today among the skaters, only Pierre-Luc Dubois and Andreas Englund have not played games with either the Kings or the Ontario Reign, who play the same system and use the same language during practices. Whether it's your first camp with the Kings or your 18th, a little reminder never hurt anybody.
"I always remember going back to school – and I don't want to degrade our group by saying it's elementary school – but when you go from grade three to four, the first thing you do is a reminder about adding and subtracting and then you gradually get to the new curriculum," McLellan added. "That's where we're at right now. I think the quicker they pick things up, the quicker we can get to growing and that's the stage we're in right now."
With a day of conditioning, systems and a full-contact practice under their belts, the Kings are now looking ahead.
It's been a group, in McLellan's eyes, that has handled this early-season trip as well as they could have thus far. Regardless of setting though, it's not summer hockey anymore. It's down to business and the Kings met the challenge on Day 1.
"We wanted to wake the bodies up and remind them that it's not summer hockey anymore," he said. "We came over here with a purpose and they've been really good. From the time that was announced, back in California and through summer, in the lead up, our players have been really good and we're happy with them to this point."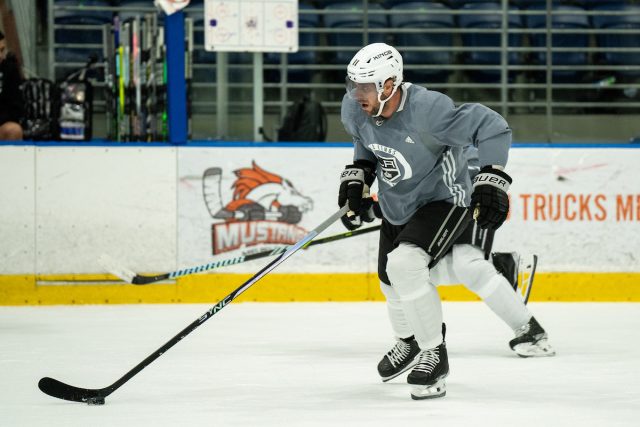 As far as the practice itself went, the Kings started things off as they typically do, getting things moving and getting loose, before the intensity ramped up. The Kings ran several drills designed to simulate game situations, including several that featured full lines, full pairs and 5-on-5 play, whether it be zone-by-zone or full-ice. As McLellan said, he wanted to test the players early and he felt they passed that test.
Outlined this in the camp primer earlier today, but here's how the Kings lined up during today's skate –
55 – 11 – 9
12 – 24 – 33
22 – 80 – 34
91 – 46 – 61
28 – 38 – 68 – 45
44 – 8
84 – 3
5 – 53
7 – 43
29 / 31 / 39
The announced roster for Australia included 28 names, but the above lines have just 27 skaters. Defenseman Brandt Clarke did not make the trip with an injury that requires him to avoid contact for 7-10 days. Clarke is back in El Segundo and has been around the rink. Does not appear to be of a serious nature with the 7-10 day designation, so we'll see how he re-integrates into camp, whether it be with this group, or the secondary group who will begin camp at Toyota Sports Performance Center at the end of the week.
Regarding the group that was here, we learned a few things about what McLellan deemed to be the "starting point".
For Day 1, Arthur Kaliyev was the third member of a line with Kevin Fiala and Pierre-Luc Dubois, while we saw the rest of the top nine made up of the two lines that largely composed the Top 6 last season. The Top 4 on the blueline was also how last season ended, with expected pairings of Anderson/Doughty and Gavrikov/Roy. It gives the Kings a top four that everyone is excited to roll out, a top four that the organization believes can stack up with most around the NHL.
McLellan said that the lineup today featured a lot of common lines and pairings, which was by design at the start of camp. He indicated that we'll likely see those combinations early, but he and the coaching staff won't be afraid to "fool around with things as camp goes on". Lots of time between now and October 11, so we'll keep an eye on alignment as we progress towards that point.
Assume we will see a similar setup for tomorrow's skate and perhaps even throughout the week, as the Kings have just three practices in Australia before the games this weekend. Tomorrow's skate will be another traditional practice, while their third skate is a public practice at Rod Laver Arena, which McLellan admitted he wasn't exactly sure what to expect from.
However untraditional, it felt so good to be back in the rink today, with a formal practice to watch. More to follow as the week rolls on!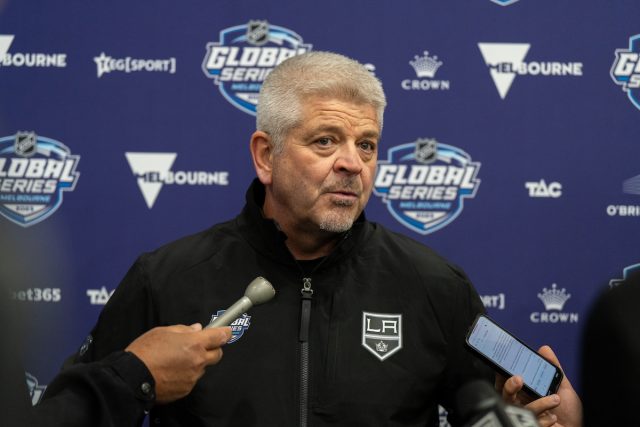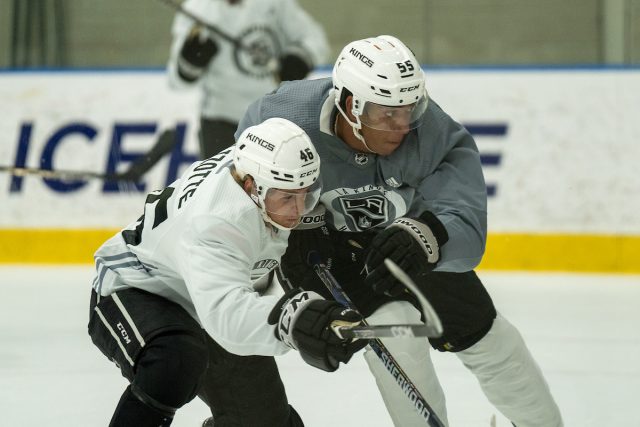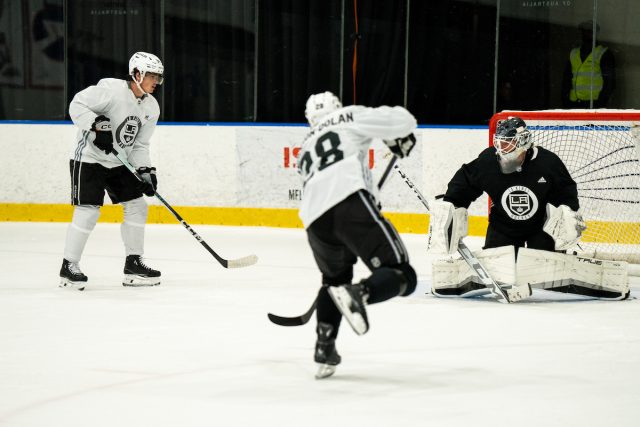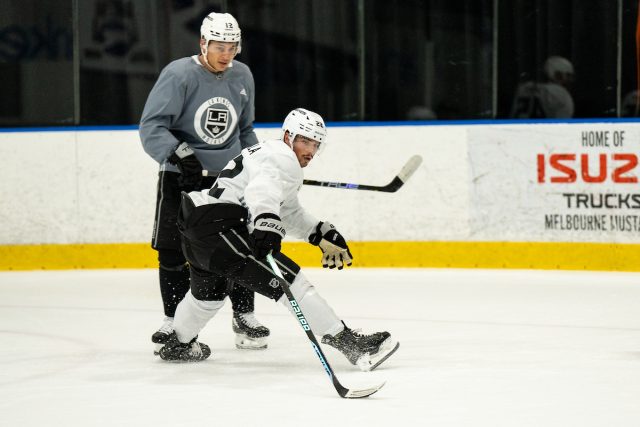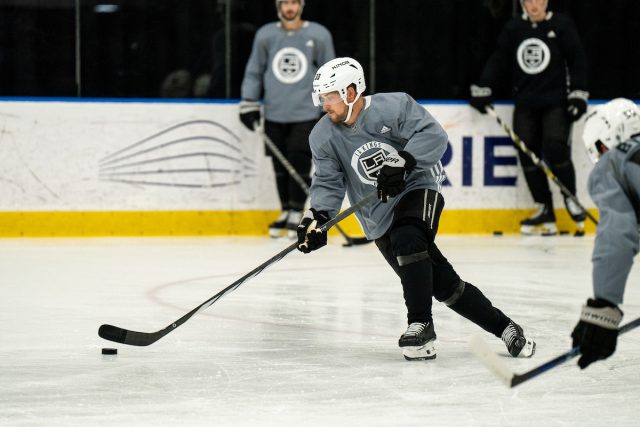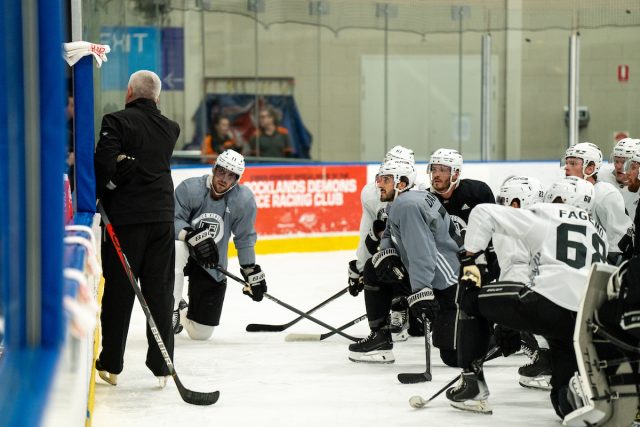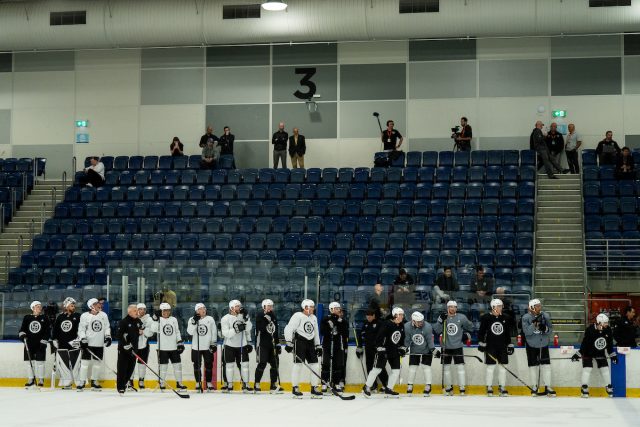 So Back 👑 pic.twitter.com/fd3lkXE1Qm

— Zach Dooley (@DooleyLAK) September 19, 2023