Something to prove.
That's what goaltender Jacob Ingham wrote on his mask for the 2023-24 season.
The 23-year-old missed all of last season after undergoing back surgery in October and was not issued a qualifying offer by the Kings this summer. Instead, he agreed to terms on an AHL contract with the Ontario Reign, and with it, has another chance to prove himself in the organization as a legitimate goalie prospect.
"I've got goals and I've written them down," Ingham said. "I'm really happy that I got offered to sign back here and get the chance to prove myself after a year of rehab."
After his injury, the initial plan for Ingham at the start of last season was to be shut down for a short rehab stint immediately following the 2022 Rookie Faceoff in San Jose. He started two games for the Kings at that event and allowed just three goals on 42 shots across 88 minutes of action.
Instead, he idled on the Kings non-roster injured reserve list through the start of the season. Eventually, he underwent surgery in October and a projected five-to-six months of rehabilitation time unfortunately turned into him being shut down for the remainder of the season.
"It's been a long year with lots of rehab and 7 a.m. sessions working with my physical therapist," Ingham said. "There was a lot of work behind the scenes to get me back."
But while Ingham was out of the public eye for a year, the Kings' hockey development staff saw him and worked with him constantly. Ontario Reign head coach Marco Sturm was around to see Ingham's turbulent year.
"It has not been easy for him," Sturm said. "I saw him every day last season in the locker room. It was a grind for him and you only wish the best for him."
Kings goaltending development coach Adam Brown, who will work with the goalies in Ontario this season, said that staying positive was important for Ingham.
"I think he did a really good job doing what he needs to do, taking the information the team provided to him, and going above and beyond to make sure he was able to get healthy," Brown said. "We're really seeing a testament to the work that he's put in and the detail that he has with his everyday process."
Fast forward one season and the former sixth-round draft pick is back at the Rookie Faceoff in Las Vegas, right where his initial Kings journey began five years ago.
"I've done the whole loop. I think my first [Rookie Faceoff] was here in Vegas and I played pretty bad," Ingham said. "It's a little bit of a revenge tour."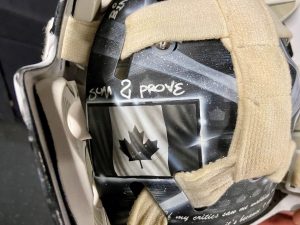 And a revenge tour it has been. Ingham earned the start in each of the Kings' first two games at this year's event. He was replaced before the start of the third period in both games but amassed 53 saves on 54 shots (a .981 save percentage) through 70 minutes of action.
"I'm a little emotional right now thinking about all those long days and hours just not knowing how I'd feel coming back off a major surgery like that," he said after his 26-save effort versus San Jose on Friday.
"My last game would have been against San Jose a year ago, so I'm over the moon and really happy. To get the opportunity to start and play how I know I can is really good."
And then he did it again on Saturday, stopping 27 of 28 shots.
"It was a big test for him coming off that big injury," Sturm said. "Yes, he can play a good game, but can he do it again? I think he showed everyone that he can do it again."
The primary caveat of the one-year AHL deal Ingham signed in July is that he's restricted to playing for the Ontario Reign or in the ECHL. Therefore, he cannot be called up to the LA Kings under his current contract but can be loaned to the Greenville Swamp Rabbits, the Kings' and Reign ECHL affiliate. His current deal can also be used as a launching point for future opportunities.
"His first opportunity didn't go his way and that was no fault of his own," Brown said. "Getting this second opportunity to show why we drafted him and what he can provide for the team is big for somebody in his situation."
What the next few months look like for Ingham is unclear. He could end up back in the ECHL with Greenville, where he posted a 9-5-2 record with a 2.71 goals against average and .909 save percentage across 16 games two seasons ago. He could also continue pushing for a spot in the AHL with the Reign, where he's appeared six times over the last three seasons.
"I think one of the biggest things for Jacob this year is just getting back into games," Brown said. "The last four years, he hasn't had the opportunity to play a ton of games, whether it was due to COVID or injuries. Getting back into games and getting into a rhythm will be big for him this year."
Only one thing is certain.
"I definitely have something to prove," Ingham said. "Being on an AHL deal is a little bit different, but I've got a really good opportunity here in the LA system."