Between now and training camp, we'll share the stories of several young prospects, who attended development camp in the summer and are approaching training camp in the fall with a variety of goals. Concluding the series is a look back at the second half of the 2022 Draft Class, as four players attended their second development camps with the organization. Learn more about the quartet of Angus Booth, Jared Wright, Jack Sparkes and Kaleb Lawrence.
In a span of 100 picks (116-215) in the 2022 NHL Draft, the Kings made five selections; Angus Booth, Otto Salin, Jared Wright, Jack Sparkes and Kaleb Lawrence. Having already featured Otto Salin on LAKI as a part of the Finnish contingent during development camp, our focus today turns to the four aforementioned prospects. All making their second appearance at the Kings' Development Camp, comfort and a previous knowledge of what to expect was a common thread for the group. Now that that valuable cliché is out of the we move into the nitty gritty details of our prospects.
Angus Booth (2022 Draft, 4th Round, 116th Overall)
The lone QMJHL prospect in the Kings system impressed during the five-day development camp in early July. At 6–1, weighing 176 pounds, Booth has shown to be shifty and slippery, yet feisty as a two-way defenseman. The left-handed blueliner entered camp having already played 137 games and three seasons of major-junior hockey. Having accumulated 45 points (4-41-45) in his career thus far, Booth has experience playing in every situation, including time in the Memorial Cup.
In year two with the Kings, Booth has been under the guidance of Player Development staffers Matt Greene and Sean O'Donnell. According to Booth, the relationship between the three is everything he could ask for.
"I've been working with [Matt and Sean] since last development camp and they have come to see me a few times during my season," he said. "They're honestly amazing. They're teachers I'm so lucky to have. There's no one better to teach us all the defensive little details and just how to see the ice. It's so valuable when we go on the ice with them every morning. So, I try to soak it all up when I'm around them."
Conversely, Greene preached the process of learning during development camp. Something Booth was focused from day one.
"I think [development camp] should be all about teaching. This is development. It's not really an evaluation. That's where they are right now. But we're really excited about where [the prospects] are going to be in a few years, especially with the guys that are just coming for the first time. So we're just trying to teach, trying to build some trust, having them get to know us, get to know them and just build that relationship so we can work with them going forward and just kind of speed them up."
Having soaked up everything possible at development camp, Booth is set to go back to the Shawinigan Cataractes for his fourth season with the club, though he will attend main camp with the Kings before that point. In the process of becoming as complete of a player as possible, Booth entered this year's camp with gains in multiple areas.
"They just wanted me to get stronger and I think I did that. I'm still doing that this summer too. I think it's a really important summer for me just putting on weight and muscle because when you get to the main camp [in September] and it's all adults the there all man sized, it's a different game for sure."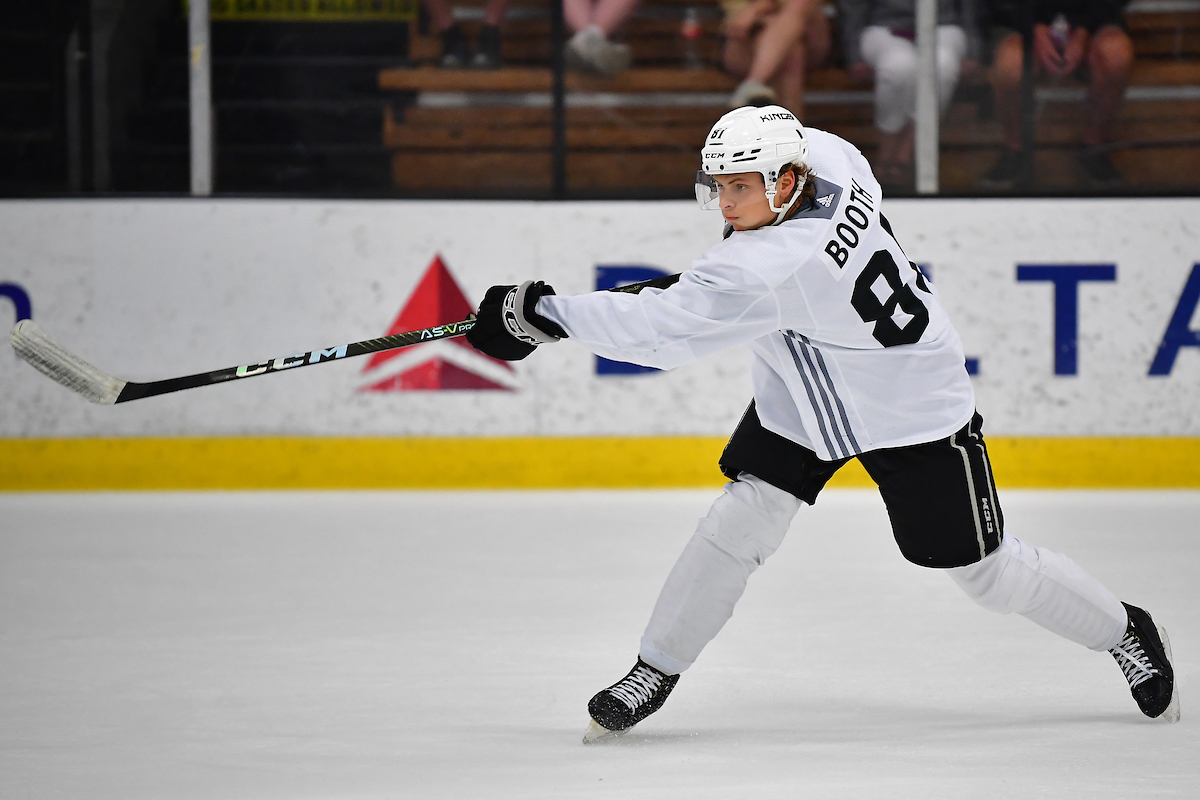 Jared Wright (2022 Draft, 6th Round, 169th Overall)
The high octane and energy forward from Burnsville, Minnesota came to development camp after a solid Freshman season with the Denver Pioneers.
Wright and the Pioneers fell the the eventual NCAA National Champions Quinnipiac University in the semifinals of the Frozen Four. Following the conclusion of his 2022-23 season, Wright showed up to camp with a V8 engine and was noticeable throughout the week. Known for his speed, energy and smarts around the puck, Wright is a winger who took a big step forward last season. Looking back at last season, Wright credited the guidance of the development camp veterans from last year's showcase for helping prepare for the 2022-23 season.
"I just think the first time [2022] around, it was very eye opening. Just a lot of good players, especially with veteran players like Quinton Byfield, Arthur Kaliyev in development camp, so I got to learn a lot from them," Wright explained. "I think just watching them day in and day out, just how they take care of their bodies, how focused they were during the development camp just to get better every day really stuck with me. Just their details are so good and that's kind of why they play in the NHL, just because how detailed they are with their work."
Lessons from the 2022 development camp in mind, Wright opened many eyes with his outstanding speed with and without the puck. Wright looks to have been a steal given where the winger was selected. Wright describes himself as a "200-foot player", something that showed up in his games at Denver.
"I play with a lot of pace and I try to use my speed all over the ice, whether it's in the offensive zone, neutral zone, or defensive zone. I take a lot of pride in my defensive game and working on my penalty kill and details."
Much like Booth, Wright has been a sponge around the Development Camp staffers. As a forward, Wright has been working with Jarret Stoll and Mike Donnelly. Sticking with him this development camp, Wright pointed to more little things.
"I just think the little things that Stoll and Donnelly are teaching here about puck protection and just putting yourself in the right positions on the ice in order to be successful is so valuable. It's important in the offensive zone as well as all over the ice."
Wright is one player who will not be at training camp in September, as NCAA players are not allowed to attend. He'll return to Denver, where he's hopeful to slide up the depth chart as several regulars from last season's team have since moved on.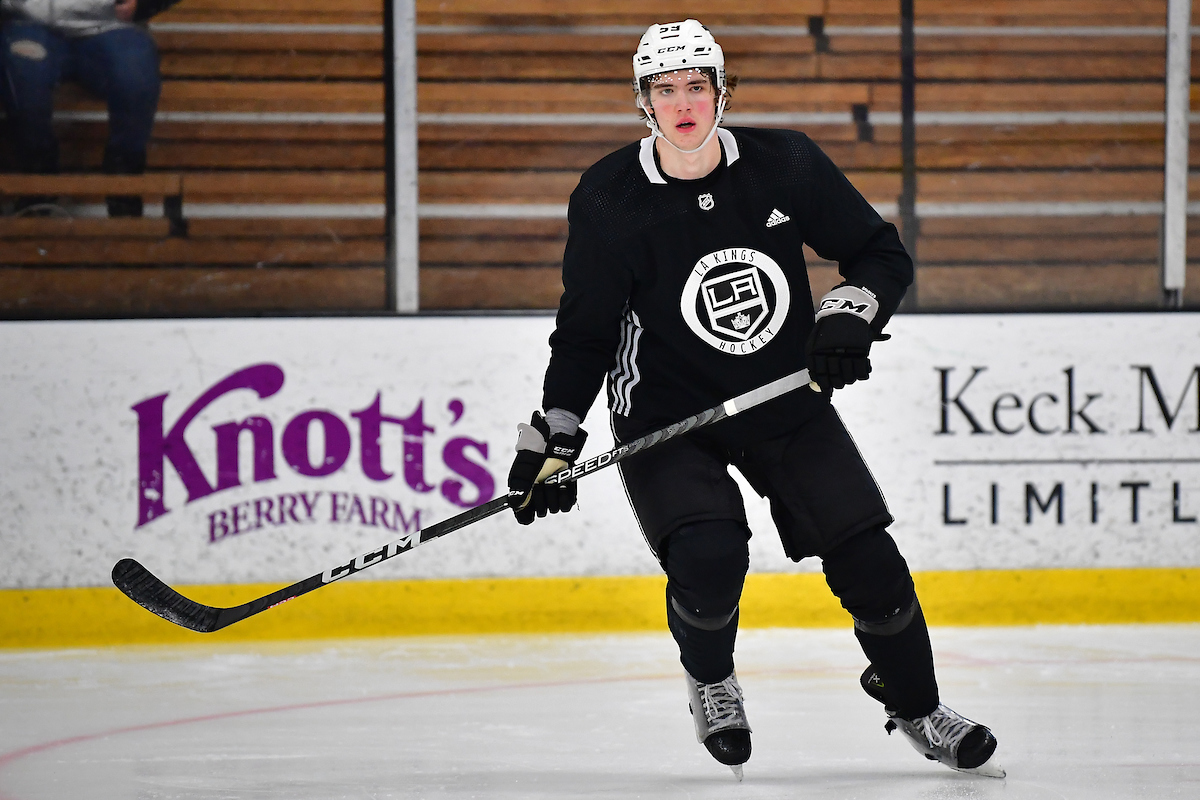 Jack Sparkes (2022 Draft, 6th Round, 180th Overall)
Moving to the taller segment of the article, at 6–8, the big defenseman's size is very much his identity when it comes to gameplay too.
"[My height] is definitely my identity as a player and you know, when I'm hard to play against it's because I'm using my size. Playing physical, that's when I'm playing my best and that's what I try to every night."
While physicality is not always the focus of development camp, Sparkes took advantage of the five-day showcase to focus on other aspects of the game, the more detailed things. From footwork to positioning, to puck movement and a continued growth towards improving hockey IQ, alongside his fellow defenseman prospects, the camp gave Sparkes a valuable opportunity to add to his repertoire.
As Sparkes continues to add to his game, the big right-hander explained the current status of his play.
"I think my game now is a shut down, physical, hard-to-play-against. I'm always developing and trying to add parts to my game too. I want to be at the top of my game."
Like Wright, Sparkes won't be at development camp this fall. He's currently slated for one final season of junior hockey before he is committed to Michigan State to begin his collegiate career in the fall of 2024.
Kaleb Lawrence (2022 Draft, 7th Round, 215th Overall)
Shorter than Sparkes, but not short at all, the 6–6 power forward was able to get on the ice for development camp for the first time since being drafted. Last year's camp for Lawrence was spent mainly off the ice as he rehabbed an injury.
Finally able to get back on the ice, Lawrence is still making up for lost time. It must be noted that Lawrence at the time of his draft only played two games since the start of COVID. With a combination of cancelled seasons and multiple injuries, Lawrence is still working his way all the way back. To put it into perspective, I did a feature story on Lawrence midway through last season and his biggest goal for the season was to make it through the year healthy and injury free. Mission accomplished.
"It was definitely tough sledding for a few years, but at the end of the day, it's over now and I'm just doing my best to make sure that it doesn't happen again. I'm excited for the future."
Now able to stay on the ice, Lawrence is continuing to learn, grow and add to his skillset making this development camp all that more important for the Orleans, Ontario, Canada native.
No question Lawrence is a handful for opponents to deal with, but he'll be the first to tell you that other parts of his game need to improve for him to be fully effective when on the ice. This year's camp for Lawrence was simple, to improve his footwork and skating. For the taller than average skater, skating is a focus as he looks to contribute in today's game.
"I definitely my skating and my quickness, being able to keep up with these guys as much as I can with these fast skating players out there. I just have to make sure that I'm doing my best to be able to keep up with them and take in anything that the coaches can help with."
Moving forward, Lawrence knows that his size and the constant involvement of contact will be key to his success.
Being mean to play against and hard to handle will be key for Lawrence's success. He certainly understands the value.
"It's always going to be really important for me. If I want to find success at the next level, I'm going to have to bring that to that game every night and I'm willing to do so."
Expect to see Lawrence back in Southern California as a part of the contingent heading to the Rookie Faceoff, as well as participating in main camp. Beyond that, another season in Owen Sound awaits, with one more season of OHL eligibility to his name.