On March 11, 2023, Cole Krygier's collegiate career came to an end with the Michigan State Spartans after a defeat in the semifinals of the BIG Ten Tournament against the eventual National Champion runner-up Minnesota Golden Gophers.
Alongside his identical twin brother Christian, the pair's time playing together came to an end, as the brothers had been drafted by two different teams – Christian, a seventh-round pick in 2018 to the New York Islanders and Cole, a seventh-round pick in the same draft to the Florida Panthers. Days later, Christian signed a contract and reported to the Bridgeport Islanders, the Islanders AHL affiliate. Cole did not.
One week after Krygier's collegiate career came to end, word came down that his professional career was starting, just not with the Florida Panthers organization. The Kings acquired Krygier seven days after his final college game, from the Panthers, in exchange for future considerations. Krygier was now a part of the Kings organization. Krygier reported to the Ontario Reign on an ATO to play the remainder of the 2022-23 season with the Kings' AHL affiliate and quickly signed a two-year, entry-level contract with the Kings that will begin this coming fall.
They say actions speak louder than words and in this case, despite Krygier not being a draft pick of the Kings, the organization sees Krygier as a valuable player moving forwards. Standing at 6-3, the defenseman fits a need in the Kings depth department as a big, physical, left-shot defenseman. The son of forward Todd Krygier, who played nine seasons with the Hartford Whalers, Washington Capitals and Anaheim Mighty Ducks from 1989-98 attended his first development camp with the Kings last month and showed a veteran presence on the ice every day.
Despite being new to the Kings organization, Krygier was one of the oldest players at development camp. Having been drafted in 2018 and played five years in college, Krygier is a polished 23-year-old on and off the ice.
"Obviously, being an older guy here, it's important to be a leader," he reflected back. "I think, just showing younger guys the ropes and kind of helping them out throughout camp was important. Obviously, I hadn't been to LA development camp before, but I have gone through this process [in Florida] and development camp days are long days, they're tiring, but I think it's just about continuing to grind. You're going to have bumps and bruises as we go, but I thought as the days went on, we kind of all started figuring out the play schedule and moving their feet really well. I think we started to pick up the body quite a bit, so that was good to see. I really enjoyed camp. I thought the guys were great and everyone did a great job."
At Michigan State, Krygier had a chance to play in every situation.
As a defenseman, the 2022-23 assistant captain tied for second on the Spartans in goals with 10 and was tied for fifth among defenseman in goals throughout the entire NCAA. He skated on the top pairing with Michigan State and brings a combination of size and physicality – six-foot three speaks for itself – and an ability to produce offensively from the backend.
"I was just trying to play my game [during camp], I think I'm working back into a more defensive, solid shutdown, hitting and more physical role," he said. "I think getting back to that, last year was more of a high gun flying, just shooting and scoring, like that type of game. So, it's going to be different. I think I'm finding that in between right now. I think there were times where I was trying to do that and then there were times where I was trying to be defensive. So just getting a good balance and I think it'll come."
Krygier displayed notable offense and physicality during development camp.
In the camp's last controlled scrimmage, Krygier stood out once in particular in the offensive zone, as he worked his way through multiple opponents into the offensive zone and set up a teammate back door for an easy goal. Again, Krygier positively impacted the scrimmage for his team when he stepped up on a forward entering his defensive zone and cleanly laid out the puck-carrier.
The defenseman had a clear understanding of the goal of development camp. While many want to see camp as a tryout, Krygier saw the five-day showcase as a chance to learn more from the development staff and what the organization wants in one of their players.
"I was just trying to accomplish a good solid week of work," he said. "I mean, obviously, it's a development campaign, you're trying to impress people, but at the same time, you're here to get better and hone in on your skills that they're teaching."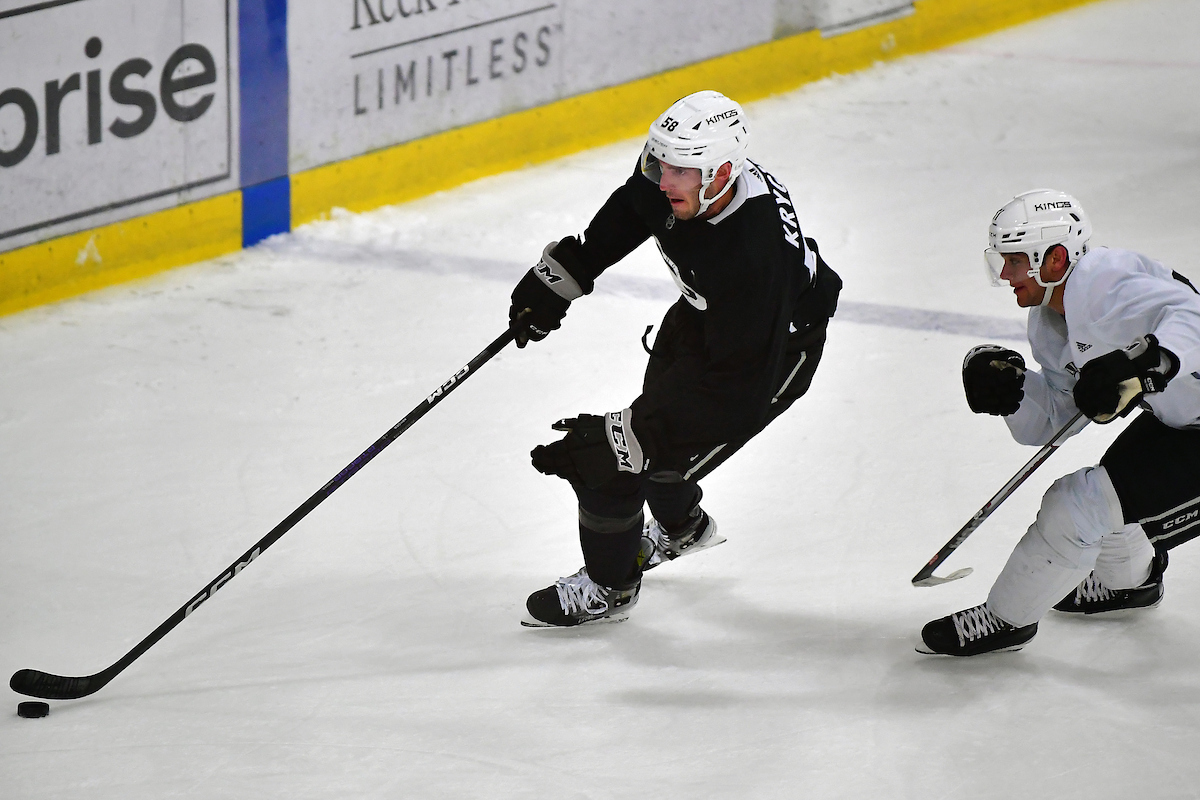 More specifically, Krygier provided a more detailed look into the on-ice focuses on the back end.
"I think on the back end, it's just a lot of focus on competing, it's being athletic, having good eyes, lifting sticks, I think all those things are kind of important for building us into the player they want," he detailed. "They talked about having a solid foundation all around and not having too many gaps in between our skillsets. So, if you're really good at skating, then your shot should be pretty close to that and then something else should be close to that. So, I think just finding that balance of being a complete player is what they're looking for. Obviously, they're teaching a lot of good lessons where you can take that back to your team and start to practice. They can kind of analyze whether you're getting better or whether they need to work on something with you. Camp is really important for us."
Looking forward, the defenseman is projected to be a contributing defenseman with the Reign this season, at least off the bat.
Krygier has the ability to play a two-way game and a focus moving forward is on being that hard-to-play-against blueliner. Krygier can fill that need within the lineup.
Multifaceted and eager to learn, keep an eye on Krygier this season as the defenseman has the tools to play in almost every situation during a given game. He stepped in on the fly last season and logged 10 professional games between the regular season and the playoffs. Krygier's excitement for the season was clear in talking to the Florida native and he's ready to hit the ground running come training camp in the fall.
"I think obviously, [my goal] is to make the Ontario Reign, that'd be awesome," he said. "I'm going to keep working. I'm going to move here in August to get a head start on training camp, so I'm going to go in and get my best shot to make the team and we'll see what happens."