Welcome to August, Insiders!
It's hard to believe that it's already getting to be late summer and hockey season is creeping closer.
A few recent moves to take you through from the Ontario Reign, who have added to their roster for the upcoming 2023-24 season. Early in free agency, the team signed its first player to an AHL contract when they agreed to a two-year deal with Charles Hudon on July 3. Since then, the Reign added goaltender Jacob Ingham on an AHL contract, as well as defensemen Tyler Inamoto and Wyatte Wylie and forward Nikita Pavlychev.
While a majority of the Reign roster will be made up of players signed to NHL contracts with the Kings, AHL signings are important to complete the group. Without a roster limit in terms of personnel or salary, savvy AHL teams can add talent and depth with these types of contracts. They can also be sent to the team's ECHL affiliate, the Greenville Swamp Rabbits, for additional playing time if things become too crowded. That being said, in past seasons, AHL-contracted players have been important contributors at the AHL level, with depth and experience important as a long seasons progresses.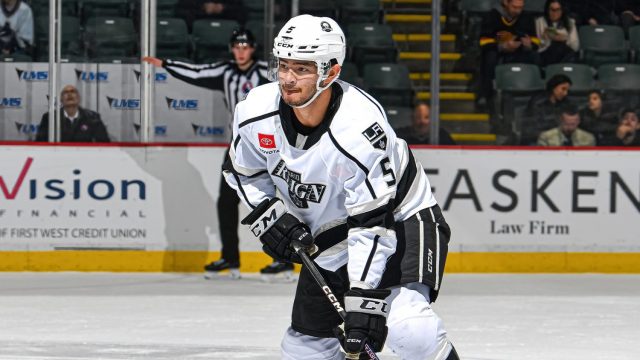 Inamoto Strengthens The Left Side
After making his debut with the Reign after turning pro out of the University of Wisconsin in the spring of 2022, Inamoto completed his first full pro campaign last season by splitting time between Ontario and Greenville while on an AHL contract. He is now officially back in the fold for 2023-24, adding to the team's defensive depth on the left side.
Reign Head Coach Marco Sturm complemented Inamoto last season, who was in an up-and-down role that consistently had him on cross country flights between California and South Carolina depending on roster numbers at either level. Although he was part of Ontario's roster for weeks at a time as a depth player, he only appeared in eight games at the AHL level. That extra time with the Reign saw him miss ECHL game time, as he skated in 36 regular season games with Greenville as a rookie, but the shutdown defender was a trusted part of the team's blueline when he was in the lineup and posted eight points (3-5-8) while also suiting up for five games in the Kelly Cup Playoffs.
Inamoto, a former fifth-round pick of the Florida Panthers in 2017, would figure to be in a similar role this season, competing for playing time at the AHL level in a depth role for the Reign in his second campaign.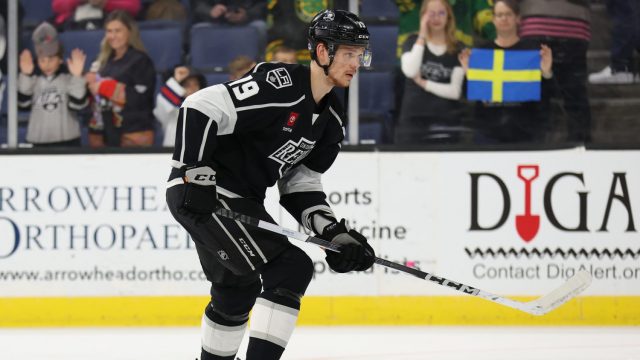 Pavlychev's Presence
The intimidatingly tall Nikita Pavlychev who stands at 6-foot-7 is also a returner for the Reign, who is now back for his third season in the organization and fourth in the pro ranks. After appearing in 13 games for Ontario in 2021-22, Pavlychev added 14 games of Reign experience in 2022-23. While he's not a scoring threat at the AHL level, the Penn State alum adds size and versatility in the team's bottom-six, with the ability to jump in at both center and wing.
Pavlychev is a threat to score in bunches when he's been in the ECHL, posting 39 goals for Greenville in 74 games over the last two seasons combined. If not for his earned call-ups and some minor injuries, Pavlychev could have been in contention for the ECHL's goal-scoring title as he was the first in the league to hit the 20-goal mark for the Swamp Rabbits.
Pavlychev was initially a seventh-round selection by the Pittsburgh Penguins in 2015 and adds to the team's forward depth as another player who is comfortable with Ontario's coaching staff and playing the Reign's system.
Wylie Welcomed Into The Fold
The newest addition to the Reign roster for next season is defenseman Wyatte Wylie, who has agreed to a one-year AHL deal for 2023-24. Wylie is set to begin his fourth pro season and is coming off his entry-level contract which was signed with the Philadelphia Flyers prior to the shortened 2020-21 campaign.
Wylie was a fifth-round pick by the Flyers in 2018 and had a standout junior career in the WHL while playing for his hometown Everett Silvertips. All three of his pro seasons have been entirely with the Flyers' AHL affiliate, the Lehigh Valley Phantoms. During that time, Wylie played in 131 of a possible 180 games and scored 35 points on nine goals and 26 assists with 51 penalty minutes. He also appeared in each of Lehigh Valley's three postseason contests last spring, with the team losing a first round series that went the distance against the Charlotte Checkers.
It's hard to believe that the organization was in need of depth among their right-shot blueliners, as that has been an excellent strength in the prospect pool for the last few years, but that was the case after the Kings moved Sean Walker, Sean Durzi and Helge Grans during the offseason. Wylie provides that for the Reign and will slot in on the depth chart behind whichever Kings righties don't make the NHL roster out of training camp. Those may include Brandt Clarke, Steven Santini or Jordan Spence.
Additionally, goaltender Jacob Ingham joined Josh Schaefer and myself on The Reign Check podcast this week, embedded above. Ingham, who signed last month, is the only goaltender currently under contract with Ontario.
The Reign may continue to add more depth pieces to their roster as needed over the next two months leading into the team's training camp and we'll have more coverage of those moves as the AHL roster continues to take shape!