First come the draft, the follows development camp.
The LA Kings announced their roster for the 2023 edition of development camp earlier on today. Development camp will be the first time we'll see the 2023 NHL Draft Class in Los Angeles and the five players selected by the Kings yesterday in Nashville are all expected to attend. Headlining that group is second-round selection Jakub Dvorak, who was not at the draft this week but is expected to be in Los Angeles with his fellow prospects for development camp. Third-round selection Koehn Ziemmer, who was in Nashville, will also be at the event alongside goaltender and fourth-round selection Hampton Slukynsky, defenseman and fifth-round selection Matthew Mania and forward and sixth-round selection Ryan Conmy. The five players will be a part of a roster of 34 players who will gather in El Segundo next week.
Several high-end prospects from throughout the organization will join the class of 2023, led by defenseman Brandt Clarke. Clarke is the lone player on the roster for development camp who has NHL experience, as he skated in nine games early last season in his first of several stops along the way. While not a lock, Clarke is in a terrific position to claim a roster spot during training camp after recent roster moves. Clarke was one of three young defensemen Rob Blake mentioned – along with Tobias Bjornfot and Jordan Spence – behind the top four the Kings now have in place.
"You see the four defensemen that we put into play from the deadline and then you've got Bjornfot, you've got Spence and you've got Clarke in that mix there now," Blake said on Tuesday. "How it shakes out at the end will kind of be up to Todd but we know that those three younger D, a couple of them have some experience, Brandt Clarke maybe not as much as the other guys."
Being a bit less experienced, as a 2021 draft pick, is a part of the reason Clarke will be there this week, with the expectation that he serves as a leader for others who are in attendance, especially those who might be in town for their first development camp. 2021 second-round selections Francesco Pinelli and Samuel Helenius are also expected to be there for the event, in addition to 2022 second-round selection Jack Hughes. Forward Alex Laferriere, defenseman Cole Krygier and goaltender Erik Portillo are also expected to be in El Segundo, after the trio signed their entry-level contracts back in April. All three players are expected to begin their first professional seasons this fall, with Portillo attending a Kings development camp for the first time after he was acquired at the trade deadline from the Buffalo Sabres.
Also interested to see Kasper Simontaival, who I believe is here at a Kings camp for the first time since he was drafted in 2021. Just shy of a half-point-per-game this past season playing in Finland's Liiga, the top men's league in the country. Also a point-per-game guy in consecutive World Juniors in 2021 and 2022, winning silver and bronze medals. Exciting to see him in camp in person!
All 5 members of the 2023 NHL Draft will be at development camp next week!

An additional name of interest – Kasper Simontaival. Believe this will be his first event with LAK since he was drafted in. Solid stats playing in top men's league in 🇫🇮. Excited to watch him in action. https://t.co/b3Ys147ilm

— Zach Dooley (@DooleyLAK) June 30, 2023
The full roster consists of 34 players, broken down into 3 goaltenders, 14 defensemen and 17 forwards. The complete group is listed below –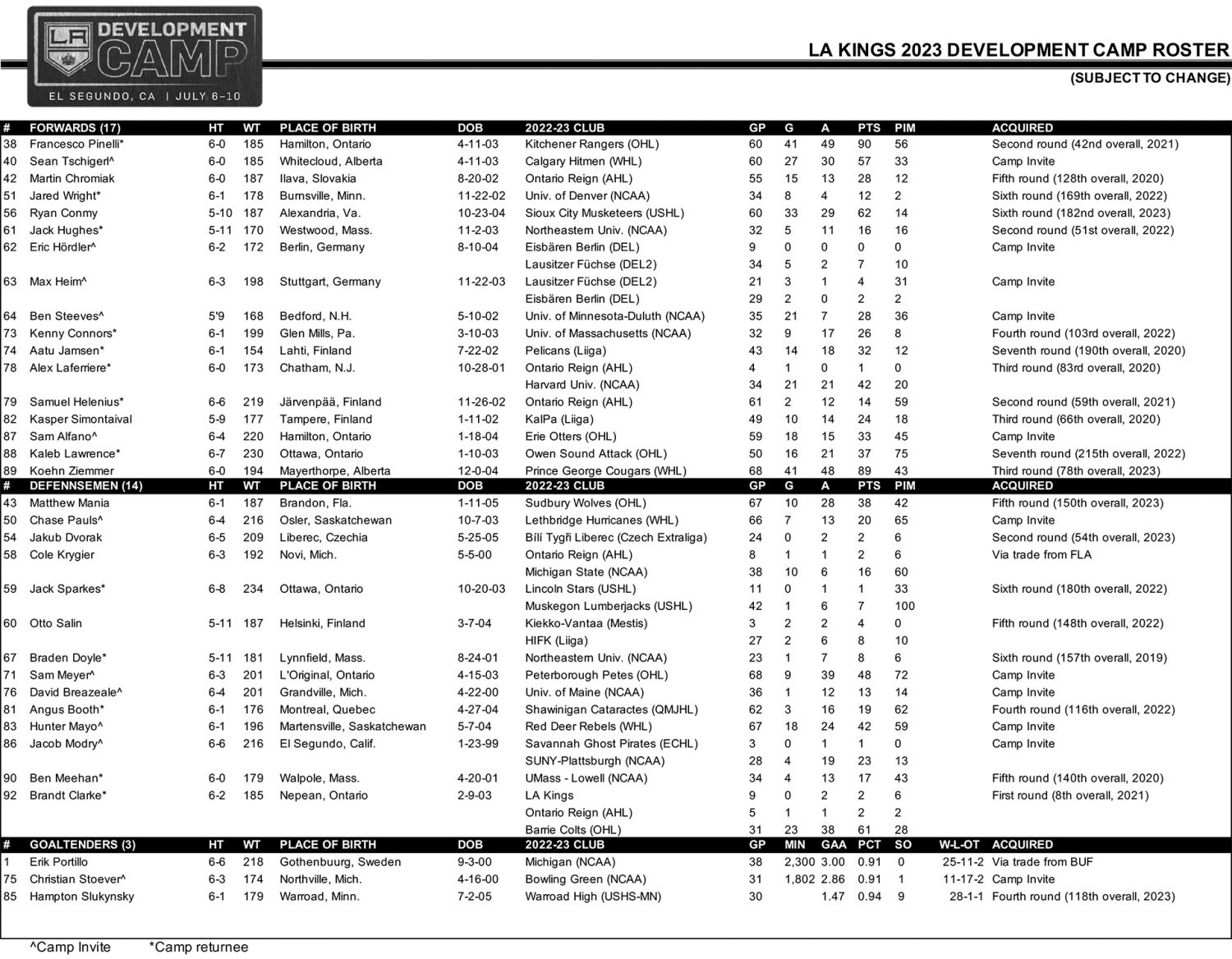 Making up the group, beyond the players who are draft picks and contracted players, is a group of camp invitees, including a few individuals who were draft eligible in 2023 but were not selected across the seven rounds. An opportunity, perhaps, for some of those individuals to standout and potentially merit a second look at the rookie tournament in September, or perhaps more, should things fall into place. For others, it's an NHL experience to carry with them back to their respective amateur club, with eyes on next season's draft, their collegiate/junior season, or a potential look elsewhere.
As announced last week, development camp will run from July 6 through July 10 at Toyota Sports Performance Center, beginning with three days of double sessions on July 6, 7 and 8. July 9 will have a morning session only, followed by a team-building activity in the afternoon, while July 10 will have a scrimmage in the morning to conclude the five-day event. The full schedule for the week is included below for reference –
Throughout the week, we'll hope to have the opportunity to chat with as many members of camp as possible, focusing in on Kings prospects, especially those who we might only see once this summer, specifically the collegiate and select European players. Daily recaps, plus feature stories, to come here on LAKI.
In between now and then, however, comes free agency, which kicks off bright and early tomorrow morning. The Kings have an extremely limited amount of cap space so any potential transactions figure to be of the bargain hunting variety as opposed to that of big fish hunting. With that being said, the Kings need players at all positions to fill out their roster and finding veteran players towards the league minimum is a way to do it. Wouldn't be surprised if the Kings went that route and we'll be ready for whatever comes tomorrow or over the weekend and beyond. A quick assessment of where the organization is at will be posted first thing in the morning!
From the team's official release –
The LA Kings announced today the roster and on-ice schedule for the team's Development Camp that will take place from Thursday, July 6, through Monday, July 10 at Toyota Sports Performance Center in El Segundo, Calif.

The 34-player roster comprises of 17 forwards, 14 defensemen and three goaltenders. Highlighting the contingent are four players who made their NHL or AHL debuts last season, including defenseman Brandt Clarke (first round, 8th overall, 2021), forward Samuel Helenius (second round, 59th overall, 2021), defenseman Cole Krygier (seventh round, 201st overall, 2018 (Florida Panthers) and forward Alex Laferriere (third round, 83rd overall, 2020).

The only camp participant with NHL experience, Clarke played nine games with the Kings last season as well as five games with the Ontario Reign, the Kings' primary AHL affiliate. He made his NHL debut on Oct. 13, 2022, against the Seattle Kraken and registered his first career NHL point on Oct. 20 in Pittsburgh to become the seventh youngest defensemen, and 18th youngest skater overall in Kings history to record a point (19 years, 253 days).

Helenius, Krygier and Laferriere all made their AHL debuts with the Reign last season. Helenius spent the entire campaign with Ontario, totaling 14 points (2-12=14) in 61 appearances. Krygier, who was acquired by the Kings from Florida on March 20, 2023, registered two points (1-1=2) in eight games with the Reign after making his AHL debut on March 26. Laferriere joined the Reign after completing his collegiate season with Harvard University and registered one goal, his first in professional hockey, in four appearances with the Reign.

The quartet are four of 21 Kings draft picks skating in this year's development camp, which includes all five Kings selections from the 2023 NHL Draft in defenseman Jakub Dvorak (second round, 54th overall), forward Koehn Ziemmer (third round, 78th overall), goaltender Hampton Slukynsky (fourth round, 118th overall), defenseman Matthew Mania (fifth round, 150th overall) and forward Ryan Conmy (sixth round, 182nd overall). For a full roster, please click here.

The five-day event features daily practices and scrimmages led by the Kings Player Development Staff, including Glen Murray, Mike Donnelly, Sean O'Donnell, Jarret Stoll, Matt Greene, Jeremy Clark and Adam Brown. Joining the camp staff will be Manon Rheaume, hockey operations and prospects adviser for the LA Kings, along with guest coaches Tommi Niemela (Lahti Pelicans), Stephane Richer (GM – Eisbären Berlin), Andre Rankel (Eisbären Berlin), Tom Kanzock (Eisbären Berlin) and Heiko Vogler (EV Landshut). All on-ice camp sessions are free and open to the public.