If I've heard it once, I've heard it a million times.
Anze Kopitar does all the little things well.
Really though, what does that even mean? You quantify goals, you quantify assists, you quantify shots and Kopitar is certainly contributing in those areas as well, as he always does. In fact, since his rookie season, he's led the Kings in scoring in all but one year since, as he claimed the 2022-23 crown with two points yesterday in Anaheim. To simply judge Kopitar by those measurable numbers, however, would not do him justice. It's about much more than that.
"I think it's pretty self-explanatory how much he means to our group and he doesn't get the recognition that he should get for all the unmarketable stats," Todd McLellan said of his captain. "Everybody grabs the stat sheets – the media, the fans – and they look at the goals, the assists and he's always up at the top there but the little things he does around our group and during the game make him even more valuable."
McLellan brings you back to that original sentiment, with the "unmarketable stats" and the "little things" that he continues to do. That phrase has been said so frequently that you almost become tone-deaf to it, because of how consistently effective he is every single night.
"We probably take him for granted, we just keep calling his name and he goes out and does it," McLellan added. "I know there's a lot of talk about the goals he's scoring and the offense he's putting up, but it has never come at the cost of what he really does well. He takes care of the group, the team, he does things right all the time."
It's easy to say "the little things" but it's harder to actually quantify what they are.
It's not something you ask him about, because how would you even approach that conversation? Hey Kopi, can you write me a list?
The place to go turned out to be his teammates. Kopitar's teammates are those who are closest to him as a player, sure, but they're also the individuals most impacted by those little things. The little things are benefitting his teammates on a nightly basis as he makes those around him better at both ends of the ice. There are little things he does offensively, sure, but it's his play in the defensive end that sets him apart from his peers.
The little things are what led him to a pair of Stanley Cups. They led him to be named as the recipient of the Mark Messier Leadership Award last season. And they're what helped to make him a two-time Selke Trophy winner, with another addition to that trophy case within the realm of possibility, if you ask his fellow centerman, Phillip Danault.
"Kopi has been Selke-type, in my opinion," Danault said. "I've seen the real Kopi this year for sure, he's stepped up his game. He's a gamer, he knows we can go far in the playoffs and make some damage. He stepped up his game, it's really awesome to see."
Danault set the stage for the season that Kopitar's having, as a part of the career he's had. If you ask his most regular linemate, Adrian Kempe, what he's doing is really nothing new. He's been playing at this level for his entire career, which has spanned the entirety of Kempe's.
"He's been playing at that same level for 17 years," Kempe said. "He shows up every night and does the same things."
17 years of scoring goals. 17 years of setting up teammates with assists. 17 years of production…….but more importantly, 17 years of consistent, reliable, dependable, impactful, 200-foot play.
We're begging for some details now, aren't we?
The little things that Anze Kopitar excels at, in his teammate's words.
Positioning
Is he just in the right place at the right time if he's ALWAYS in the right place at the right time?
"He's just always in the right position," Blake Lizotte said. "He doesn't get caught out of position much."
The centerman is as important as it comes with regards the breakout. The center is naturally the lowest of the three forwards and a good center is providing support to his defensemen. Lizotte has spent his entire career as a fellow center who has watched Kopitar and tried to learn from him and how he plays. It's certainly taught him the value and importance.
For his defenseman, his longest-standing active teammate, Drew Doughty, has the knowledge when it comes to Kopitar that takes the thinking out of the equation. He knows Kopitar will be in the right position to help him out.
"You just know he's going to be in the right spot at all times," Doughty said. "You don't have to even talk to him, you already know he's going to be there."
Since Quinton Byfield has started playing regularly with Kopitar, he's picked up on the anticipation that his centerman plays with. He's noticed that not only is Kopitar's on-ice positioning at a high level, but his body is positioned the right way as well. That's the full package.
"He's always got his stick in the lane, he always has his stick in the right spot for picking off passes and slowing the opposition down, his body position is always right," Byfield added. "Those things that you don't think of, he does really well."
While defending or while breaking out, every situation is different. The center has to read both his teammates and the opposition to figure out where he needs to be, based on those around him. Kopitar, regardless of the situation, seems to be in the right spot, at the right time, in all situations.
Anticipation
Being in the right position is one thing, but knowing what to do with it is another.
Kopitar is in the right position just about every time down the ice, but he also knows what to do when he's there. He reads things well in all zones, but is specifically able to sort out situations defensively at a high level.
"Reading situations as a whole, he can just predict passes defensively," forward Alex Iafallo said. "He can just predict where each guy is going to go, especially when he's down low."
As a center, Kopitar is typically the lowest of the three forwards in the defensive zone, which naturally means he's in the closest proximity to the other team's top offensive players on a shift-to-shift basis. No disrespect meant to the wingers, but it is certainly a more difficult defensive assignment when reading and reacting as a defenseman would, against the other team's most skilled offensive players.
In the eyes of his teammates, Kopitar does that as well as anyone.
"His sense of where to be and where the puck is going to be is a lot better than anyone else," Lizotte added. "I think he anticipates, maybe is the best word, better than a lot of other people."
His coaches notice that aspect of his game as well.
When you factor in the intuitive nature of Kopitar's anticipation skills with the combination of physical tools that he possesses, you get one heck of a hockey player.
"When you put together his anticipation and his ability to read the play skills with his size and strength, a real good stick and a solid, 24/7 commitment to it, you end up with Anze Kopitar,' McLellan added. "We're lucky to have him because he does that day after day after day."
Winning Battles
NHL Network had a statistic that stood out to me, a rare statistic that benefits this conversation. No forward in the NHL wins more puck battles in the defensive zone than Anze Kopitar.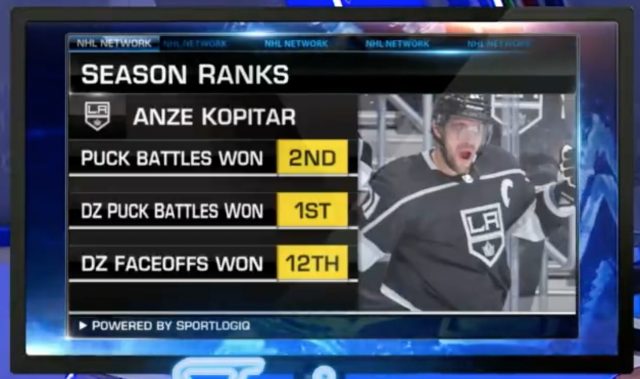 Puck battles can mean a lot of different things.
The most common occurrance you're likely thinking of pertains to his size and strength. It's rare to see a forward up against Kopitar outmuscle the Slovenian. Kopitar is as strong as they come on his skates and he wins those types of battles on the regular.
"Just winning puck battles, one on one, against other top players, I feel like he rarely gets beat in the corners," linemate Adrian Kempe said. "He's obviously a big guy, heavy, so he's obviously hard to play against but I feel like the thing is, you never see him get beat. It's just impressive to watch."
There are other ways to win battles, though, and that's part of the beauty of Kopitar's game.
He's big, he's strong and he's tough to knock around, but he's equally adept at winning a battle with his stick. As Lizotte puts it, Kopitar is a natural in the defensive zone, where others need to work at it. He's equally adept at winning battles with his stick as he is his size and that makes him that much more difficult to attack.
"He uses his stick so well, defensively, he breaks so many plays up, whether it's a poke check or wrapping a guy up," Lizotte said. "I think it's natural for him to be in the d-zone as opposed to other players who have to work a little harder in there."
Support
We've covered the positioning, we've covered the anticipation, we've covered the battles. Now, how about the support.
Kopitar, in some ways, acts as a third defenseman on the ice when he's in the defensive zone. Whether it's his ability to defend and break up plays, or his ability to get open for those moving the puck up to him, Kopitar is certainly a friend to the blueliners on this team.
Doughty – If he does get the puck in the d-zone, it's almost automatic that we're going to get some type of breakout going. He's just a great, well-rounded player.
Mikey Anderson – He always finds a spot to be an outlet, he helps to relieve pressure and that makes it easier, gives us a little bit more space. Defensively, he's always that second layer, he's got a really good stick and he makes our job a lot easier.
Alexander Edler – He's very reliable and for a defenseman, it's great to know that he's there supporting you and talking to you. That makes it makes it easier for us.
It's certainly helpful for the defensemen, but the forwards pick up on it as well.
Kopitar provides an example of how to receive a pass, with his backhand being just as good as his forehand. Anderson joked that Kopitar's backhand is better than his own forehand. The captain certainly helps to make bad passes look like good ones and his fellow forwards have taken notice.
"They say you can't give a good player a bad pass and I think he's the epitome of that," forward Trevor Moore said. "You put the puck anywhere around him, it could look like it's 10 feet in front of him, and all sudden Kopi is getting his stick there. He just does it all."
Defending The Best, Against The Best
Lastly, it's important to note who Kopitar does these things against.
It's one thing to excel in those areas playing against the other team's worst players. It's another to do it against the other team's best players, night in and night out. It's hard to truly measure "quality of competition" but you know that Kopitar will be matched up against no lower than a team's second line on a nightly basis.
The best people to ask? His linemates, who have logged those matchups with him over the course of the season and throughout their respective careers.
Kempe – I've played with him for a long time now and you start to see how big of a difference it is, but just how easy he makes it look. Playing against top lines almost every night, it's hard, but he makes it look simple.
Iafallo – He's trying to defend against the top guys in the league and his level of reading where the puck is going to go and where those level of guys are going to go is huge.
Byfield – We matchup against the top line at home, so you're playing against their best line and their best offensive guys. He's always playing against those top players, so to be able to do what he does defensively, and also produce offense, is special.
Oh……and he's only taken four penalty minutes all season, despite those matchups. On a per/60 basis, only two forwards over the last ten years have logged 20+ minutes per night and taken fewer penalties per/60. One was a Lady Byng winner, the other a runner-up. Keep that in mind come awards season as well.
A Selke candidate, a Lady Byng candidate and the leader of a team poised to begin a nother postseason run. Anze Kopitar, Kings fans. Don't miss a chance to appreciate him.
4 penalty minutes in 81 games?

Anze Kopitar did THAT. pic.twitter.com/hGB06no7dj

— x – LA Kings (@LAKings) April 12, 2023