Insiders, presenting 10 Days of Dustin!
Over the next 10 days, we'll have a Dustin Brown themed post each day, leading into the Kings next home game on February 11, which will be one of the season's most memorable nights. The Kings will retire Dustin Brown's number 23 prior to that game, with a statue unveiling as well, in what's sure to be a special and momentous occasion for those – including many Insiders! – who are able to attend.
We'll start off easy – a review of Brown's career milestones, and there were several notable ones. Over the first three days here, we'll look back at the career milestones, photos and videos that made Brown's career so distinguished. With that in mind, presenting a look at the memorable moments from Brown's NHL career!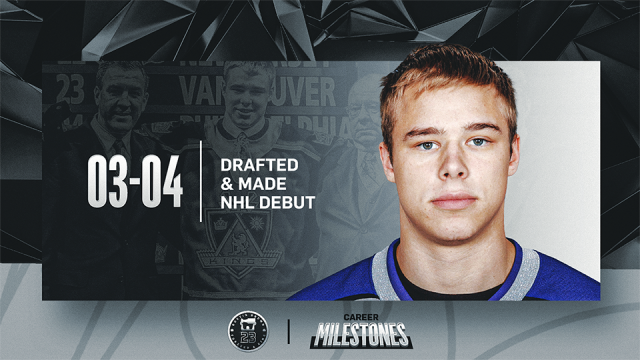 Naturally, the first year is always one of the most important and it marked several firsts for Brown. He was selected by the Kings in the first round of the 2003 NHL Draft and was one of nine players from the 2003 Draft to play in more than 10 NHL games that season. Brown made his NHL debut on October 9, collected his first NHL point, an assist, on November 5 and scored his first NHL goal on November 22. Just six players from the 2003 draft skated in more games than Brown during the 2003-04 season, as he finished with 31 GP as an 18-year-old. Brown also won a bronze medal at the 2004 World Championships, representing Team USA at the senior level for the first time.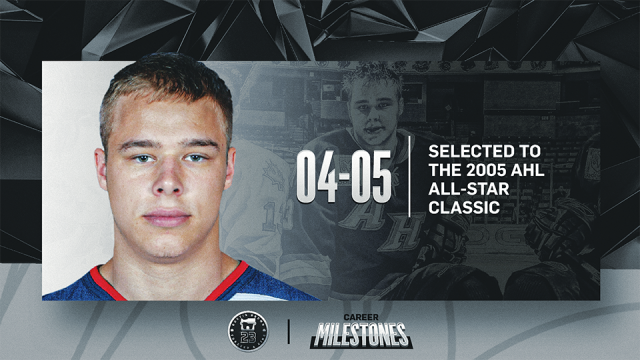 Due to the NHL lockout, Brown made his AHL debut with the Manchester Monarchs on October 15 and collected an assist, his first career AHL point, during that game. Brown scored his first career AHL goal five days later on October 20 and had a five-game point streak to open the season. Brown was selected to the 2005 AHL All-Star Classic, where he represented Planet USA. Brown ranked 13th in the AHL in scoring that season and was one of five players with 70+ points and 90+ penalty minutes.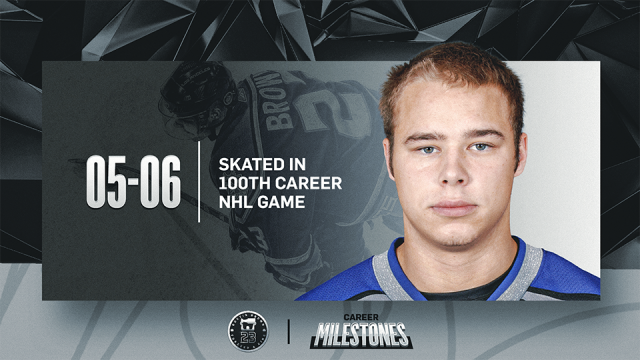 Brown played his first, full NHL season in 2005-06, as he set new NHL career highs in games played (79), goals (14), assists (14) and points (28). He collected his first career multi-goal game on December 6 versus Toronto and skated in his 100th career NHL game on March 27 in Vancouver. Participating in his second IIHF World Championships, Brown scored five goals from seven games played at the tournament, ranking tied for fourth in goals scored among all skaters.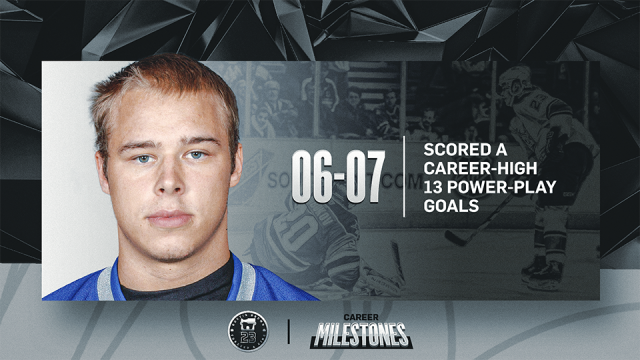 Brown once again set career highs in all statistical categories, as he appeared in 81 games, scored 17 goals, registered 29 assists and tallied a total of 46 points. 13 of his 17 goals came on the power play, the highest PPG total of his NHL career. Brown ranked second in the NHL in hits, beginning a stretch of six seasons in which he placed in the league's top three in the category. He also skated in the first of 1,244 games with longtime teammate Anze Kopitar, when Kopitar debuted in October.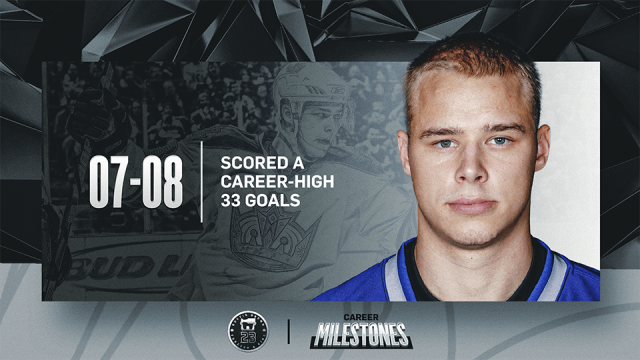 Brown signed a six-year contract extension in late-October, tying him to the organization long-term for the first time. He had a breakout season offensively with 33 goals, the highest single-season total of his NHL career. The Ithaca native registered a total of 60 points, another career high at the time. He represented Team USA for the third time at the IIHF World Championships and was third on the team in scoring with nine points (5-4-9).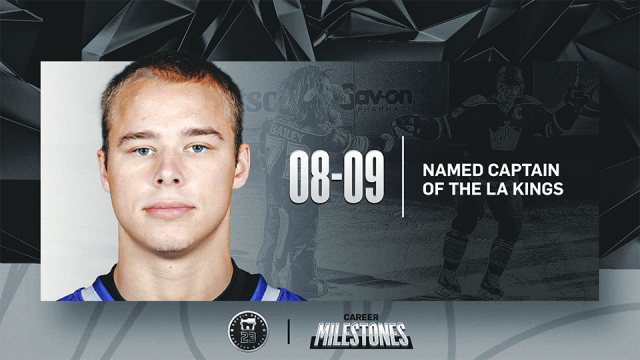 A massive year for Brown, he was named as team captain on October 8. Brown posted another strong offensive season, as he eclipsed 50 points for the second consecutive year and was selected to his first and only NHL All-Star Game, representing the Western Conference. He also appeared in his final IIHF World Championships with Team USA, tallying eight points (3-5-8) from nine games played in a fourth-place finish.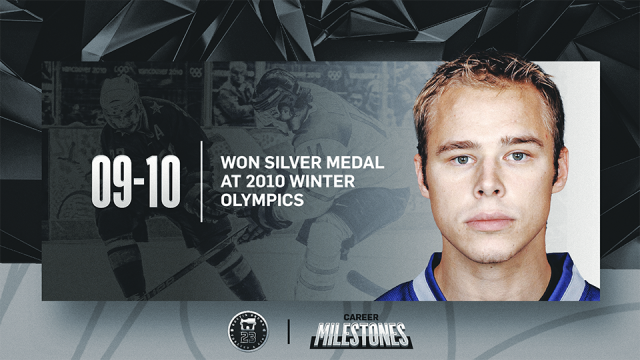 Brown became the first player in NHL history to record 1,000 career hits, since the statistic began to be tracked during the 2005-06 season. He collected a career-high 32 assists and posted his third consecutive season with 20+ goals. Brown also won a Silver Medal at the 2010 Winter Olympics, his first appearance in the event. The Kings reached the Stanley Cup Playoffs in 2010 for the first time in Brown's career, losing in the first round.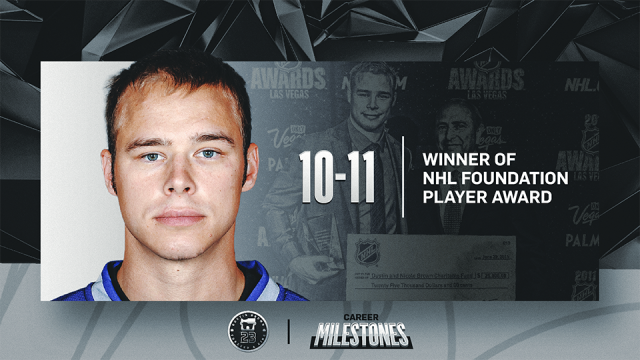 Brown scored 28 goals, the second-highest total of his NHL career, eclipsing 25 goals and 55 points on the season. Late in the season, Brown tallied the 300th point of his NHL career on March 26 versus Colorado and posted the second 300+ hit year of his NHL career to date. At the conclusion of the campaign, Brown was named as the winner of the NHL Foundation Player Award, given to the player "who applies the core values of (ice) hockey — commitment, perseverance and teamwork — to enrich the lives of people in his community."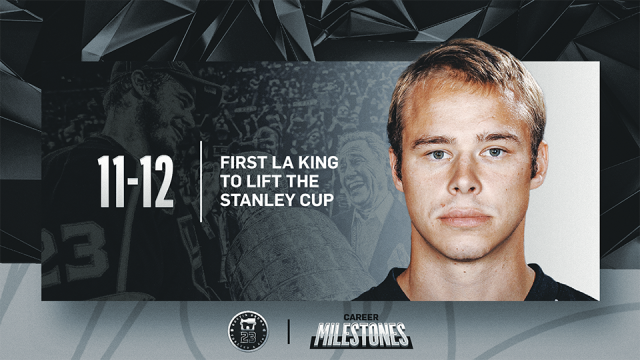 Brown became the first member of the LA Kings organization to raise the Stanley Cup, as the Kings were crowned NHL champions for the first time in franchise history. In doing so, he became the second American-born captain to lift the Stanley Cup. He tied a single-season high with 32 regular-season assists and was tied for the team lead in post season scoring in goals (8), assists (12) and points (20). Brown also posted 20+ goals and 30+ assists for the second time in his NHL career.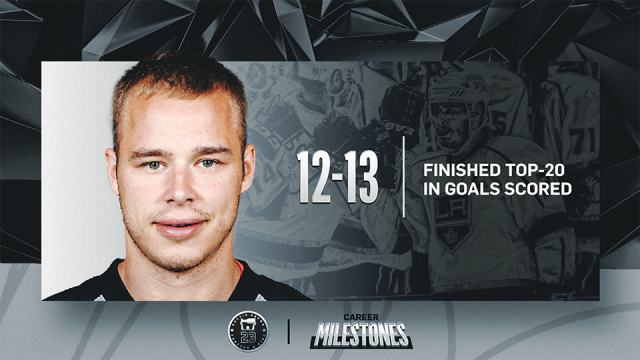 Brown played the only hockey of his NHL career overseas due to a partial-season NHL lockout, as he tallied 13 points (8-5-13) from 16 games with the Zurich Lions in Switzerland. Brown scored 18 goals during the lockout-shortened season, which ranked inside the Top-20 around the NHL on the season. At 0.39 goals-per-game, it was the second-best goalscoring rate of his NHL career.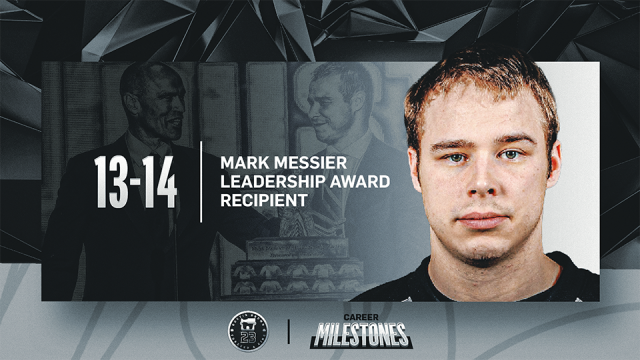 Brown became the first American-born captain in NHL history to lift the Stanley Cup twice, as he led the Kings to their second championship in three seasons. He skated in his second-career Winter Olympics, as an alternate captain with Team USA, scoring his first career goals in the tournament versus Slovakia and the Czech Republic. At the conclusion of the season, Brown was seleced as the winner of the Mark Messier Leadership Award, the first player in franchise history to win the trophy.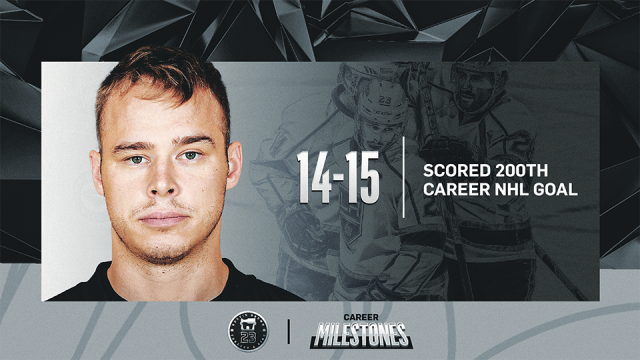 Though his offensive totals dipped from his peak seasons, Brown scored the 200th goal of his NHL career on November 26 versus Minnesota, as he beat future teammate Darcy Kuemper on the play. Brown became the first player in NHL history to reach 2,500 career regular-season hits, as he retained his all-time record since the league began tracking the statistic. He also scored on his birthday – November 4 – the only time throughout his career he did so.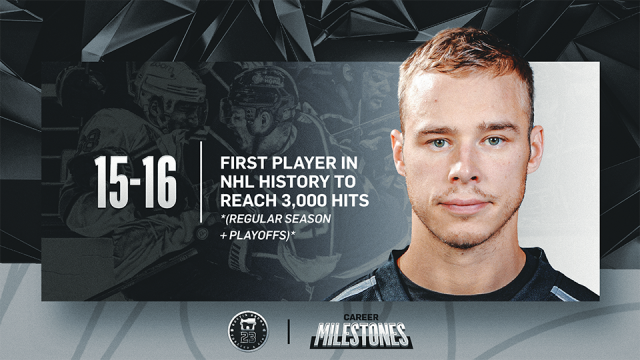 Brown became the first player in NHL history to reach 3,000 hits between the regular season and playoffs combined. He also recorded his 250th career assist on February 16 at Washington, coming on a Kopitar shorthanded goal. Brown appeared in his 960th career game as captain of the LA Kings in April, his second-to-last game wearing the "C" with the organization.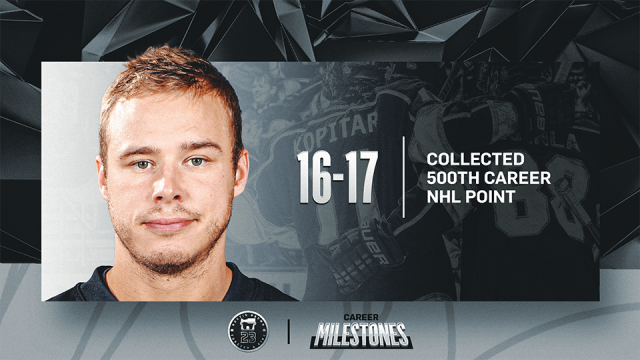 Brown saw a bit of an offensive uptick in 2016-17, as he posted his seventh career 20-assist season, his first since the 2011-12 campaign. Brown reached the 500-point milestone for his NHL career, hitting the mark with an assist on March 16 against Buffalo.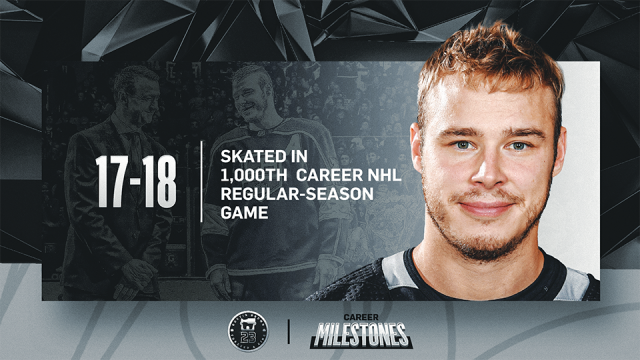 The 2017-18 season marked a career-season for Brown, as he set single-season highs for both assists (33) and points (61). He also netted 28 goals, tied for his second most in a single season. On December 21, 2017, Brown appeared in his 1,000th career regular-season game in the NHL, becoming the second player in franchise history to reach the mark entirely with the Kings. On April 5, Brown set a new single-game career high with four goals scored in a victory over the Minnesota Wild.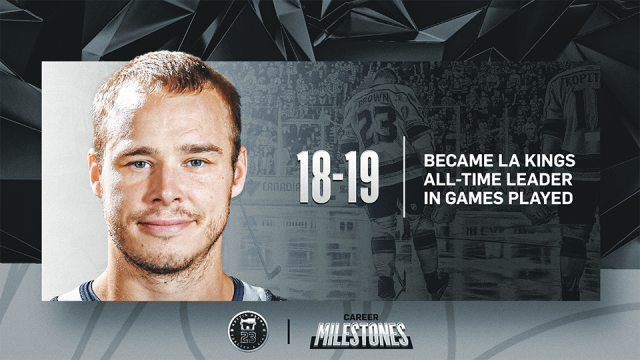 On March 28, Brown surpassed Kings legend Dave Taylor for the all-time franchise record for games played, with the 1,112th of his career. He posted both the final 20-goal and 50-point season of his NHL career, the seventh time he reached both markers in the NHL. Brown's 22 goals were tied for the team lead on the season, along with Anze Kopitar. He posted his final career hat trick on March 7 versus Minnesota, as a part of a four-point night.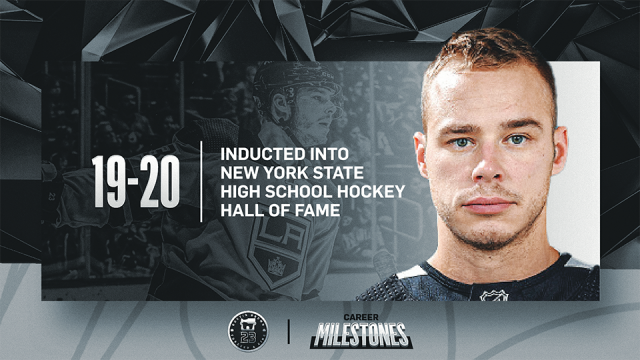 Brown scored on Opening Night for the first time in 14 years, with a goal in Edmonton on October 5. On that same day, Brown was inducted into the New York State High School Hockey Hall of Fame, for his time spent at his native Ithaca High School earlier in his career. Brown posted the final hat trick of his NHL career, as a part of a four-point night on March 7 against Minnesota.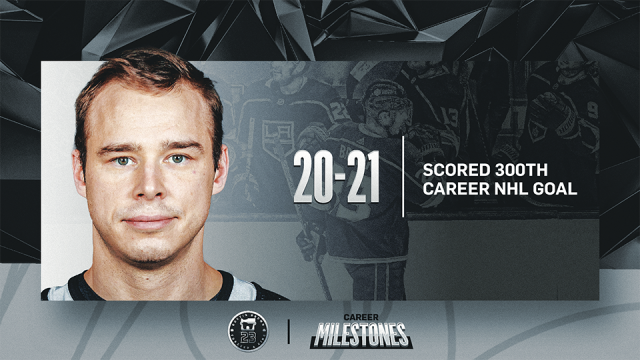 Brown scored in a season opener for the second time in three seasons, in what was also the 300th goal of his NHL career on January 14 versus Minnesota. With 17 goals from 46 games during the second COVID-impacted season, Brown posted his best goals-per-game rate since the 2012-13 season. He also became the first player in NHL history to record 4,000 career hits between the regular season and postseason combined.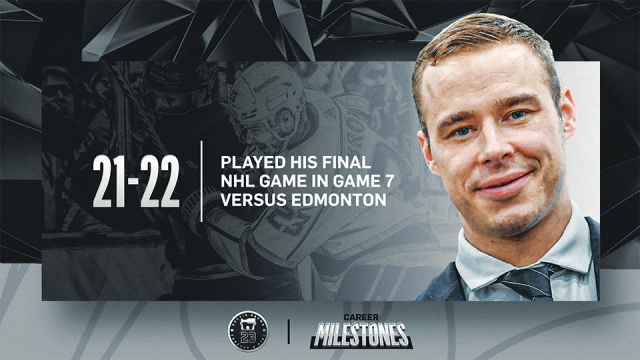 Brown reached the 700-point mark during his final NHL season. He formally announced his retirement on April 28. Later that night, Brown skated in his final NHL regular-season game, wearing the captain's "C" for the final time in his career in Vancouver. Brown concluded his NHL career on May 14 in a 2-0 loss during Game 7 of the 2022 Stanley Cup Playoffs. In July 2022, the Kings announced that they would retire Brown's number 23 during the 2022-23 season.
And…….exhale. Heck of a run, 23. The best photos and videos from Brown's career to follow here on LAKI over the next couple of days, before we hear from several former teammates and co-workers on what Brown has meant to them personally and professionally. Stay tuned!