I hesitated to use the word interchangeable when asking each member of the second line last night about personnel on the wings. In using that word, it in some ways feels like a devaluing of what each individual brings. In others, though, perhaps it's complementary of four individuals who can equally contribute on a line that only has room for three at a time.
Last night, it was Alex Iafallo and Viktor Arvidsson flanking Phillip Danault. In Arizona before the break, it was Iafallo and the presently injured Trevor Moore. Prior to that, it was the well-established line of Arvidsson, Moore and Danault, which had played together for the better part of the 2022 calendar year.
Due to injuries, performance and certain elements of situational play, the personnel on that line has been shuffled at times. With Arvidsson injured in last season's playoffs, we saw Iafallo used there to start off the series against Edmonton, the same move that was made in Boston earlier this month when Arvidsson was away from the team for a couple of games. With Moore now unavailable, Arvidsson was bumped back onto that line with Danault and Iafallo and all three players found the scoresheet with multi-point efforts in yesterday's win over Vegas.
Arvidsson, Iafallo and Moore are not the same player. Each brings his own, unique skillset to the Kings, with the ability to contribute in different ways, so the word interchangable is not meant to discredit that. What they share, however, is a common mindset. With that common mindset, the line has tried to play the same way regardless of which two individuals were on the wings. We saw that last night, one of the stronger outputs the line has put together all season.
"We played the right way," Danault said after the game. "Whether it's Mooresy, Al, Arvy, I think we have the same kind of mentality, so it fits whoever it is. It was that kind of night, we all got going, but we were playing the right way and we got rewarded that way."
Both Iafallo and Arvidsson agreed with their centerman.
Arvidsson – We know each other well and we're all just trying to complement each other. We try to win puck battles, be hard on pucks and I think we did that tonight. We got rewarded and we played the right way.
Iafallo – Everybody's pretty similar. We're just working hard and trying to get pucks to the net. Anybody can play any spot, so that's what's really good about this team.
Having that mindset is important, though at the same time, the unique traits of each individual can make the line tick in different ways. Moore is a big absence for the Kings, with his presence on both special teams units as well as his energy and contributions at even strength. Arvidsson shares a puckhunting mentality, and plays with both speed and tenacity, but he and Moore play differently.
Last night, it was Arvidsson who was the perfect fit, facilitating goals for both Danault and Iafallo with primary assists and icing the game with a late empty-net goal. His Head Coach was quick to dish praise Arvidsson's way for an outstanding night.
"They played to their identity," McLellan said last night. "We've got four, sometimes five players we think that can play on that line and they're all plug and play really. Whether it's Al, Arvy, or whoever is going there, they know who they are and they know how they have to play. I thought Arvy was the catalyst tonight, he was really good up there. They had a tremendous night."
Arvidsson is probably thought of more for his volume shooting mentality and his ability to contribute through goalscoring, but he's been one of the NHL's leaders in primary assists this season. On a per/60 basis, Arvidsson is tied for fourth in the league in primary assists, out of the 321 players with 500 or more minutes played at all strengths. The only three players to outrank him are Leon Draisaitl, Nikita Kucherov and Nathan MacKinnon and he's tied with Kirill Kaprizov, one spot ahead of Connor McDavid. Deeeeeeeeeeeeecent company.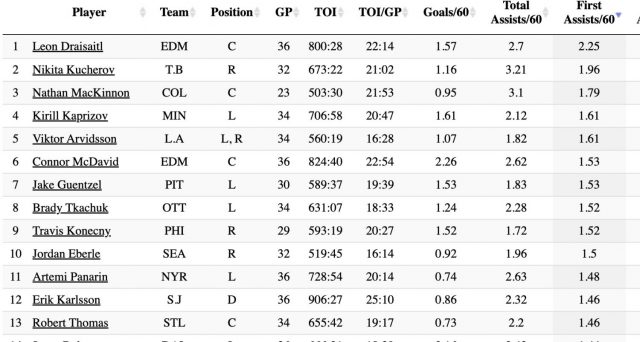 Both of Arvidsson's assists last night were examples of that playmaking ability.
On Danault's goal, he not only kept the puck alive twice offensively, but had the awareness and vision to round the net and thread a pass through the crease, where Danault was waiting at the back post to bang home the game-tying goal. Midway through the third period, Arvidsson's vision was on display again, as he saw the play develop before Iafallo had even gained the offensive zone. After the game, he said that he saw Iafallo coming pretty much the entire time and felt that Vegas didn't have him accounted for. He delayed down the right-wing, drew the attention to himself and hit Iafallo in stride. One flick of the wrists later, it was in the back of the net.
"I knew he was coming, I saw it develop and they forgot about him," Arvidsson said of the play. "I was trying to look at Phil and wait for [Iafallo] to get that open space."
The versatility of all three wingers is perhaps the beauty of the line.
When Arvidsson and Moore have been unavailable over the last couple of weeks, the line hasn't missed a beat. Looking at Danault's numbers, the common man in the middle, he's been on the right side of scoring chances over the last seven games, dating back to the loss in Buffalo. Prior to that game, Todd McLellan challenged the Danault/Moore pairing on their defensive and 200-foot games. Both players were upfront about needing to be better and the response has been noticeable.
Over the last seven games, Danault has been on the ice for 1.86 high-danger chances against. In the 14 games that preceded, Danault was on the ice for 3.14 high-danger chancest agains per game, which is close to double. That line has thrived as a two-way line and as of late, we're seeing more of a return to that style of play.
"We haven't been the best defensively, since the beginning of the year, but the last 10 games I think we've been really good," Danault added. "I think it starts from there. We take some pride defensively and then go in the o-zone and have some fun, do the right things, little details. By doing the right things defensively, we get more pressure in the o-zone. It's weird to say, but that's how it is and it's been working."
As the schedule rolls on, the Kings will want to get more of the same in that department. The combination of offensive production and defensive responsibility, as the games get tighter and tougher, will be an important part of the team's success going forward.