Alex Turcotte was back on the ice Thursday night, dressed in black and white and in the lineup for the Ontario Reign for the first time in six months. It was a long time coming for the 21-year-old, who is now beginning his third pro season after being chosen by the LA Kings with the fifth overall pick in the 2019 NHL Draft.
Turcotte had last played in a game on May 11, occupying the center role on Ontario's second line in Game 1 of a second-round playoff series that began in Colorado. Turcotte didn't finish that game, however, sustaining a head injury just three minutes into the first period that ended his season, temming from an illegal, high hit. It was the second head-related injury for him in a three-month span.
After the first, which came on Feb. 12, took over two months to recover from, Turcotte only appeared in four games before having to once again begin a lengthy recovery process, one that involved multiple doctors and specialists needing to clear him before he finally returned Thursday in the Reign's 10th game of the 2022-23 regular season against San Jose.
"This was a pretty crazy protocol," Turcotte said of the hurdles he needed to clear before being able to put his pads back on alongside his teammates. "I've never been through something like this before. There were different protocols and I had to go through and each individual one, there was like three or four [in total]."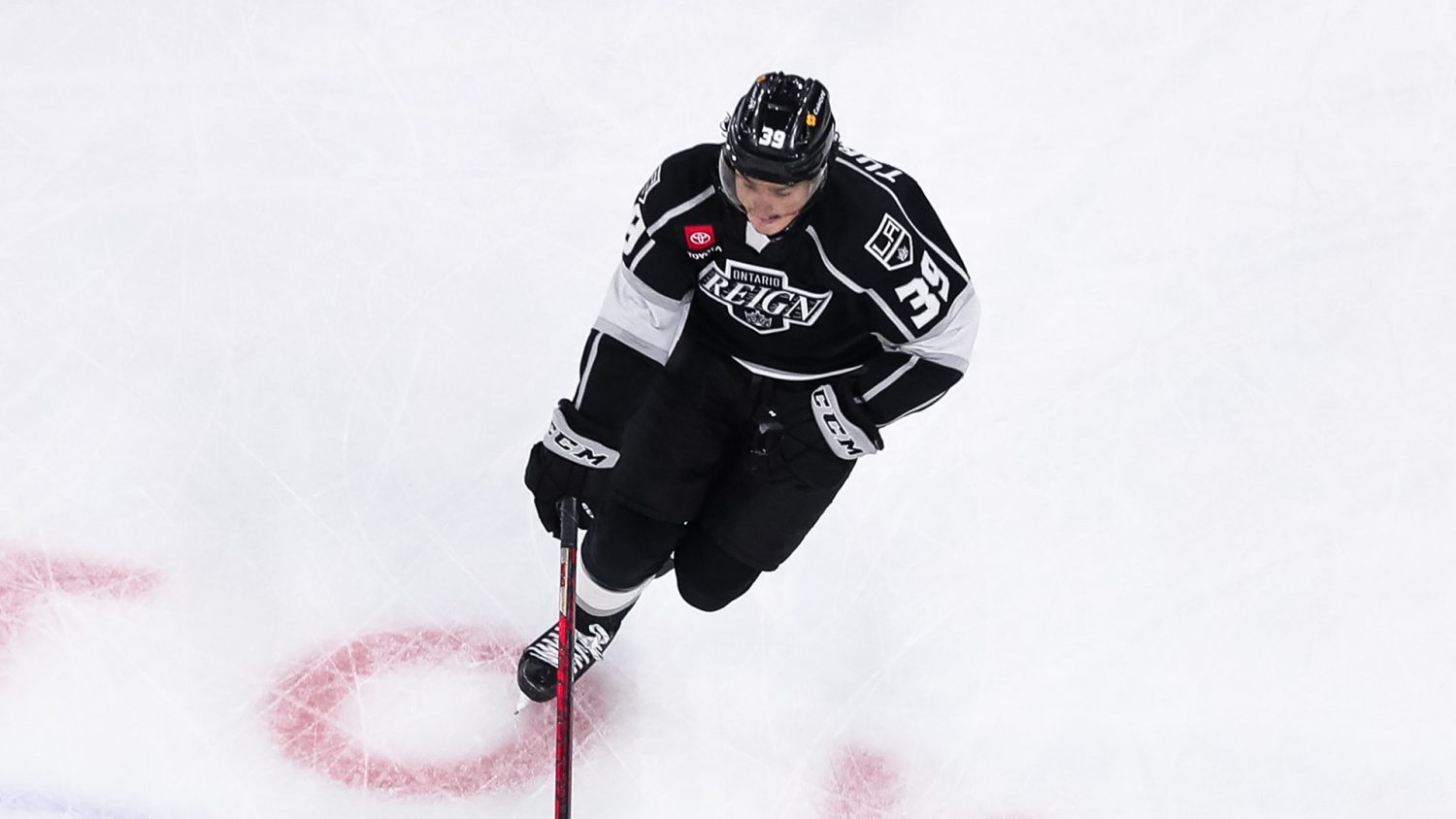 One was Ontario's team protocol, which any player with a head injury would follow before returning to action.
In Turcotte's case, however, he also saw medical professionals that specialize in head trauma, getting their opinions on what he was feeling and how he could improve. Their knowledge and rehab process helped him move in the right direction toward a return.
"That went really well," Turcotte said. "I found help and got a lot better really fast. That was the biggest thing for me, going to those guys because they're obviously very intelligent about what I was going through. They really helped with the rehab and once you get the green light through them then you go through the team again and see how that goes and do the regular protocol."
Dealing with ongoing symptoms and rehab doesn't exactly make for a fun summer.
While most pro hockey players are relaxing on vacation, spending time with family and friends while training for another season, Turcotte was caught in the middle of trying to train and keep himself in shape, but also rehabbing and listening to the specialists he was seeing.
"It was honestly a really weird summer," said Turcotte. "It basically didn't even feel like I had a summer. There are times where I got to kick back, relax and spend a lot of time with my family and friends and that sort of thing, but there was also times when I wasn't feeling good. I felt symptoms and it limited my training and participation."
Part of that training would have been attending the Kings' Development Camp for their prospects.
Turcotte was on the roster and made the trip to Los Angeles but wasn't cleared to participate in any on-ice activities, limited to off-ice activities only. He was also listed on the initial roster for the 2022 Rookie Faceoff in September, but once again wasn't far enough along in his rehab to join many of his teammates for the event in San Jose.
"I tried to get in the gym as much as possible and I felt like I was in there a good amount, but still, I wasn't feeling how I wanted to feel," Turcotte said. "I didn't feel 100% yet and I was still getting better each day I guess, but it just took a little bit more time than I was hoping. I couldn't really get into the swing of things like normal and mentally that's tough. You want to unwind, relax, enjoy your summer and get your mind off hockey and it was difficult for me because I still had some problems."
As most players in his situation would, Turcotte leaned on his family and friends to help support him while he wasn't feeling his best. He said that even though they couldn't exactly put themselves in his shoes, they were a big part of keeping his spirits up each day. That includes his father Alfie, who played 15 professional seasons from 1984-98.
"It was a different era when my dad played," Turcotte said. "They took it a little less seriously, but he understood kind of what I was feeling."
Someone who understood a lot more about what Turcotte was going through is Colorado Avalanche defenseman Bowen Byram, the player selected directly ahead of him at No. 4 overall in 2019. Byram also missed significant time with head injuries after turning pro at the start of the 2020-21 year. But he returned to action in April, a few weeks before Turcotte got back on the ice for Ontario after his first head injury.
In fact, after missing almost three months, Byram played his first two games in the AHL with the Colorado Eagles before rejoining the Avalanche. Those games just happened to be played in Ontario at Toyota Arena against the Reign.
Not only did Byram return to the NHL and finish the regular season, but he was also in the lineup for all 16 of the team's postseason victories, helping the Avalanche win the Stanley Cup. Seeing someone return and have success was huge for Turcotte, who exchanged texts with Byram during his rehab process.
"We went through the same draft, so I knew him a little bit through that and spent some time with him a couple years ago," Turcotte said. "At one point he thought he wasn't going to play hockey anymore which is pretty scary to see, but he turned a corner and obviously he's doing amazing in Colorado. I just asked him about what he was feeling and the steps he took to get better."
While a few text messages might not seem like much, Turcotte said it was helpful to have someone to talk to that understood what he was going through and give him a couple tips from experience.
"It's not a situation anyone wants to be in, especially at this point in our career where we're really young and we want to be effective players for a long time. He's been pretty helpful just checking in every once in a while."
Later in the summer after taking a chunk of time off and with Kings training camp on the horizon, Turcotte finally started to feel better. He said that suddenly, almost out of nowhere, he felt amazing again and knew it was time to start ramping things up.
"I think it might have been like in the middle of training camp was when I first skated, and I felt unreal," Turcotte said. "The timing and the conditioning part, that was tough. I had to work and take a month and a half to get that back and get back into shape and feel great that way, but I felt instantly really good."
That feeling was different than what he had during the summer when he said sometimes he'd skate and feel okay, but other times he wasn't 100% himself. Once he got back on the ice at Toyota Sports Performance Center in the fall, first by himself and then with others who were also rehabbing injuries, Turcotte was excited at the progress he was seeing without having any problems. He said that before he knew it, he wasn't even thinking about the injury anymore and just felt great out there every day.
But it still took weeks to get himself back in playing shape, progressing slowly to avoid any setbacks. Turcotte finally got the all-clear to join Ontario Reign practice, first in a non-contact jersey before eventually progressing to being a full participant.
Just like he did when he returned in April, Turcotte is wearing a visor on his helmet which has a darker tint to it. He said that while he does like how it looks on his helmet, it's not a style choice; he wears it to help take away some of the harsh glare from the lights above the ice. Sensitivity to light is a symptom commonly associated with those who have had a head injury.
Turcotte and the visor were on display Thursday night in San Jose, helping contribute to a game that saw Ontario earn one point in the standings during a 4-3 shootout loss.
"I felt pretty good," Turcotte said afterward. "Obviously rusty at times, but my conditioning and everything felt really good. I just think it's been so long since I've played so just getting that first game over with is nice."
He also said that playing on a line with Aidan Dudas and Tyler Madden, two teammates he's been around for almost his entire pro career, was helpful as well.
Most players who have missed significant time with an injury say that the toughest thing to get back during that first game is their timing. It's something that's hard to replicate in rehab skates and even team practices. Turcotte said he felt better as the game continued.
"Fortunately, this is my third year, so I know the systems and it was easy to get back into the right spots on the ice, knowing where to be," he said. "I was trying not to do too much in the beginning because I want to be a difference maker, but I've been out for a while so I wanted to keep it a little bit simple and then kind of build from there. My conditioning felt better as I went along, the more I played. I wasn't trying to be too hard on myself and just take it a period at a time, a shift at a time, and just have fun."
With the Reign trailing by a goal in the final minute of the third, head coach Marco Sturm had Turcotte on the ice, planted right in front of the net looking to tie things up. When his teammate Taylor Ward picked up a rebound a few feet from where he was standing and backhanded the puck into the net, Turcotte raised his arms high in the air and raced over to celebrate with the other five skaters in black jerseys. He was back.
Now that he's returned and has reclaimed his spot in the lineup, the Kings are hoping Turcotte can continue making a difference at the AHL level for the Reign and focus on his development, taking steps to get back up to the NHL where he made his debut last year.
"I feel good now, I'm happy to be back," Turcotte said. "This taught me a lot about life and dealing with adversity and I think I'll be better for it."