Good morning, Insiders! Hope you enjoyed following along with our coverage from the past five days of Rookie Faceoff 2022. With the group of promising young players now back in Southern California, let's take a look at some impressions from the three games in San Jose. For the second consecutive year, the Kings earned a 2-1-0 record from the event and had some individual standouts as the group was evaluated by internal management and scouts from all over the NHL.
Here's five takeaways from the trip:
Byfield Leads The Way
Since he was drafted No. 2 overall more than two years ago, all eyes have been on Quinton Byfield. That was the case again this week as the Kings' top prospect made his way to San Jose. Byfield's 2021 preseason was maligned with injuries. Even dating back to the team's Development Camp the month prior to the Rookie Faceoff in Arizona, Byfield was a limited participant due to injury. He did appear in game action prior to LA's main camp, but then a crash into the boards during NHL preseason action delayed the start of his regular season campaign.
All told, Byfield played in 40 NHL games and another 11 in the AHL during 2021-22, but whether it was the injury or the inconsistent role, we're still waiting to see it all come together for the 20-year-old.
With this year's rookie event in the books, I think it's fair to say we saw almost everything we could have expected from QB. 55 was all over the ice in the Kings' opener against Colorado, generating offense and dominating the game the way his coaches wanted to see. He finished with four shots on goal, including chances at both 5-on-5 and on the power play.
"I thought he was our best forward," said Ontario Reign head coach Marco Sturm, who served as the Kings' bench boss this week. "I know he didn't score or have a point, but he's good. He's very demanding and he should be. He came here in really good shape, we can all tell he worked really hard this summer and hopefully he's going to grab that spot with the Kings and make that next step."
Monday's game three was more of the same as Byfield found more chemistry alongside linemates Tyler Madden and Aatu Jamsen to help generate two of the team's three goals. He was credited with the primary assist on Jamsen's second period strike to extend an LA lead. With less than 90 seconds to play in the game and an empty net in San Jose's end with the Sharks attempting to get on the board, Byfield stepped in front of a shot that glanced off his face. He stayed on his feet, helped recover the puck, and eventually saw Madden find Jamsen to finish off the victory.
While Byfield wasn't officially credited with an assist on the empty-net strike, he was certainly a big part of the play. It was nice to see the big man rewarded and grow his confidence before he starts the grind of main camp with the rest of the Kings roster on Thursday.
"For the whole room, it's very important to have a guy like him in the lineup," said Sturm. "I think he's taken charge on the ice and off the ice and I think it's going to help him as a hockey player and as a person."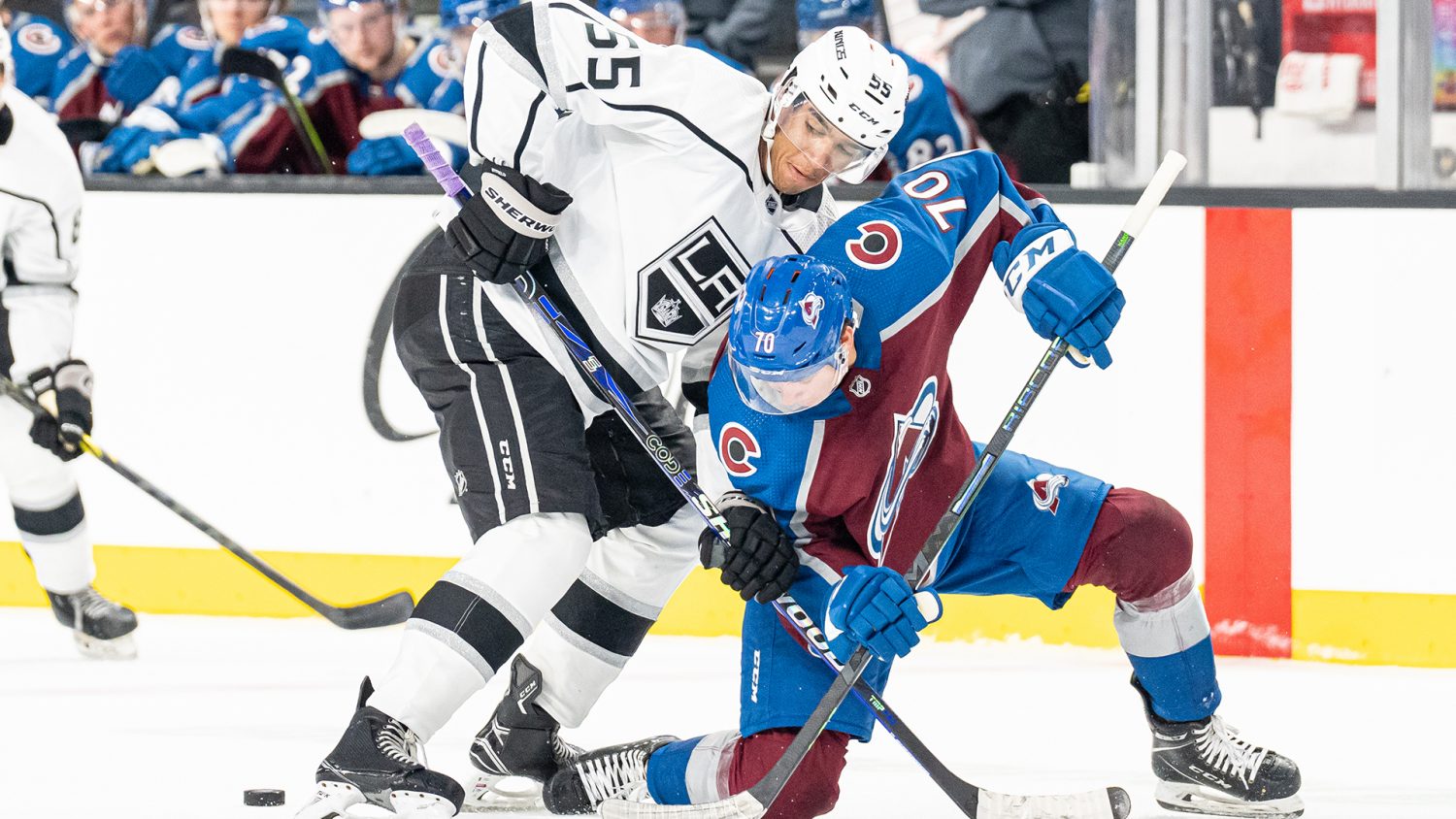 Strong Penalty Killing
The Kings got stellar penalty killing across all three games, going a combined 12-for-12 to complete a perfect effort that included a lengthy two-minute 5-on-3 chance for Vegas on Saturday afternoon. It was the second straight year they finished without a blemish when down a man, as some of these same players also factored in on an 18-for-18 effort during three games in Arizona last September.
After a penalty-free opening period during Friday's matchup with Colorado, the Kings committed five minor infractions in the final 40 minutes. But the excellent work on the penalty kill kept the Avalanche off the board while holding LA in the game until the very end, even in a contest that was ultimately recorded as a loss.
The cliché about goaltenders being the most important part of a PK was also noticeably true, as both netminders who saw action rose to the occasion in those situations.
"The goalies gave us a chance every day to win a hockey game and they were really solid," Sturm said. "I think they made a huge step coming into the season in great shape and hopefully they continue that development process."
Jacob Ingham stopped 30 shots on Friday before David Hrenak turned aside 20 in 65 minutes of action Saturday before denying both shootout attempts he faced. The Kings had their best defensive performance as a whole in Monday's finale, allowing just 19 overall shots. Ingham turned out nine bids in the first half of the contest, while Hrenak closed the door on the shutout with 10 stops during the back half.
It was a full team effort when down a man, with a commitment to blocking shots and staying in passing lanes, then getting 200-foot clears that made all the difference.
All Eyes On Clarke
While this was the second time Brandt Clarke was included on the roster for the Rookie Faceoff, this week served as his debut in a Kings jersey on the ice after missing all of last season's event due to an illness. He certainly made an impression and in many ways was arguably the talk of the tournament.
Clarke picked up two primary assists in LA's opening game Friday, setting up Francesco Pinelli in the first period and then Taylor Ward on the power play in the middle frame. He also totaled six shots on net in a losing effort and stood out with his offensive creativeness and ability to successfully make high-end plays that others wouldn't attempt.
Then came Saturday, which saw the 19-year-old once again earn two helpers before potting the game-winning shootout strike. Clarke helped out on both of Martin Chromiak's third period goals to get the Kings back in the game and erase a two-goal deficit and put five shots on goal. But he also took a hit up high just after the buzzer sounded to end regulation time and was able to return for the ensuing power play in overtime.
His performance on Monday didn't have as many offensive highlights, but he was still able to impress his coach.
"Today I thought it was his best game," Sturm said after the shutout victory. "He was just very solid, didn't do too much, just played a really good game and that's what we need from him. He's learning too, and a lot of things we saw on video or even during the game, some of that stuff he just didn't know yet. He's a young kid and he has to learn but he's definitely a good player and we're excited that we have him in our group."
There's definitely plenty of intrigue around Clarke's game headed into Kings camp this week and for good reason. The former eighth overall pick has all the tools to become an impactful two-way defender for years to come.
Room For Improvement on the Power Play
Despite lots of high-end offensive talent throughout the roster, the Kings couldn't find a good rhythm on the man-advantage this week. Maybe it was the fact that the group only had one practice together or the constant changing of the lineup, but the big guns never looked comfortable and weren't able to make opponents pay for their penalties.
LA did produce two power play goals from 15 opportunities, so it wasn't as if they were completely shut out, but they weren't able to generate many chances in some of the higher-leverage situations. The Kings were able to win on Monday without any help from the unit on the scoreboard, going 0-for-6.
Ward cashed in on a chance during the second period on Friday for the first conversion and Chromiak scored to tie up Saturday's contest at 4-4 in the third.
Most notably, a 5-minute, 4-on-3 opportunity for the entirety of overtime against Vegas on Saturday had the team in position to win the game, and in that instance, there were certainly opportunities, including multiple shots that went off the post. But no one was able to find the dagger during the lengthy sequence.
You can't put too much stock into the results at an event such as this one, but it was certainly an opportunity for the prospects to show their best offense that was missed out on.
Defensemen Getting Involved on the Offensive End
With Clarke headlining the offensive efforts by the roster's defenders, there was a lot to like overall from the back end. While there weren't any goals scored by LA blueliners, they certainly were a big part of the offense.
Second-year camp invitee Landon Kosior registered four shots on goal in the opener against Colorado and when combined with Clarke's six attempts along with two from Helge Grans, gave the Kings 12 opportunities from half of their lineups blueliners in game one.
The following day was the lone appearance that Jordan Spence made in San Jose and he was certainly noticeable by posting seven shots on net, the highest number from any Kings player in a game during the week. In what was a tune-up before main camp for the second-year pro, he certainly looked like someone who played meaningful games at the NHL level last season.
In Monday's win, the Kings were led by Jamsen who scored two of the three goals, but blueliner Kim Nousiainen racked up five shots on net which was the most of any skater in the game. Nousiainen, who ended last season by playing eight games with Ontario, was also a standout in Friday's game when he posted an assist on Francesco Pinelli's opening goal.
The Kings are scheduled to begin training camp on Thursday at Toyota Sports Performance Center. More information and full coverage of main camp coming soon here on LAKI!