For the first time since 2019, the LA Kings will have a formal ECHL affiliation!
Unveiled via a live press conference at Bon Secours Wellness Arena in Greenville, South Carolina, the Kings announced today a two-year affiliation agreement with the ECHL's Greenville Swamp Rabbits. Kings Director of Player Development Glen Murray and Ontario Reign General Manager Rich Seeley were in South Carolina today to take part in the announcement.
The Kings had informally worked with Greenville over the last two seasons, sending both NHL and AHL prospects to play there, but ECHL clubs are only permitted to have one NHL affiliate. With less than 32 teams in that league, the numbers don't always add up. Now, it will be the Kings owning the formal affiliation and thus having a bit more say in the process.
"On behalf of the entire LA Kings organization, we are excited to announce our new affiliation with the Greenville Swamp Rabbits of the ECHL," Kings Director of Player Development, Glen Murray said. "We are very happy to have this development route for our future Kings under the leadership of Spire Sports + Entertainment and direction of Head Coach & General Manager Andrew Lord. We know that our prospects will have a first-class experience in Greenville while developing as players and people."
The ECHL has grown immensely from a development perspective, especially when it comes to developing goaltenders and providing quality playing time to young netminders. With six goaltenders currently signed to NHL contracts, the Kings will likely send at least one goaltender to the ECHL for development. Signing a formal affiliation would offer that goaltender – or goaltenders – the opportunity to play regular minutes, while also providing a stable location for Kings goaltending development staff members to visit and work with their prospects.
Jonathan Quick spent the bulk of his first professional season playing at the ECHL level with Reading. Quick logged 38 games with the Royals before he moved on permanently…..and we all know where he took it from there. Jack Campbell, Darcy Kuemper and Martin Jones all featured in the ECHL, while current Ottawa Senators starter Cam Talbot played with Greenville early in his career. St. Louis' Jordan Binnington, Seattle's Phillip Grubauer, New Jersey's Vitek Vanacek and Detroit's Alex Nedeljkovic all featured in the ECHL before establishing themselves as NHL goaltenders.
The ECHL also offers an opportunity to players not quite ready to play a larger role in the AHL the chance to grow and develop with larger minutes. Players such as Jordan Nolan and Dwight King got that opportunity as rookies, as did defenseman Austin Strand more recently. NHL regulars such as Yanni Gourde, Mike Hoffman, MacKenzie Weegar, Ben Chiarot and Mason Marchment all featured in the ECHL during their development progress.
Having an affiliation is also beneficial for AHL clubs and having a formal affiliation will help Ontario as well as Los Angeles. Having a steady ECHL affiliate can provide players on AHL contracts who aren't opening night regulars with a good place for them to get regular game action and stay sharp. As we saw last season, injuries can come in bunches, which naturally creates openings at the AHL level. Several of the players below could start the year in Greenville but also factor in with the Reign throughout the season.
Last year, goaltender Jacob Ingham was the lone NHL contracted player to play with Greenville, having played in games with the Swamp Rabbits over each of the last two seasons. Nine players played for both AHL-Ontario and ECHL-Greenville between 2020 and 2022, providing a good pipeline for the Reign to utilize.
The Kings previously had three, long-tenured ECHL affiliates – the Manchester Monarchs from 2015-19, the Ontario Reign from 2008-15 and the Reading Royals from 2001-08. The organization also had shorter-term agreements with the Trenton Titans, Mississippi Sea Wolves, Richmond Renegades, Knoxville Cherokees and the Raleigh Icecaps, who are all now defunct.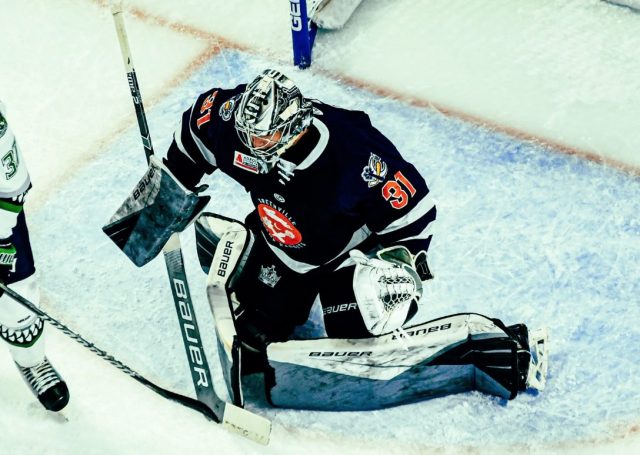 The Kings' AHL affiliate, the Ontario Reign, have also announced five two-way player contracts for the upcoming 2022-23 season including defenseman Joe Gatenby and forwards Alex Ierullo, Brett Kemp, Justin Nachbaur and Nikita Pavlychev.
Bios below from Reign contributor Jared Shafran.
Joe Gatenby
Gatenby, 25, signed a PTO with the Reign last season after completing his collegiate campaign at the University of New Brunswick where he appeared in 83 games while scoring 41 points on eight goals and 33 assists as an alternate captain. He recorded 10 points on two goals and eight assists in 23 games last year and joined the Swamp Rabbits for six Kelly Cup Playoff games where he netted a goal and an assist.
The Kelowna, B.C. native also played junior hockey in the Western Hockey League (WHL) for five seasons with the Kelowna Rockets and Kamloops Blazers, suiting up in 317 games from 2013-18.
Alex Ierullo
Ierullo, 25, turned pro with the Reign last season by signing an ATO on March 25. He appeared in three games with Ontario before posting six points in seven regular season ECHL contests (1-5=6) with the Swamp Rabbits. The Woodbridge, Ont. native also got a taste of the postseason with Greenville, scoring four points (1-3=4) in six playoff contests.
The attacker spent four seasons in the NCAA at Bemidji State University, appearing in 136 games while scoring 96 points on 36 goals and 60 assists. While serving as an alternate captain with the Beavers last season, Ierullo recorded 42 points on 16 goals and 26 assists in 39 games.
Brett Kemp
Kemp, 22, posted an assist for Ontario in two appearances with the Reign during his rookie professional season in 2021-22. The Yorkton, Sask. native also scored 37 points with Greenville on 17 goals and 20 assists while earning a +15 rating.
The 6-foot-1, 175-pound right-shot forward turned pro after appearing in 255 career WHL games with the Medicine Hat Tigers, Edmonton Oil Kings and Everett Silvertips, posting 218 points (96-122=218). Kemp also played six contests with the SJHL's Yorkton Terriers in 2020-21, tallying 10 points (3-7=10).
Justin Nachbaur
Nachbaur, 22, is entering his second pro season after beginning his career on an AHL deal with the Charlotte Checkers. The Cross Lake, Man. native made six appearances for Charlotte as a rookie while also suiting up for 24 ECHL contests with the Swamp Rabbits where he registered 15 points (10-5=15). Nachbaur also played in all six of Greenville's playoff contests a year ago.
The 6-foot-3, 207-pound attacker played junior hockey in the WHL with the Prince Albert Raiders for four seasons from 2017-21, totaling 89 points in 216 games (45-44=89), and helped the team to a WHL Championship in 2019.
Nikita Pavlychev
Pavlychev, 25, returns to the Reign for his third professional campaign after playing 13 contests for Ontario a season ago and scoring three points with two goals and an assist as well as a +4 rating. He also suited up for 38 games with Greenville and posted 33 points on 14 goals and 19 helpers. The Yaroslavl, Russia native appeared in the first six postseason games of his career with the Swamp Rabbits and scored four points (3-1=4).
The 6-foot-7, 225-pound left-shot attacker made his AHL debut with the Syracuse Crunch during 2020-21, posting three points (0-3=3) and a +2 rating in eight games. Pavlychev also played in 28 games with the ECHL's Orlando Solar Bears recording 11 points (5-6=11). Prior to turning pro, he played four seasons at Penn State, appearing in 137 games with the Nittany Lions where he registered 70 points (36-34=70) and helped the school to the 2017 Big-10 Championship and the 2020 Big-10 Regular Season Championship.