Good Evening, Insiders!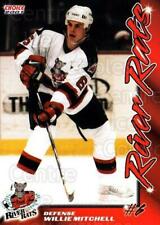 Took today's off day in New York to spend some time with friends and family upstate, near the home of the now-defunct Albany River Rats, former AHL affiliate of the New Jersey Devils. For reference, the River Rats were an AHL home to former Kings players Willie Mitchell, Jaroslav Modry, Jamie McBain……apparently only defensemen whose last names start with M played in Albany? I had an Albany, Willie Mitchell trading card when I was a kid from trading card giveaway night, that somehow is available for purchase on the internet. Still remember that, as one of the guys who "made it."
Tyler Madden's father John was a River Rat, as was current Los Angeles area professional scout Steve Kariya, not to mention Arizona Coyotes General Manager Bil Armstrong, NHL Network commenter Mike Rupp and Hockey Hall of Fame snub Alexander Mogilny.
Good times watching the Rats……but I digress!
I've got a couple hours here towards the end of the day on Eastern Time, and primetime back in California. I'll be here in the comment section to chat. May mix in a few questions from Twitter as well, which I'll embed into the story. Fire away!
Lots of questions!
-Do you forsee Jim and Alex calling away games from the studio for the rest of the season?
-While the team is doing well overall, the power play has been challenging. Is it fair to criticize coaching staff?
– What toppings are on your NYC pizza?

— Hannah Davey (@Hannahdavey90) January 26, 2022
1. I do not think so! I think we will see the TV crew back on the road later in the season!
2. I think it's a team issue, not a players or coaches specifically issue. Succeed as a team, fail as a team. Think that McLellan has taken some of that ownership himself and some has been taken by the players. Identified as a problem and now time to correct it.
3. Daryl Evans and I had pepperoni slices before the game at MSG, but a good chicken bacon ranch hits the spot!
And what does the timeline look like for Edler?

— Kopi's Chrome Dome (@bucket_head_24) January 26, 2022
1. The biggest thing for me is that points, right now, are not an accurate way to compare teams. The Kings have played 43 games while Edmonton and Calgary have played 37. the Kings were the team least affected by the schedule changes, and that's a good thing. What we will see though is that games played column get a bit tighter, giving us a better representation of what the playoff picture truly looks like.
2. Long-Term – Last we touched on Edler, he was not ruled out for the season, but if we were to return, we're talking late in the regular-season. TBD right now, but I wouldn't expect anything soon.