Back at it, Insiders!
The LA Kings hit the ice earlier today for the final time before they host Carolina tomorrow afternoon at STAPLES Center. The Kings aligned the same way that they did yesterday, as far as we could tell, though with two additions to the group on the backend.
First, as noted this morning, Drew Doughty skated with the full team for the first time since he suffered a right-knee contusion in Dallas on October 22. Doughty partnered Sean Durzi during defensive drills, who was recalled from the Ontario Reign earlier this morning.
We'll hear from Durzi below, but regarding Doughty, Todd McLellan and the coaching staff were just happy to see one of their leaders back with the group, for the first time in nearly a month.
"His spirit is usually pretty good," McLellan said. "Big smile, no teeth, energized the group. He wanted to do more than he was supposed to do, typical Drew, but it was refreshing to have him out there."
The bigger key with Doughty was perhaps making sure he did not do too much. Never eager to not be a part of things, the focus right now is with Doughty's long-term health, not his short-term availability. That's probably the biggest thing to monitor here at this stage, with Doughty naturally chomping at the bit to get back into the lineup, and apparently even into a drill he wasn't scheduled to take.
"He got in the middle of a drill once, I don't know what he was doing, he wasn't supposed to be in that drill, so we have to manage him a little bit," McLellan said, with a smile. "When it comes to practice, I wouldn't say he's pounding the table, saying he wants more out there, but it was amazing to see him excited out there today. That's good for our group, we need that."
Looking at the team as a whole here, the expectation at this time is that we'll see the same personnel, at least on defense, as we did on Wednesday against the Capitals. The top three pairings looked identical to that game, with the expectation that will continue, at least against the Hurricanes tomorrow evening.
Up front, we did not see formal line rushes, with the players keeping their jersey colors the same as they were yesterday. Those lines are listed below –
Kempe – Kopitar – Arvidsson
Iafallo – Danault – Athanasiou
Moore – Kupari – Brown
Lemieux – Lizotte – Kaliyev
Andersson, Grundstrom
Edler – Roy
Bjornfot – Anderson
Maatta – Clague
Durzi – Doughty
Quick / Petersen
The Committee Crew
With Doughty back on the ice today, it re-visits the topic of how others have stepped up in his absence.
Now, it's not the first time we've talked about the matter. We saw Mikey Anderson and Tobias Bjornfot step up on Wednesday to match up against Alexander Ovechkin's line and hold them scoreless. That's impressive for two young players to do at this stage in their process. We've seen competent play from the six defensemen as a whole and we've seen them keep the team in games, with stout checking defensively and selective offensive contributions.
"Right now, the players that have played have done a good job of stepping up, in [Doughty] and Sean [Walker]'s absence," McLellan said. "We've beat that drum a lot and we do appreciate their efforts. In fact, some players probably have a second chance at an NHL life, and they've done a good job of taking advantage of it."
We spoke with one of the six, Olli Maatta, earlier today, who is one individual that received a bump in role, with the absence of the two aforementioned players. Flashback to opening night and Maatta was on injured reserve, after he took a big hit during the preseason, and he was not immediately inserted back into the lineup after he got healthy.
Injuries changed that equation and Maatta stepped in as a veteran with some experience, who had the intent of making the most of his opportunity. A common theme for the defensemen right now.
"I don't think anyone really changed their game, tried to do too much," Maatta said, of the collective effort. "I know we're still a pretty good d-group, even missing Walks and Dewy, and when he comes back we'll be even better. We're just playing to our own strengths, don't try to do too much, just do what we can."
On a personal level, Maatta said he's feeling as comfortable as he has since he joined the Kings organization in 2020. He called last season "disappointing" on a personal level, but he's hoping to continue to make the most of his opportunity here in 2021.
So far, with a by-committee approach on the backend, the Kings have continued to find efficient play from that group.
Durzinsider
See what I did there?
Hear from Sean Durzi below, who took his first practice of the season with the Kings. This is not a player who is new to the organization, or the group, but one who saw a few stints up with the Kings here and there last season, though he did not get into a game. In now his third season with the organization, Durzi is both familiar and comfortable.
Todd McLellan talked about that comfort level around the group at this point as being high, noting that there aren't any nerves coming into the group right now, he's ready to go, and had a good first day with the group.
"Yeah we have [watched him a lot in the AHL], and Durz, this isn't like we're calling a guy up who hasn't been around," McLellan said. "He's been around the locker room, he's been around the team for a few years now, he's comfortable. I really believe he's comfortable around us, he's not nervous, other than the fact that he might play his first game real soon. He's not nervous walking into the locker room, being around Kopi and Brownie is an easy thing for him and he fit the practice really well today. He was excited, he had a little jump as he should, it was good."
Durzi's interview is posted below –
Captain Clarke
A note from the other day – Defenseman Brandt Clarke was announced as the newest captain of the OHL's Barrie Colts. The Kings top two picks from the 2021 NHL Entry Draft are now captains of their OHL teams at 18-years-old, and that is pretty darn impressive. Francesco Pinelli was named as the captain of the Kitchener Rangers this season, giving the Kings two "C's" at the OHL level.
"We have a really strong core with this group of guys and I know we can all go really far this season," Clarke said, via the Colts account. "I'm really looking forward to leading everyone."
Clarke is off to a terrific start to the 2021-22 OHL season. With 16 points (5-11-16) from 12 games played, Clarke ranks second in the OHL in points by a defenseman, with his five goals also ranking second. Clarke's totals are also second on his team overall, trailing only Colorado prospect Oskar Olausson.
The next stop for Clarke is likely the 2022 World Junior Championships with Team Canada, and we'll have. a deeper look at the promising, young defenseman in the coming days here on LAKI!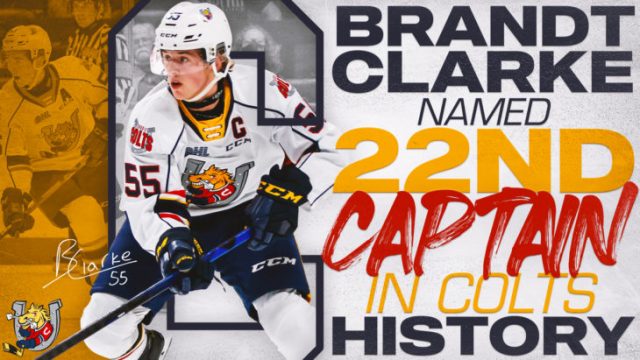 Kings vs. Hurricanes tomorrow afternoon, with a very talented opponent squaring off against the Kings 2-0 record in home matinees!