Insiders!
Thank you for following along this weekend. The site was active this weekend, and I'm excited to carry that into main camp on Thursday. Departing Arizona, the Kings walked away with a 2-1-0 record from three games played, though it's really the individual impressions, and evaluation opportunities, that matter from an event like the Rookie Faceoff.
With that in mind, five takeaways I had from the tournament, including notes on several players, concepts and statuses.
Standout Performers
On a roster of 28 players, you could find several players who stood out in select games, with certain plays, but two forwards who stood out positively to me were Samuel Fagemo and Alex Turcotte.
In Game 1 against Colorado, all of the forwards who you expected to show up, showed up. The "veterans", meaning the guys who played in Ontario this past season, were all solid in a convincing win over the young Avalanche.
In Games 2 and 3, however, things didn't come quite as easily for the Kings first-year players, with the team grinding out a 2-1 shootout win over Arizona and falling in a tightly contested, 3-2 decision against Vegas.
Game 2's standout, in my eyes, was Alex Turcotte. On a night when the Kings as a whole did not bring that same intensity off of the opening puck drop, Turcotte did. The 2019 first-round selection was feisty on the forecheck, winning battles in corners and creating many of the few high-quality offensive opportunities the team had in the game's first period. Turcotte was rewarded for his work with the game's only goal in the third period, as he drove hard with speed down the left wing and was the recipient of a fortunate bounce, with his shot deflecting off of a goaltender, a defenseman and in.
"I thought tonight, he showed his game as well as anyone did out there," John Wroblewski said of Turcotte. "When you say feistiness, tenacious and add that skill on top of it, you've got him pegged, that's who he is. I thought these first two games, he's probably been our most consistent [player] up front. It's a small sample size, but I'm proud of the way Turcs has handled himself. He missed a little bit of time right before camp too, so good for him to hit the ground running. His result was awesome, having missed some of that development camp. For him to be able to respond and come through with two solid games was commendable."
Game 3 saw forward Samuel Fagemo collect nine shots on goal on Monday morning against the Golden Knights, including his team's first goal. Fagemo was around the puck what felt like every time he was on the ice, creating chances with his speed and getting others with his hockey sense and positioning in the offensive zone. The Swedish-born forward was all over the place, in the best way, using a North-South approach to cause fits for the Vegas defense.
"All of the credit in the world to Sammy," Wroblewski said. "He came out with the proper attitude to play this game, be a leader for us, he was all over the puck. It was a statement game for him, I think. He was a benefactor of having a day off yesterday, for sure, other guys played a 3-in-4, but he didn't wait around. He had a ton of ice and he was flying. Whether it was driving the net or winning a loose puck battle, the puck was also finding him a lot. He was down and around the net front, he had a couple of whacks at pucks, easily could have had more on the scoresheet. Great week for him. Two games, and he set himself nicely for main camp."
Strong Goaltending
The Kings got stellar goaltending across all three games, conceding just four goals in total from the three games played.
Matthew Villalta set the tone on Friday, with a 23-save shutout against Colorado, before Jacob Ingham turned aside 32 of the 33 shots he faced on Sunday against Arizona. While he wound up taking the loss, Lukas Parik made 25 saves on Monday morning, including several stops in the first period, with the Kings on the penalty kill early and often against the Golden Knights.
Across the three games, the Kings goaltenders posted a combined to post a .952 save percentage. Wroblewski called the team's goaltending "outstanding" over the first two games, and we'll assume that Parik's effort did nothing to diminish that.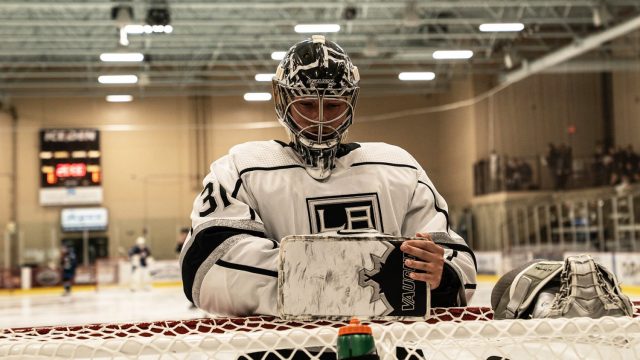 The Young D-Men, In Spurts, Impressed
The defenseman that many probably had their eye on going into the tournament was Brandt Clarke, the organization's most recent first-round draft pick. Clarke, unfortunately, did not make the trip, however, as he was sidelined with a "non-COVID related illness" that kept him off of the trip and out of the three games in Arizona.
One right-shot defenseman's absence was another's opportunity, however.
Sean Durzi, Jordan Spence and Helge Grans were the three, NHL contracted, right-hand shooting defensemen on the roster at the tournament, and all three showed their stuff over the course of the weekend.
Durzi, the only player on the roster with two full seasons of experience, captained the side against Colorado. The 22-year-old blueliner's experience and puck poise were evident throughout the course of the three games, with Durzi's passing skills and abilities, the highlight of his game, shining through.
"Yeah, he was tremendous, his composure," Wroblewski said of Durzi. "It's probably a step less than the American League in the middle of the regular season, but he was in full control back there, the game looked simple and easy for him today. I don't know how many shots he had down to the net, but it felt like the puck was on his stick the whole game."
Spence figures to be one of the only Kings prospects transitioning this season from junior hockey to professional hockey. The 20-year-old Canadian defenseman was a standout offensive performer in the QMJHL, and
"The two right-shot rookies, they're different, but efficiency-wise, and execution-wise, I was ultimately confident," Wroblewski said of Grans and Spence, after Game 1. "Grans has all kinds of length and his defending was really good. He snaps the puck, whether it's from the point, or D-to-D, he knows how to manufacture offense. He was awesome, and I loved Spence. It was my first time getting to watch him play [in-person], and just as cool as can be, confidence in his game. Risk management was almost zero risk to his reward system. Very capable players at this level, and hopefully that can translate to AHL success and ultimately NHL success."
Penalties
The Ole Catch 22.
Are we happy that the Kings went, by my count, 18-of-18 on the penalty kill across these three games, or are we unhappy that the team took an average of six penalties per contest? Or is taking a stance either way going far beyond where we should be looking from a rookie tournament?
There's probably a complicated Venn Diagram that says where we should ultimately lie, but the real takeaway is that the Kings utilized several different players while a man down, players who are thought of perhaps more for their offensive gifts, but players who shined through in different roles while shorthanded.
"I was very impressed with our penalty kill, they took a lot of pride in it, I thought Aidan Dudas was spectacular, a real buzzsaw out there," Wroblewski said. "You can't deny the big fellas either, you go down the line, Byfield, Kupari, Turcotte, Madden, he didn't kill a lot for us last year, but he's so smart, good stick. Sammy was out there for us, and I liked Pavlychev and Sodergran for us too."
Areas To Watch
Heading into main camp, seeing the aforementioned Clarke not travel to the tournament, and for 2020 first-round selection Quinton Byfield leave Game 3 early, wasn't exactly what you wanted to see.
However, the early word on Byfield is that the injury is considered "day-to-day" at this juncture, and Wroblewski used the term "precautionary" following the game yesterday. With that in mind, we'll monitor his status as we progress into main camp on Thursday.
Clarke's status for the coming days is a bit less defined at this point, and we'll see how things progress between today and Thursday.
The Kings are scheduled to begin training camp on Thursday at Toyota Sports Performance Center. More information on main camp can be found here!