While two different players, with two different paths, forwards Alex Turcotte and Tyler Madden shared a common theme during their respective first professional seasons.
Both players were entering the professional ranks out of college hockey, both were highly touted, offensively gifted players and both drew excitement from LA Kings fanbase, looking forward to the promising talent coming through the system.
The first taste of professional hockey for the duo, however, came with a series of bumps in the road, as injuries limited each prospect in different ways. Now, with a fresh and productive summer behind them, both players feel prepared and ready to move past the obstacles that plagued them as freshmen, with a prospective sophomore season dead ahead.
For Turcotte, his first season out of college began as expected. He was a leading player for Team USA during his second World Juniors, as he ranked tied for second on the team in total scoring, including the game-winning goal in the gold medal game against Team Canada.
That performance came with a price, however, as Turcotte suffered an injury that wound up wiping out the majority of his first NHL training camp, as he finally got back on the ice less than a week before he began his first season with the AHL's Ontario Reign.
"I was feeling really confident coming into the season coming off of that tournament, but obviously I had that knee injury, so that was a little unfortunate, that held me back a little to start the year," Turcotte explained. "I missed main camp – I was already going to be late – but I missed the last part of it, so I didn't get to experience that, I just had to rehab and get ready for the season. That was pretty difficult honestly, I thought I had a pretty slow start to the year, coming back from the injury."
While Turcotte rehabbed, Madden thrived.
During the Reign's preseason action, Madden looked like a primetime performer out of the gate, as he led Ontario in goals and points during an extended slate of preseason games.
"I came here during the summer, so I got a little bit better acclimated with the guys, the pace of play, and the more physical, older guys," Madden said. "I think my transition was good and I had a great preseason."
The early stages of the AHL season had its bumps in the road for both players, however.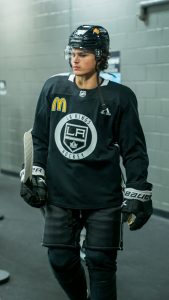 Turcotte's rookie campaign began slowly, without a point from his first five games, and in that fifth game, he found himself injured again during a game against Tucson, another setback in his transition to the professional level.
At that point in the season, Turcotte was still finding his way with the Reign. The Island Lake, IL native was a 19-year-old in the AHL, who went from playing against competition in the Big 10 to playing against grown men in the span of less than a year. That transition can take some time, and a second injury within a month of competitive action certain did not help to accelerate the process.
"I felt like good things were going to come and then that injury kind of derailed me a little bit," he said. "I feel like that pushed back my development, the trajectory I was on and I felt like I had to start back at zero when I came back. That's part of the game, injuries happen, you never go into games expecting that, it could happen to anyone."
For Madden, his preseason success didn't immediately translate into the regular season. Out of the gate, he wasn't able to replicate that same level of production during regular-season action, though that's not to say he wasn't contributing with his play. He felt that he started to assimilate into things, scoring his first professional goal against the Gulls in early March.
"I think I had just started to figure it out a little bit more, going into that Bakersfield game, and obviously you never want to get injured, but stuff happens," he rationalized. "It was tough for me for a bit, because it was my first year pro."
That Bakersfield game.
March 6 to be specific. The game which resulted in a broken collarbone for Madden and the game that cost him the majority of his rookie season.
"I broke it, and then a day or two later I had the surgery," he said. "From there, it was just keeping the scar and everything healed, and maybe 2-3 weeks after surgery, I was already moving it around, getting work done and I was on the ice pretty quickly, it was just a matter of when the bone was stable, that's why it took so long."
Madden's final game until May was also Turcotte's first since February.
After a month out, the promising young forward hit the ground running – or better said, the ice skating – with 10 points from his first 11 games back from injury. Turcotte mentioned a weekend in Bakersfield in late-March, which followed a full week off from games, as the point in his season where things really began to click.
"Leading up to those games, I talked with the development staff about some of the things I needed to improve on and same with the coaches," he said. "I had the whole week of practice to do some self-evaluation and take ownership of what I needed to be better at, and I had the whole week of practice to just focus on my game, and from there, it all started clicking. I had more confidence in myself, mentally I grew up and took responsibility for things I should be doing better."
The American forward finished the season with eight points from his final eight games played, including his first career professional hat trick in his second-to-last game of the season against Colorado on May 9, which just so happened to be the last game that Madden would miss.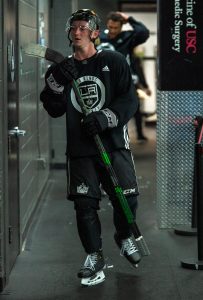 After a long, and at times arduous, rehabilitation process, the Northeastern product was able to work his way back into the lineup for the Reign's final two regular-season games, as well as the team's postseason contest against Colorado.
While some might have shifted their sights towards next season after breaking their collarbone, getting back into game action in 2021 was important to Madden, both from a development standpoint and a mental standpoint, proving to himself he could get back into it.
"I wanted to play," he said, defiantly. "It was only three games, and some guys might say 'is it even worth the three games', but for me, mentally, it was definitely worth it. It was my first year, I only played 12 games, so I wanted to get a couple more in, and mentally, I wanted to get into a game and get hit, when I was 100 percent, so I know from there on out, I'm capable of getting hit again, to get over that mental state of fearing the contact."
Heading into the summer, both Madden and Turcotte felt they had a point to prove, and summer development camp figured to be a place for both players to be two of the best on the ice, playing against their peers within the Kings organization.
Madden was able to achieve that, as one of the standout performers from the week of on-ice events in El Segundo, but for Turcotte, he found one last untimely setback, with acute appendicitis ending his week after just one day.
"I thought I had a great first day of development camp, and then I just felt sick and it went pretty quick from there," Turcotte explained. "A few days later I had surgery. There's not much I could really do about that, it's just a freak thing that could happen to anyone, so I guess I'm just getting it out of the way now. It's obviously not what you want, but it's okay, I had a pretty positive mindset and got back to it pretty quickly after the surgery."
The process back for Turcotte was relatively fast, and he was cleared for participation in the Rookie Faceoff this coming weekend, passing through physical testing yesterday, traveling with the team to Arizona today.
As they approach the upcoming tournament, both players enter with high expectations. As second-year professionals to be, both are looking to make some noise during training camp, which begins with the Rookie Faceoff this weekend.
Madden said he feels comfortable heading into his first training camp under more normal conditions, with the experiences he took in last year, both the good and the trying, serving as things that help him as a player looking to cement himself as a top forward with the AHL's Ontario Reign, if he doesn't make the NHL roster.
"I think that first year, even though I didn't get into many games, I still think easing into it there [was helpful], and now I think I know what to expect, and I know what to expect from myself," he said. "I think this year I should be able to produce and be one of the top forwards on the Reign for sure."
For Turcotte, he's got similar expectations in terms of progress.
As a former fifth-overall draft selection, Turcotte knows there's pressure being placed on him solely because of where he went, though the external expectations are matched only by the expectations he places on himself to success. Coming off of a strong conclusion to last season, and a summer filled with steps forward, Turcotte is ready to roll.
"Going off the end of last year, I feel great about where my game's at, and my goal is to produce right away," he said. "I know there's pressure, and I put pressure on myself and I expect a lot out of myself. I think it's time to step up and play my game and show why I was drafted where I was. It's taking ownership and getting the job done."
Alex Turcotte named AHL Player of the Week after his first career hat trick in last night's game! #GamedayHighlights pic.twitter.com/1r6SFEVGzt

— Ontario Reign (@ontarioreign) May 10, 2021